Now Playing Onstage in South Carolina - Week of 8/11/2013
View All Show Listings for South Carolina
Click Here to View BroadwayWorld.com South Carolina Calendar
THE SOUND OF MUSIC
New Heights Community Players
8/8-8/17/2013
The final collaboration between Rodgers & Hammerstein was destined to become the world's most beloved musical. When a postulant proves too high-spirited for the religious life, she is dispatched to serve as governess for the seven children of a widowed naval Captain. Her growing rapport with the youngsters, coupled with her generosity of spirit, gradually captures the heart of the stern Captain, and they marry. Upon returning from their honeymoon they discover that Austria has been invaded by the Nazis, who demand the Captain's immediate service in their navy. The family's narrow escape over the mountains to Switzerland on the eve of World War II provides one of the most thrilling and inspirational finales ever presented in the theatre. The motion picture version remains the most popular movie musical of all time.Music by Rodgers, Richard; Lyrics by
Oscar Hammerstein
II; Book by
Howard Lindsay
&
Russel Crouse
; Suggested by `The
Trapp Family Singers
` by
Maria Augusta Trapp
Click Here for More Information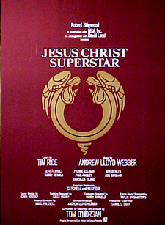 JESUS CHRIST SUPERSTAR
Greenville
Light Opera Works
8/15-8/18/2013
It seems especially fitting that the first rock opera, created as a concept album at the end of the turbulent '60s, should have at its center a social and political rebel. Jesus' meteor-like rise in renown provides, as the title suggests, a parallel to contemporary celebrity worship. As his radical teachings are evermore embraced, Judas increasingly questions the enlightened motives of this new prophet, resulting in betrayal. Christ's final days are dramatized with emotional intensity, thought-provoking edge and explosive theatricality. Propelled by a stirring score, by turns driving and majestic, satirical and tender, JESUS CHRIST SUPERSTAR illuminates the transcendent power of the human spirit with a passion that goes straight to the heart.Lyrics by
Tim Rice
; Music by
Andrew Lloyd Webber
Click Here for More Information
PINE
Trustus
8/11-8/20/2013
Eugene Carabatsos.
Click Here for More Information
ALWAYS A BRIDESMAID
Abbeville Opera House
8/9-8/24/2013
A brand-new Jones Hope and Wooten comedy! In this hilarious new show, four high school friends made a vow to be in each other's weddings no matter what. Little did they know, thirty years later, they'd still be keeping that promise. Join Deedra, Monette, Charlie and Libby Ruth through the years as they navigate the choppy and unpredictable waters of their friendship and many marriages. If you've ever elbowed a stranger out of the way to catch a bride's bouquet, seriously questioned the mental stability of the duo saying "I do" or been forced to wear the world's ugliest bridesmaid drss, this deliriously funny JONES HOPE WOOTEN COMEDY is definitely for you … and your dearly beloved!
Click Here for More Information
FIERCE LOVE
Trustus
8/16-8/31/2013
Pomo Afro Homos; dir: Eric Bultman,
Paul Kaufmann
.
Click Here for More Information
9 TO 5, THE MUSICAL
THEATRE OF THE REPUBLIC
8/16-9/1/2013
9 TO 5: THE MUSICAL, with music and lyrics by
Dolly Parton
and book by
Patricia Resnick
, is based on the 1980 hit movie Nine to Five.Pushed to the boiling point by their boss, three female co-workers concoct a plan to get even with the sexist, egotistical, lying, hypocritical bigot they call their boss. They conspire to take control of their company and learn there's nothing they can't do -- even in a man's world. Set in the late 1970s, 9 TO 5: THE MUSICAL is a hilarious story of friendship and revenge in the Rolodex era. Outrageous, thought-provoking, and even a little romantic, 9 TO 5: THE MUSICAL is about teaming up and taking care of business.This high-energy show is ideal for a large, mostly female cast. With its jubilant score and easily relatable characters, 9 TO 5: THE MUSICAL is the perfect show for community theaters or high schools.
Click Here for More Information
FALLEN ANGELS
The Village Playhouse and Repertory Co
8/16-9/7/2013
Noel Coward; dir: Keely Enright.
Click Here for More Information
View All Show Listings for South Carolina
Click Here to View BroadwayWorld.com South Carolina Calendar