Now Playing Onstage in South Carolina - Week of 3/09/2014
View All Show Listings for South Carolina
Click Here to View BroadwayWorld.com South Carolina Calendar
RUSSIAN TRANSPORT
PURE Theatre
2/7-3/15/2014
PURE Theatre:
Erika Sheffer
; dir: Randy Neale.
Click Here for More Information
BELLES ON THEIR TOES
Abbeville Opera House
3/7-3/15/2014
BELLES ON THEIR TOES, the sequel to CHEAPER BY THE DOZEN based on the book by Frank Gilbreath, will play at the historic Abbeville Opera House Friday and Saturday, March 7, 8, 14 and 15 at 8pm. There will be two Saturday matinees at 3pm on March 8 and 15. Tickets are $20 for adults and $18 for seniors. Students from Kindergarten to College are $10. For more information or for reservations, call the Abbeville Opera House Box Office at (864) 366-2157.
Click Here for More Information
9 TO 5, THE MUSICAL
SPARTANBURG LITTLE THEATRE
3/7-3/16/2014
9 TO 5: THE MUSICAL, with music and lyrics by
Dolly Parton
and book by
Patricia Resnick
, is based on the 1980 hit movie Nine to Five.Pushed to the boiling point by their boss, three female co-workers concoct a plan to get even with the sexist, egotistical, lying, hypocritical bigot they call their boss. They conspire to take control of their company and learn there's nothing they can't do -- even in a man's world. Set in the late 1970s, 9 TO 5: THE MUSICAL is a hilarious story of friendship and revenge in the Rolodex era. Outrageous, thought-provoking, and even a little romantic, 9 TO 5: THE MUSICAL is about teaming up and taking care of business.This high-energy show is ideal for a large, mostly female cast. With its jubilant score and easily relatable characters, 9 TO 5: THE MUSICAL is the perfect show for community theaters or high schools.
Click Here for More Information
FAME
A C FLORA HIGH SCHOOL
3/13-3/16/2014
From the hit motion pictures, television series, and international stage success, FAME is nothing short of a global phenomenon. Set during the last years of New York City's celebrated High School for the Performing Arts on 46th Street (1980-1984), FAME - THE MUSICAL is bittersweet but ultimately inspiring story of a diverse group of students as they commit to four years of grueling artistic and academic work. With candor, humor and insight, the show explores the issues that confront many young people today: issues of prejudice, identity, self-worth, literacy, sexuality, substance abuse and perseverance. With its topical subject manner, multi-ethnic cast of actors, singers, dancers and instrumentalists and high-energy, contemporary pop score which includes the hit title song, FAME - THE MUSICAL is an ideal musical for high schools, colleges or any theatre with young performers or audiences.
Click Here for More Information
MONTY PYTHON'S SPAMALOT
The Theatre of the Republic
2/28-3/16/2014
Click Here for More Information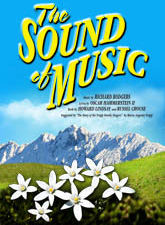 THE SOUND OF MUSIC
Lake City Community Theatre
3/13-3/16/2014
The final collaboration between Rodgers & Hammerstein was destined to become the world's most beloved musical. When a postulant proves too high-spirited for the religious life, she is dispatched to serve as governess for the seven children of a widowed naval Captain. Her growing rapport with the youngsters, coupled with her generosity of spirit, gradually captures the heart of the stern Captain, and they marry. Upon returning from their honeymoon they discover that Austria has been invaded by the Nazis, who demand the Captain's immediate service in their navy. The family's narrow escape over the mountains to Switzerland on the eve of World War II provides one of the most thrilling and inspirational finales ever presented in the theatre. The motion picture version remains the most popular movie musical of all time.Music by Rodgers, Richard; Lyrics by
Oscar Hammerstein
II; Book by
Howard Lindsay
&
Russel Crouse
; Suggested by `The
Trapp Family Singers
` by
Maria Augusta Trapp
Click Here for More Information
ROALD DAHL'S WILLY WONKA JR
LEXINGTON COUNTY ARTS ASSOCIATION
3/7-3/23/2014
Roald Dahl
's timeless story of the world-famous candy man and his quest to find an heir comes to life in this stage adaptation of Charlie and the Chocolate Factory, which features the songs from the classic family film Willy Wonka and the Chocolate Factory.
Roald Dahl
's WILLY WONKA JR., featuring a memorable score by
Leslie Bricusse
(JEKYLL & HYDE, DOCTOR DOLITTLE) and
Anthony Newley
, follows enigmatic candy manufacturer Willy Wonka as he stages a contest by hiding five golden tickets in five of his scrumptious candy bars. Whoever comes up with these tickets will win a free tour of the Wonka factory, as well as a lifetime supply of candy. Four of the five winning children are insufferable brats: the fifth is a likeable young lad named Charlie Bucket who takes the tour in the company of his equally amiable grandfather. The children must learn to follow Mr. Wonka's rules in the factory--or suffer the consequences.This scrumdidilyumptious musical is guaranteed to delight everyone's sweet tooth. With this show's flexible cast size, featuring roles for all ages, your production will take audiences on a fantasy ride into the land of pure imagination!
Click Here for More Information
THE FOREIGNER
Charleston Stage Company
3/7-3/23/2014
Dock Street Theatre:
Larry Shue
; dir: Kyle W. Barnette.
Click Here for More Information
THE OTHER PLACE
The Village Repertory Co
3/7-3/29/2014
Woolfe Street Playhouse:
Sharr White
.
Click Here for More Information
SOUTH PATHETIC
South Carolina Repertory Company
3/17-3/30/2014
Jim David
; dir:
Peter Smith
.
Click Here for More Information
SEE ROCK CITY AND OTHER DESTINATIONS
Trustus
3/14-4/5/2014
Thigpen Main Stage:book:
Adam Mathias
; lyrics:
Adam Mathias
; music:
Brad Alexander
; dir:
Dewey Scott-Wiley
.
Click Here for More Information
View All Show Listings for South Carolina
Click Here to View BroadwayWorld.com South Carolina Calendar