Now Playing Onstage in South Carolina - Week of 11/03/2013
View All Show Listings for South Carolina
Click Here to View BroadwayWorld.com South Carolina Calendar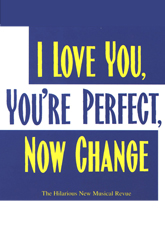 I LOVE YOU, YOU'RE PERFECT, NOW CHANGE
Coker College
11/1-11/8/2013
I Love You, You're Perfect, Now ChangeThis celebration of the mating game takes on the truths and myths behind that contemporary conundrum know as 'the relationship.' Act I explores the journey from dating and waiting to love and marriage, while Act II reveals the agonies and triumphs of in-laws and newborns, trips in the family car and pick-up techniques of the geriatric set. This hilarious revue pays tribute to those who have loved and lost, to those who have fallen on their face at the portal of romance, to those who have dared to ask, 'Say, what are you doing Saturday night?'
Click Here for More Information
LITTLE SHOP OF HORRORS
STROM THURMOND HIGH SCHOOL
11/9-11/10/2013
A down-and out skid row floral assistant becomes an overnight sensation when he discovers an exotic plant with a mysterious craving for fresh blood. Soon "Audrey II" grows into an ill-tempered, foul-mouthed, R&B-singing carnivore who offers him fame and fortune in exchange for feeding its growing appetite, finally revealing itself to be an alien creature poised for global domination! One of the longest-running Off-Broadway shows of all time, this affectionate spoof of 1950s sci-fi movies has become a household name, thanks to a highly successful film version and a score by the songwriting team of
Howard Ashman
and
Alan Menken
, who redefined the animated musical film with Disney's The Little Mermaid, Beauty and the Beast and Aladdin. Charming, tuneful and hilarious, with tongue firmly planted in cheek, LITTLE SHOP OF HORRORS never fails to entertain. A small cast, band and unit set make the other aspects of production a snap.
Click Here for More Information
ANNIE JR
CYT UPSTATE-CHRISTIAN YOUTH THEATRE
11/8-11/10/2013
Leapin' Lizards! The popular comic strip heroine takes center stage in one of the world's best-loved musicals. With equal measures of pluck and positivity, little orphan ANNIE charms everyone's hearts, despite a next-to-nothing start in 1930s New York City. She is determined to find her parents, who abandoned her years ago on the doorstep of a New York City Orphanage run by the cruel, embittered Miss Hannigan. With the help of the other girls in the Orphanage, ANNIE escapes to the wondrous and magical world of NYC. In adventure after fun-filled adventure, ANNIE foils Miss Hannigan's evil machinations and befriends President Franklin Delano Roosevelt. She finds a new home and family in billionaire Oliver Warbucks, his personal secretary
Grace Farrell
, and a lovable mutt named Sandy.ANNIE JR. is ideal for productions involving different grade levels, or for middle schools where students may be maturing at different rates. The cast size and age range of the parts are flexible and the bright, tuneful score is easy to sing and filled with familiar numbers.
Click Here for More Information
FIDDLER ON THE ROOF
FT JOHNSON MIDDLE SCHOOL /FT JOHNSON PLAYERS
11/8-11/11/2013
In the
Little Village
of Anatevka, Tevye, a poor dairyman, tries to instill in his five daughters the traditions of his tight-knit Jewish community in the face of changing social mores and the growing anti-Semitism of Czarist Russia. Rich in historical and ethnic detail, FIDDLER ON THE ROOF has touched audiences around the world with its humor, warmth and honesty. The universal theme of tradition cuts across barriers of race, class, nationality and religion, leaving audiences crying tears of laughter, joy and sadness.The show features a star turn in Tevye, among the most memorable roles in musical theatre. Original director/choreographer
Jerome Robbins
' staging is legendary, and available from MTI in a comprehensive choreographic guide. Its celebrated score by
Jerry Bock
and
Sheldon Harnick
, features songs loved the world over: "Sunrise, Sunset," "If I Were A Rich Man" and "Matchmaker," to name a few. FIDDLER ON THE ROOF is simply Broadway at its very best.
Click Here for More Information
LEND ME A TENOR
Centre Stage- South Carolina
9/19-11/13/2013
Ken Ludwig
; dir:
Myra Green
e.
Click Here for More Information
UNNECESSARY FARCE
Centre Stage- South Carolina
9/21-11/16/2013
Paul Slade Smith
; dir: John Fagan.
Click Here for More Information
VENUS IN FUR
Trustus
11/1-11/16/2013
Thigpen Main Stage:
David Ives
; dir: Jim O'Connor.
Click Here for More Information
THE WHO'S TOMMY
COLLEGE OF CHARLESTON-THEATRE DEPT
11/7-11/17/2013
Peter Townshend'stale of a young boy's journey from pain to triumph is the mostelectrifying evening of rock and roll ever to play in a theatre!Afterwitnessing the accidental murder of his mother's lover by his father,Tommy is traumatized into catatonia, and as the boy grows, he suffersabuse at the hands of his sadistic relatives and neighbors. As anadolescent, he's discovered to have an uncanny knack for playingpinball, and when his mother finally breaks through his catatonia, hebecomes an international pinball superstar.The classic '60s rock opera by The Who was translated to the stage by theatrical wizard
Des McAnuff
into a high-energy, one-of-a-kind theatrical event. The exhilaratingscore is timeless in its youthful appeal, giving the show across-generational appeal that has made it a smash-hit in high schoolsand colleges around the world. A small rock band orchestration andspectacular original Broadway production slides allow you to capturethe excitement of the New York production on a modest budget.
Click Here for More Information
THE BIRDS
PURE Theatre
10/25-11/23/2013
PURE Theatre:
Conor McPherson
; dir: Sharon Graci.
Click Here for More Information
HOUND OF THE BASKERVILLES
The Village Repertory Co
11/1-11/23/2013
Woolfe Street Playhouse:
Click Here for More Information
4000 MILES
South Carolina Repertory Company
11/6-11/24/2013
Amy Herzog
; dir: Chip Egan.
Click Here for More Information
View All Show Listings for South Carolina
Click Here to View BroadwayWorld.com South Carolina Calendar