Now Playing Onstage in Salt Lake City - Week of 2/23/2014
February 23
10:02 AM 2014
View All Show Listings for Salt Lake City
Click Here to View BroadwayWorld.com Salt Lake City Calendar
SEVEN BRIDES FOR SEVEN BROTHERS
SNOW COLLEGE
2/20-3/1/2014
"Goin' courting"ť has never been as much fun as in this rip-roaring stage version of the popular MGM movie, adapted by
Lawrence Kasha
and
David Landay
. Set in Oregon in 1850, SEVEN BRIDES FOR SEVEN BROTHERS tells the story of Millie, a young bride living in the 1850's Oregon wilderness. Her plan to civilize and marry off her six rowdy brothers-in-law to ensure the success of her own marriage backfires when the brothers, in their enthusiasm, kidnap six women from a neighboring town to be their brides. Bursting with the rambunctious energy of the original film, SEVEN BRIDES FOR SEVEN BROTHERS is all boisterous fun and romance that harkens back to the glory days of the movie musical.SEVEN BRIDES FOR SEVEN BROTHERS is a glorious romp suitable for middle school, high school, and community theatre productions. This show's large ensemble is a perfect opportunity to showcase many performers of all types.
Click Here for More Information
GRANT & TWAIN
The Salt Lake Acting Co
2/5-3/2/2014
Upstairs Theatre:
Elizabeth Diggs
.
Click Here for More Information
DISNEY'S BEAUTY AND THE BEAST JR
SPANISH FORK YOUTHEATRE
3/2-3/5/2014
Step into the enchanted world of Disney's BEAUTY AND THE BEAST JR. Featuring songs from the Academy-Award winning animated feature, this stage version includes music by
Alan Menken
and the late
Howard Ashman
, along with new songs by Mr. Menken and
Tim Rice
. Your audiences will be transported to the heart of provincial life in a lovely French town. When Maurice becomes lost in the woods on the way to the fair, he seeks shelter in an old castle, but the master of the castle is a horrible beast that takes him captive. Maurice's daughter, Belle, must then give up her freedom to save his life. Belle's taming of the unfortunate Beast and his ultimate transformation back into a handsome prince is a beloved fairy tale about very different people finding strength in one another and learning how to love. This "tale as old as time" is filled with spectacular costume and set opportunities. Even more simply staged, Disney's BEAUTY AND THE BEAST JR. offers students a great introduction to musical theatre, using familiar songs and characters to guide them through their production.
Click Here for More Information
DR. SEUSS' THE CAT IN THE HAT
SCERA INC
2/17-3/7/2014
From the moment his tall, red-and-white-striped hat appears around the door, Sally and her brother know that THE CAT IN THE HAT is the funniest, most mischievous cat they have ever met.With the trickiest of tricks and craziest of ideas, he is certainly fun to play with. And he turns a rainy afternoon into an amazing adventure. But what will mum find when she gets home...? The National Theatre's production of
Dr. Seuss
's THE CAT IN THE HAT is a lively, engaging "play with sound effects" for performance by adults for young children. Not a word has been touched or added to
Dr. Seuss
's classic, ensuring anyone who's read the story will find themselves transported into the world they've always imagined.
Click Here for More Information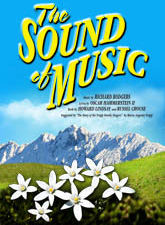 THE SOUND OF MUSIC
CenterPoint Legacy Theatre
3/3-3/29/2014
The final collaboration between Rodgers & Hammerstein was destined to become the world's most beloved musical. When a postulant proves too high-spirited for the religious life, she is dispatched to serve as governess for the seven children of a widowed naval Captain. Her growing rapport with the youngsters, coupled with her generosity of spirit, gradually captures the heart of the stern Captain, and they marry. Upon returning from their honeymoon they discover that Austria has been invaded by the Nazis, who demand the Captain's immediate service in their navy. The family's narrow escape over the mountains to Switzerland on the eve of World War II provides one of the most thrilling and inspirational finales ever presented in the theatre. The motion picture version remains the most popular movie musical of all time.Music by Rodgers, Richard; Lyrics by
Oscar Hammerstein
II; Book by
Howard Lindsay
&
Russel Crouse
; Suggested by `The
Trapp Family Singers
` by
Maria Augusta Trapp
Click Here for More Information
GUYS & DOLLS
TERRACE PLAZA PLAYHOUSE
2/21-4/5/2014
Set in
Damon Runyon
's mythical New York City, this oddball romantic comedy - considered by many to be the perfect musical comedy - soars with the spirit of Broadway as it introduces us to a cast of vivid characters who have become legends in the canon:
Sarah Brown
, the upright but uptight "mission doll," out to reform the evildoers of Time Square; Sky Masterson, the slick, high-rolling gambler who woos her on a bet and ends up falling in love; Adelaide, the chronically ill nightclub performer whose condition is brought on by the fact she's been engaged to the same man for 14 years; and Nathan Detroit, her devoted fiance, desperate as always to find a spot for his infamous floating crap game.Everything works out in the end, thanks to the machinations of
Abe Burrows
and
Jo Swerling
's hilarious, fast-paced book and
Frank Loesser
's bright, brassy, immortal score, which takes us from the heart of Times Square to the cafes of Havana, Cuba, and even into the sewers of New York City. Funny and romantic, GUYS AND DOLLS is ideal for audiences and performers of any age.
Click Here for More Information
BIG RIVER
Hale Center Theater Orem
2/15-4/19/2014
Twain's timeless classic sweeps us down the mighty Mississippi as the irrepressible Huck Finn helps his friend Jim, a slave, escape to freedom at the mouth of the Ohio River. Their adventures along the way are hilarious, suspenseful and heartwarming, bringing to life your favorite characters from the novel-the Widow Douglas and her stern sister,
Miss Watson
; the uproarious King and Duke, who may or may not be as harmless as they seem; Huck's partner in crime,
Tom Sawyer
, and their rowdy gang of pals; Huck's drunken father, the sinister Pap Finn; the lovely Mary Jane Wilkes and her trusting family. Propelled by an award winning score from
Roger Miller
, the king of country music, this jaunty journey provides a brilliantly theatrical celebration of pure Americana.Music by
Roger Miller
; Lyrics by
Roger Miller
; Book by
William Hauptman
; Adapted from the novel by
Mark Twain
Click Here for More Information
LES MISERABLES
HALE CENTRE THEATRE
2/12-4/26/2014
This international smash-hit may be the most popular musical in the world. In 19th century France, Jean Valjean is released from 19 years of unjust imprisonment, but finds nothing in store for him but mistrust and mistreatment. He breaks his parole in hopes of starting a new life, initiating a life-long struggle for redemption as he is relentlessly pursued by police inspector Javert, who refuses to believe Valjean can change his ways. Finally, during the Paris student uprising of 1832, Javert must confront his ideals after Valjean spares his life and saves that of the student revolutionary who has captured the heart of Valjean's adopted daughter. His world-view shattered, Javert commits suicide, and Valjean at last attains the peace he has sought for so long.Epic, grand and uplifting, LES MISÉRABLES packs an emotional wallop that has thrilled audiences all over the world. The sung-through pop opera is ideal for a cast of exceptional singers and overflows with melodies that are already standards. A spectacle on Broadway and in London, LES MISÉRABLES is equally effective with a minimal set; it is its powerful affirmation of the human spirit that has made LES MISÉRABLES a popular masterpiece.
Click Here for More Information
View All Show Listings for Salt Lake City
Click Here to View BroadwayWorld.com Salt Lake City Calendar