Now Playing Onstage in Portland - Week of 4/27/2014
View All Show Listings for Portland
Click Here to View BroadwayWorld.com Portland Calendar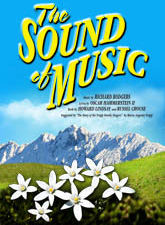 THE SOUND OF MUSIC
O'Hara Catholic School
4/29-4/30/2014
The final collaboration between Rodgers & Hammerstein was destined to become the world's most beloved musical. When a postulant proves too high-spirited for the religious life, she is dispatched to serve as governess for the seven children of a widowed naval Captain. Her growing rapport with the youngsters, coupled with her generosity of spirit, gradually captures the heart of the stern Captain, and they marry. Upon returning from their honeymoon they discover that Austria has been invaded by the Nazis, who demand the Captain's immediate service in their navy. The family's narrow escape over the mountains to Switzerland on the eve of World War II provides one of the most thrilling and inspirational finales ever presented in the theatre. The motion picture version remains the most popular movie musical of all time.Music by Rodgers, Richard; Lyrics by
Oscar Hammerstein
II; Book by
Howard Lindsay
&
Russel Crouse
; Suggested by `The
Trapp Family Singers
` by
Maria Augusta Trapp
Click Here for More Information
ROALD DAHL'S WILLY WONKA
TRINITY LUTHERAN SCHOOL
5/2-5/3/2014
Roald Dahl
's timeless story of the world-famous candy man and his quest to find an heir comes to life in this stage adaptation ofCharlie and the Chocolate Factory, which features the songs from the classic family filmWilly Wonka and the Chocolate Factory.
Roald Dahl
's WILLY WONKA, featuring a memorable score by
Leslie Bricusse
(JEKYLL & HYDE, DOCTOR DOLITTLE) and
Anthony Newley
, follows enigmatic candy manufacturer Willy Wonka as he stages a contest by hiding five golden tickets in five of his scrumptious candy bars. Whoever comes up with these tickets will win a free tour of the Wonka factory, as well as a lifetime supply of candy. Four of the five winning children are insufferable brats: the fifth is a likeable young lad named Charlie Bucket who takes the tour in the company of his equally amiable grandfather. The children must learn to follow Mr. Wonka's rules in the factory--or suffer the consequences.This scrumdidilyumptious musical is guaranteed to delight everyone's sweet tooth. With this show's flexible cast size, featuring roles for all ages, your production will take audiences on a fantasy ride into the land of pure imagination!
Roald Dahl
's WILLY WONKA has been created with educators and student performers in mind. This title is ONLY available for amateur groups to license.
Click Here for More Information
SPRING AWAKENING
UNIV OF OREGON
4/25-5/10/2014
Winner of 8 Tony Awards, including Best Musical, SPRING AWAKENING is a rock musical adaptation of
Frank Wedekind
's 1891 expressionist play about the trials and tribulations, and the exhilaration of the teen years.It's Germany, 1891. The beautiful young Wendla explores her body and asks her mother where babies come from. Elsewhere, the brilliant and fearless young Melchior defends his buddy Moritz -- a boy so traumatized by puberty he can't concentrate on anything. One afternoon in the woods, Wendla and Melchior discover a desire unlike anything they've ever felt. SPRING AWAKENING explores the confusion and desperation that ensue when the onrushing tide of hormones meets the ignorance of children. SPRING AWAKENING celebrates the unforgettable journey from youth to adulthood with a power, poignancy, and passion that you will never forget.This celebration of rebellion provides the perfect opportunity to feature performers of all types, as well as the flexibility to creatively use costumes, set pieces, and lighting. Featuring a pop-rock score, this is an ideal show for talented vocalists with strong acting abilities.
Click Here for More Information
MONTY PYTHON'S SPAMALOT
Grant High School
5/1-5/10/2014
Click Here for More Information
GUYS & DOLLS
THEATRE IN THE GROVE
4/25-5/11/2014
Set in
Damon Runyon
's mythical New York City, this oddball romantic comedy - considered by many to be the perfect musical comedy - soars with the spirit of Broadway as it introduces us to a cast of vivid characters who have become legends in the canon:
Sarah Brown
, the upright but uptight "mission doll," out to reform the evildoers of Time Square; Sky Masterson, the slick, high-rolling gambler who woos her on a bet and ends up falling in love; Adelaide, the chronically ill nightclub performer whose condition is brought on by the fact she's been engaged to the same man for 14 years; and Nathan Detroit, her devoted fiance, desperate as always to find a spot for his infamous floating crap game.Everything works out in the end, thanks to the machinations of
Abe Burrows
and
Jo Swerling
's hilarious, fast-paced book and
Frank Loesser
's bright, brassy, immortal score, which takes us from the heart of Times Square to the cafes of Havana, Cuba, and even into the sewers of New York City. Funny and romantic, GUYS AND DOLLS is ideal for audiences and performers of any age.
Click Here for More Information
THE QUALITY OF LIFE
Artists Repertory Theatre
4/8-5/11/2014
Jane Anderson
; dir: Allen Nause.
Click Here for More Information
OTHELLO
Portland Center Stage
4/5-5/11/2014
William Shakespeare
; dir:
Chris Coleman
.
Click Here for More Information
SCHOOLHOUSE ROCK LIVE!
STAGES PERFORMING ARTS YOUTH ACADEMY
5/2-5/18/2014
A pop culture phenomenon comes to the musical stage!The Emmy Award-winning 1970's Saturday morning cartoon series that taught history, grammar, math, and more through clever, tuneful songs is not only making a small-screen comeback, it's lighting up stages everywhere -- from school multi-purpose rooms to university and regional theatres all around the country.SCHOOLHOUSE ROCK LIVE! follows Tom, a nerve-wracked school teacher who is nervous about his first day of teaching. He tries to relax by watching TV when various characters representing facets of his personality emerge from the set and show him how to win his students over with imagination and music, through such songs as "Just A Bill,"¯ "Lolly, Lolly, Lolly,"¯ and "Conjunction Junction."¯With its minimal band, set, costume and flexible cast requirements, SCHOOLHOUSE ROCK LIVE! may be performed in virtually any space, bringing its infectious zest to a cross-generational audience.
Click Here for More Information
THE GIVER
Oregon Children's Theatre
4/26-5/18/2014
adapt:
Eric Coble
; dir: Matthew B. Zrebski.
Click Here for More Information
THE BIKINIS
Broadway Rose Theatre Company
4/17-5/18/2014
Click Here for More Information
AFTER THE REVOLUTION
Portland Playhouse
4/30-6/1/2014
Amy Herzog
; dir:
Tamara Fisch
.
Click Here for More Information
THE LAST FIVE YEARS
PORTLAND CENTER STAGE
4/26-6/22/2014
THE LAST FIVE YEARS is a contemporary song-cycle musical that ingeniously chronicles the five year life of a marriage, from meeting to break-up... or from break-up to meeting, depending on how you look at it. Written by
Jason Robert Brown
(PARADE, SONGS FOR A NEW WORLD), THE LAST FIVE YEARS is an intensely personal look at the relationship between a writer and an actress told from both points of view. This intimate musical is perfect for small theatre companies and black box venues. With its two-person cast, acting stamina is a must.
Click Here for More Information
View All Show Listings for Portland
Click Here to View BroadwayWorld.com Portland Calendar