Now Playing Onstage in Orlando - Week of 8/18/2013
View All Show Listings for Orlando
Click Here to View BroadwayWorld.com Orlando Calendar
THE ROCKY HORROR SHOW
Athens Theatre
8/23-8/24/2013
Get ready to do the Time Warp again! After a celebrated history of over 35 years of decadent delight, "The Rocky Horror Picture Show" has become the longest running midnight show in the world! The film is an adaptation of the 1970's British classic and is replete with costumes, screen and live actors, props, dancing and YOU the audience are part of the show. We recommend that you come in costume, sing the songs, dance the dances, utilize an array of our approved props and interact with our "shadow cast." Many of the jokes at a Rocky performance hail from a long tradition of burlesque ribaldry. In other words, the jokes at a typical Rocky Horror performance tend to be a bit on the nasty/naughty/raunchy/un-politically correct side so, as a warning: if your sensitivities are not at least slightly rattled, you must have fallen asleep. We invite you to step inside and let your freak flag fly. For these reasons as well as safety and security considerations
Click Here for More Information
DEATH OF A SALESMAN
The Harriett Theatre
8/2-8/25/2013
One of the most important plays of the 20th Century, Death of a Salesman is considered by many to be
Arthur Miller
's masterpiece, this iconic American drama harnesses bold realism with riveting theatricality and is a commentary on the American Dream which resonates even today.
Click Here for More Information
TEDDY BEARS PICNIC
Pinocchio's Marionette Theater
8/21-8/25/2013
30 minute hand puppet show about the secret teddy bear gathering and the mouse who wants to crash it!
Click Here for More Information
MY PRODIGAL CHILD
Athens Theatre
8/25-8/25/2013
The story of a daughter who abandons motherhood and family, in hopes of a future with her drug dealer boyfriend. However, her praying mother refuses to give up on her. But will she come to herself before grace runs out and return home, or will it be too late?
Click Here for More Information
THE FANTASTICKS
Theatre UCF
6/27-9/1/2013
Remember the days of sweet young love in this romantic charmer of a musical! The Fantasticks is the longest running production in American theatre for good reason: the intimate and funny poetry of the script, the catchy songs, the nostalgic story…your whole family will be enchanted.
Click Here for More Information
LIZZIE BORDEN THE MUSICAL
Theatre Downtown
8/23-9/8/2013
Click Here for More Information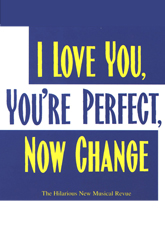 I LOVE YOU, YOU'RE PERFECT, NOW CHANGE
Show Palace Dinner Theatre
8/15-9/15/2013
This celebration of the mating game takes on the truths and myths behind that contemporary conundrum know as 'the relationship.' Act I explores the journey from dating and waiting to love and marriage, while Act II reveals the agonies and triumphs of in-laws and newborns, trips in the family car and pick-up techniques of the geriatric set. This hilarious revue pays tribute to those who have loved and lost, to those who have fallen on their face at the portal of romance, to those who have dared to ask, 'Say, what are you doing Saturday night?'Book and Lyrics by
Joe DiPietro
; Music by
Jimmy Roberts
Click Here for More Information
View All Show Listings for Orlando
Click Here to View BroadwayWorld.com Orlando Calendar