Now Playing Onstage in Orlando - Week of 8/11/2013
View All Show Listings for Orlando
Click Here to View BroadwayWorld.com Orlando Calendar
ALL SHOOK UP
Sands Theater Company
8/8-8/18/2013
t's 1955, and into a square little town in a square little state rides a guitar-playing roustabout who changes everything and everyone he meets. This show is a hip-swiveling, lip-curling musical fantasy! The story is based on
William Shakespeare
's 1602 play Twelfth Night.
Click Here for More Information
DEATH OF A SALESMAN
The Harriett Theatre
8/2-8/25/2013
One of the most important plays of the 20th Century, Death of a Salesman is considered by many to be
Arthur Miller
's masterpiece, this iconic American drama harnesses bold realism with riveting theatricality and is a commentary on the American Dream which resonates even today.
Click Here for More Information
THE FANTASTICKS
Theatre UCF
6/27-9/1/2013
Remember the days of sweet young love in this romantic charmer of a musical! The Fantasticks is the longest running production in American theatre for good reason: the intimate and funny poetry of the script, the catchy songs, the nostalgic story…your whole family will be enchanted.
Click Here for More Information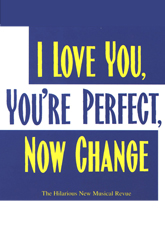 I LOVE YOU, YOU'RE PERFECT, NOW CHANGE
Show Palace Dinner Theatre
8/15-9/15/2013
This celebration of the mating game takes on the truths and myths behind that contemporary conundrum know as 'the relationship.' Act I explores the journey from dating and waiting to love and marriage, while Act II reveals the agonies and triumphs of in-laws and newborns, trips in the family car and pick-up techniques of the geriatric set. This hilarious revue pays tribute to those who have loved and lost, to those who have fallen on their face at the portal of romance, to those who have dared to ask, 'Say, what are you doing Saturday night?'Book and Lyrics by
Joe DiPietro
; Music by
Jimmy Roberts
Click Here for More Information
View All Show Listings for Orlando
Click Here to View BroadwayWorld.com Orlando Calendar