Now Playing Onstage in Oklahoma - Week of 3/30/2014
View All Show Listings for Oklahoma
Click Here to View BroadwayWorld.com Oklahoma Calendar
SOWETO GOSPEL CHOIR
Oklahoma City Community College Cultural Arts Series
4/1-4/1/2014
Soweto Gospel Choir was formed to celebrate the unique and inspirational power of African Gospel music. The 52-strong choir, under the direction of Beverly Bryer, draws on the best talent from the many churches in and around Soweto. The choir is dedicated to sharing the joy of faith through music with audiences around the world.
Click Here for More Information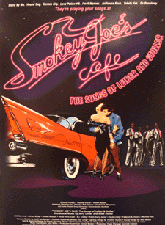 SMOKEY JOE'S CAFE - THE SONGS OF LEIBER AND STOLLER
Ardmore Little Theatre
4/4-4/6/2014
Leiber and Stoller, as much as anyone, virtually invented rock 'n' roll, and now their songs provide the basis for an electrifying entertainment that illuminates a golden age of American culture. In an idealized '50's setting, the classic themes of love won, lost and imagined blend with hilarious set-pieces and slice-of-life emotions. Featuring nearly 40 of the greatest songs ever recorded, SMOKEY JOE'S CAFE isn't just great pop music - it's compelling musical theatre.Words and Music by Leiber & Stoller
Click Here for More Information
DON'T DRESS FOR DINNER
Lawton Community Theatre
4/4-4/13/2014
Don't Dress for Dinner, by
Marc Camoletti
, is a fast-paced farce about a man's fool proof plan to spend the weekend out of town away from the wife. All bets are off as his best friend wrecks his alibi and his wife shows up unannounced. Don't Dress for Dinner is an evening of hilarious confusion you won't want to miss.
Click Here for More Information
JOSEPH AND THE AMAZING TECHNICOLOR DREAMCOAT
Civic Center Music Hall
4/8-4/13/2014
One of the most enduring shows of all time, Joseph and the Amazing Technicolor Dreamcoat is the irresistible family musical about the trials and triumphs of Joseph, Israel's favorite son. The first collaboration of composer
Andrew Lloyd Webber
(Jesus Christ Superstar, Phantom of the Opera, Cats) and lyricist
Tim Rice
(Jesus Christ Superstar, The Lion King), JOSEPH blends pop, country and rock into an uplifting, technicolored story of biblical proportions. Broadway and television star
Diana DeGarmo
(Narrator) and Broadway star
Ace Young
(Joseph) lead the production. Retelling the Biblical story of Joseph, his eleven brothers and the coat of many colors, this magical musical is full of unforgettable songs including Those Canaan Days, Any Dream Will Do and Close Every Door.
Click Here for More Information
JESUS CHRIST SUPERSTAR
Civic Center Music Hall - Freede Little Theatre
4/3-4/20/2014
OKC Theatre Company invites you to experience Easter in a completely different way. Their post-apocalyptic war wasteland setting and casting of local stars
Renee Anderson
(in the role of Judas) and
Matthew
Alvin Brown
(in the role of Jesus), will give the audience cause to stand and cheer. Under the direction of Managing Director Deborah Draheim, the loosely-based Biblical account of Jesus' life follows the traditional Easter story, but the work's depiction offers a free interpretation of the psychology of Jesus and other characters. Contemporary attitudes and sensibilities pervade the lyrics and ironic allusions to modern life are scattered throughout with depictions of political events. Maybe you've seen Superstar before, but never quite like this!
Click Here for More Information
IS HE DEAD?
Carpenter Square Theatre
4/4-4/26/2014
A play originated by the incomparable American humorist
Mark Twain
? What a wonderful find! The plot centers on
Jean-Francois Millet
, a young painter of genius, who is in love with Marie but in debt to a villainous picture-dealer, Bastien Andre. Andre forecloses on Millet, threatening debtor's prison unless Marie marries him. Millet realizes that the only way he can pay his debts and keep Marie from marrying Andre is to die, as it is only dead painters who achieve fame and fortune. Millet fakes his death and prospers, all while passing himself off as his own sister, the Widow Tillou. Now a rich "widow," he must find a way to get out of a dress, return to life, and marry Marie.
Click Here for More Information
View All Show Listings for Oklahoma
Click Here to View BroadwayWorld.com Oklahoma Calendar