Now Playing Onstage in Norfolk - Week of 3/09/2014
View All Show Listings for Norfolk
Click Here to View BroadwayWorld.com Norfolk Calendar
Chris Botti
in Broadway" border="0" height="100" width="100" align="right">
CHRIS BOTTI
Sandler Center for the Performing Arts
3/13-3/13/2014
His early career was spent crafting his skills in settings reaching from the Buddy Rich Big Band and
Frank Sinatra
to
Natalie Cole
and
Joni Mitchell
. Throughout the '90s and into the new century, Botti played extensively with
Paul Simon
, and had an especially creative association with Sting. Now a major artist in his own right, performing worldwide, selling more than three million albums, he has found a form of creative expression that begins in jazz and expands beyond the limits of any single genre. With his album Impressions and the albums that preceded it,
Chris Botti
has thoroughly established himself as one of the important, innovative figures of the contemporary music world.
Click Here for More Information
BLUES CLUES LIVE: THE MOST SPECTACULAR PLACE
Riverside Center Children's Theatre
1/18-3/15/2014
Click Here for More Information
DISNEY'S THE LITTLE MERMAID
The Roper Performing Arts Center
3/14-3/16/2014
DISNEY'S THE LITTLE MERMAID In a magical kingdom fathoms below, the beautiful young mermaid Ariel longs to leave her ocean home to live in the world above. But first, she'll have to defy her father King Triton, make a deal with the evil sea witch Ursula, and convince Prince Eric that she's the girl with the enchanting voice. Adapted from Disney's 2008 Broadway production, Disney's THE LITTLE MERMAID features the hit songs "Part of Your World," "She's in Love," and the Oscar-winning "Under the Sea."
Click Here for More Information
THE MOUNTAINTOP
Virginia Stage Company at the Wells Theatre
2/25-3/16/2014
"I MAY NOT GET THERE WITH YOU - but we as a people will get to the Promised Land." A monumental speech delivered to fervent fans on April 3, 1968. Afterwards, a road-weary Dr. Martin Luther King, Jr. orders room service at the Lorraine Hotel and meets the impudent young maid who will deliver him the fi nal laughs, reminiscences and challenges of his monumental life. The brazen humor and surprising humanity of this stirring drama won Britain's prestigious Olivier Best Play Award and earned nightly standing ovations on Broadway.
Click Here for More Information
THE MOUNTAINTOP
Virginia Stage Co
2/25-3/16/2014
The Wells Theatre:
Katori Hall
; dir:
Derrick Sanders
.
Click Here for More Information
OKLAHOMA!
Unitarian Universalist Church of Arlington - Chalice Theatre
2/28-3/16/2014
The 'G2K' Getting To Know Series: Uniquely adapted musicals specifically for youth performers.
Rodgers & Hammerstein
's first collaboration remains, in many ways, their most innovative, having set the standards and established the rules of musical theatre still being followed today. Set in a Western Indian territory just after the turn of the century, the high-spirited rivalry between the local farmers and cowboys provides the colorful background against which Curly, a handsome cowboy, and Laurey, a winsome farm girl, play out their love story. Although the road to true love never runs smooth, with these two headstrong romantics holding the reins, love's journey is as bumpy as a surrey ride down a country road. That they will succeed in making a new life together we have no doubt, and that this new life will begin in a brand-new state provides the ultimate climax to the triumphant OKLAHOMA! In this adaptation for pre-high school students, the content has been edited to better suit younger attention spans, but all the elements that make this show a classic are still in place. You and your students will be enchanted by the timeless story and the dazzling score, while at the same time learning about theater and its production. PLEASE NOTE: All schools wishing to peruse or perform a G2K musical should apply through theMusic by Rodgers, Richard; Book and Lyrics by
Oscar Hammerstein
II; Based on the play GREEN GROW THE LILACS by
Lynn Riggs
; Original Dances by
Agnes de Mille
Click Here for More Information
JOSEPH AND THE AMAZING TECHNICOLOR DREAMCOAT
West Point High School
3/14-3/16/2014
The Biblical saga of Joseph and his coat of many colors comes to vibrant life in this delightful musical parable. Joseph, his father's favorite son, is a boy blessed with prophetic dreams. When he is sold into slavery by his jealous brothers and taken to Egypt, Joseph endures a series of adventures in which his spirit and humanity are continually challenged. He is purchased by Potiphar where thwarting advances from Potiphar's wife lands him in jail. When news of Joseph's gift to interpret dreams reaches the Pharaoh (wryly and riotously depicted as Elvis), Joseph is well on his way to becoming second in command. Eventually his brothers, having suffered greatly, unknowingly find themselves groveling at the feet of the brother they betrayed but no longer recognize. After testing their integrity, Joseph reveals himself leading to a heartfelt reconciliation of the sons of Israel. Set to an engaging cornucopia of musical styles, from country-western and calypso to bubble-gum pop and rock 'n' roll, this Old Testament tale emerges both timely and timeless.Lyrics by
Tim Rice
; Music by
Andrew Lloyd Webber
Click Here for More Information
RAIN - A TRIBUTE TO THE BEATLES
Sandler Center for the Performing Arts
3/18-3/18/2014
RAIN performs the full range of The Beatles' discography live onstage, including the most complex and challenging songs that The Beatles themselves recorded in the studio but never performed for an audience. Together longer than The Beatles, RAIN has mastered every song, gesture and nuance of the legendary foursome, delivering a totally live, note-for-note performance that's as infectious as it is transporting. From the early hits to later classics "I Want To Hold Your Hand", "Hard Day's Night", "Let It Be", "Come Together", "Hey Jude" and more, this adoring tribute will take you back to a time when all you needed was love, and a little help from your friends!
Click Here for More Information
MONTY PYTHON'S SPAMALOT
Patrick Henry
High School
3/14-3/22/2014
Click Here for More Information
BEACHES
Signature Theatre
2/18-3/23/2014
MAX Theatre:book:
Iris Rainer Dart
, Thom Thomas; lyrics:
Iris Rainer Dart
; music:
David Austin
; dir:
Eric Schaeffer
.
Click Here for More Information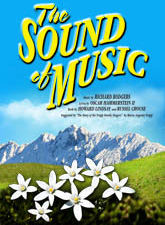 THE SOUND OF MUSIC
Good Shepherd Players
3/14-3/23/2014
The final collaboration between Rodgers & Hammerstein was destined to become the world's most beloved musical. When a postulant proves too high-spirited for the religious life, she is dispatched to serve as governess for the seven children of a widowed naval Captain. Her growing rapport with the youngsters, coupled with her generosity of spirit, gradually captures the heart of the stern Captain, and they marry. Upon returning from their honeymoon they discover that Austria has been invaded by the Nazis, who demand the Captain's immediate service in their navy. The family's narrow escape over the mountains to Switzerland on the eve of World War II provides one of the most thrilling and inspirational finales ever presented in the theatre. The motion picture version remains the most popular movie musical of all time.Music by Rodgers, Richard; Lyrics by
Oscar Hammerstein
II; Book by
Howard Lindsay
&
Russel Crouse
; Suggested by `The
Trapp Family Singers
` by
Maria Augusta Trapp
Click Here for More Information
INTERNATIONAL THEATER FESTIVAL
Kennedy Center - Theater for Young Audiences
3/10-3/30/2014
Click Here for More Information
AS YOU LIKE IT
American Shakespeare Center
1/3-4/3/2014
As You Like It is a pastoral comedy by
William Shakespeare
Click Here for More Information
TIMON OF ATHENS
American Shakespeare Center
1/30-4/4/2014
Timon of Athens is a play by
William Shakespeare
about the fortunes of an Athenian named Timon, generally regarded as one of his most obscure and difficult works.
Click Here for More Information
EPICENE (THE SILENT WOMAN)
American Shakespeare Center
2/20-4/5/2014
Epicoene, or The silent woman, also known as The Epicene, is a comedy by Renaissance playwright
Ben Jonson
.
Click Here for More Information
THE MAID'S TRAGEDY
American Shakespeare Center
3/12-4/5/2014
The Maid's Tragedy is a play by
Francis Beaumont
and
John Fletcher
.
Click Here for More Information
THE SERVANT OF TWO MASTERS
American Shakespeare Center
1/16-4/6/2014
Servant of Two Masters is a comedy by the Venetian playwright.
Click Here for More Information
NEXT TO NORMAL
Little Theatre of Norfolk
3/14-4/6/2014
Tells the story of a mother, Diane Goodman, who struggles with bipolar disorder and the effect that her illness has on her family. This contemporary musical is an emotional powerhouse that addresses such issues as grieving a loss, ethics in modern psychiatry, and suburban life. With provocative lyrics and a thrilling score, this musical shows how far two parents will go to keep themselves sane and their family's world intact.
Click Here for More Information
OPUS
Generic Theater
3/14-4/6/2014
The Lazara Quartet is renowned worldwide for it's impeccable renditions of the world's classical masterpieces. But under that polished surface is all the drama of a high school lunchroom. The powerful passions of great musicians collide in "Opus," a touching, funny, and inspiring tale of a string quartet on a desperate search to replace a fired member in time for a performance at the White House. Time Out NY calls it "a tart and witty chamber piece about the politics and passions that threaten a classical string quartet. Like a good quartet, OPUS is an intimate, intense and profoundly moving conversation among artists."
Click Here for More Information
LIFE COULD BE A DREAM
Swift Creek Mill Theatre
3/6-4/19/2014
Click Here for More Information
TENDER NAPALM
Signature Theatre
3/18-5/11/2014
ARK Theatre:
Philip Ridley
; dir:
Matthew Gardiner
.
Click Here for More Information
View All Show Listings for Norfolk
Click Here to View BroadwayWorld.com Norfolk Calendar