Now Playing Onstage in Norfolk - Week of 10/21/2012
View All Show Listings for Norfolk
Click Here to View BroadwayWorld.com Norfolk Calendar
THE SOUND OF MUSIC
Eastern Mennonite High School
10/19-10/26/2012
The final collaboration between Rodgers & Hammerstein was destined to become the world's most beloved musical. When a postulant proves too high-spirited for the religious life, she is dispatched to serve as governess for the seven children of a widowed naval Captain. Her growing rapport with the youngsters, coupled with her generosity of spirit, gradually captures the heart of the stern Captain, and they marry. Upon returning from their honeymoon they discover that Austria has been invaded by the Nazis, who demand the Captain's immediate service in their navy. The family's narrow escape over the mountains to Switzerland on the eve of World War II provides one of the most thrilling and inspirational finales ever presented in the theatre. The motion picture version remains the most popular movie musical of all time.Music by Rodgers, Richard; Lyrics by
Oscar Hammerstein
II; Book by
Howard Lindsay
&
Russel Crouse
; Suggested by For more information on Eastern Mennonite High School, click hereFor more information on The Sound of Music, click here
Click Here for More Information
---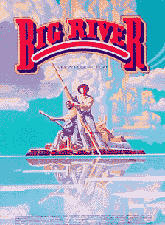 BIG RIVER
Bluefield College
10/23-10/28/2012
Twain's timeless classic sweeps us down the mighty Mississippi as the irrepressible Huck Finn helps his friend Jim, a slave, escape to freedom at the mouth of the Ohio River. Their adventures along the way are hilarious, suspenseful and heartwarming, bringing to life your favorite characters from the novel-the Widow Douglas and her stern sister,
Miss Watson
; the uproarious King and Duke, who may or may not be as harmless as they seem; Huck's partner in crime,
Tom Sawyer
, and their rowdy gang of pals; Huck's drunken father, the sinister Pap Finn; the lovely Mary Jane Wilkes and her trusting family. Propelled by an award winning score from
Roger Miller
, the king of country music, this jaunty journey provides a brilliantly theatrical celebration of pure Americana.Music by
Roger Miller
; Lyrics by
Roger Miller
; Book by
William Hauptman
; Adapted from the novel by
Mark Twain
For more information on Bluefield College, click hereFor more information on Big River, click here
Click Here for More Information
---
THE GLASS MENAGERIE
The Tower Theater
10/26-11/3/2012
In
Tennessee Williams
' classic autobiographical play, poet and dreamer
Tom Wing
field weaves truth and imagination to conjure up his younger self and the family he escaped long ago. Life in the Wingfield household chafes: his overbearing mother Amanda yearns for the glamour of her past; his fragile, shy sister, Laura, believes happiness is out of reach; and young Tom fights to realize his dreamed-for future. When Tom invites a young man of his acquaintance to take dinner with the family, their illusions seem to come true, until their best laid plans come crashing down around them. Jim, the caller, is a nice ordinary fellow who is at once pounced upon by Amanda as a possible husband for Laura. In spite of her crude and obvious efforts to entrap the young man, he and
Laura Ma
nage to get along very nicely, and momentarily Laura is lifted out of herself into a new world. But her momentary respite is cast to the wayside when Jim explains that he is already engaged. The world of illusion that Amanda and Laura have striven to create in order to make life bearable collapses.
Tennessee Williams
' THE GLASS MENAGERIE, a beloved classic, is an endearing, yet heartbreaking, portrait of the fragile Wingfield family. Tom aspires to untether himself from his family to become a writer, as his genteel mother, Amanda, worries about the future prospects of his shy and sensitive sister, Laura. Considered by many to be one of the greatest American plays, we see a glimpse into a family searching for a path to security after a long and embarrassing detour of family hardship.
Click Here for More Information
---
THE SOUND OF MUSIC
Riverside Center Dinner Theater
10/19-1/6/2013
The final collaboration between Rodgers & Hammerstein was destined to become the world's most beloved musical. When a postulant proves too high-spirited for the religious life, she is dispatched to serve as governess for the seven children of a widowed naval Captain. Her growing rapport with the youngsters, coupled with her generosity of spirit, gradually captures the heart of the stern Captain, and they marry. Upon returning from their honeymoon they discover that Austria has been invaded by the Nazis, who demand the Captain's immediate service in their navy. The family's narrow escape over the mountains to Switzerland on the eve of World War II provides one of the most thrilling and inspirational finales ever presented in the theatre. The motion picture version remains the most popular movie musical of all time.Music by Rodgers, Richard; Lyrics by
Oscar Hammerstein
II; Book by
Howard Lindsay
&
Russel Crouse
; Suggested by For more information on Riverside Center Dinner Theater, click hereFor more information on The Sound of Music, click here
Click Here for More Information
---
View All Show Listings for Norfolk
Click Here to View BroadwayWorld.com Norfolk Calendar