Now Playing Onstage in Nashville - Week of 2/16/2014
February 16
10:02 AM 2014
View All Show Listings for Nashville
Click Here to View BroadwayWorld.com Nashville Calendar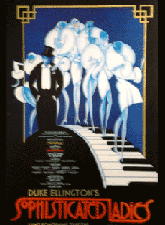 SOPHISTICATED LADIES
The
Larry Keeton
Theatre
2/6-2/22/2014
The musical legacy of The Duke is celebrated in this stylish and brassy retrospective that has taken audiences and critics alike by storm throughout the world. Act I takes us from his early days at The Cotton Club through his widening acceptance abroad, while Act II explores the private man as captured in his music. It's a high-stepping salute inspired by the glamorous nightlife and sensuous highlife of a man who lived to love.Concept by
Donald McKayle
; Based on the music of
Duke Ellington
; Music and Dance Arrangements by
Lloyd Mayers
; Vocal Arrangements by
Malcolm Dodds
and
Lloyd Mayers
; Music by
Duke Ellington
Click Here for More Information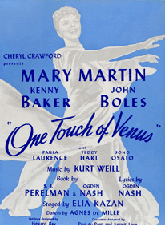 ONE TOUCH OF VENUS
Lakewood Theatre Company
2/21-2/22/2014
Modern art collector Whitelaw Savory unearths a long-lost statue of Venus of Anatolia and is thrilled to display her in his New York museum. But when a naMusic by
Kurt Weill
; Lyrics by
Ogden Nash
; Book by
S. J. Perelman
&
Ogden Nash
; Based on
Click Here for More Information
URINETOWN
ARLINGTON HIGH SCHOOL
2/19-2/25/2014
One of the most uproariously funny musicals in recent years, URINETOWN is a hilarious tale of greed, corruption, love, and revolution in a time when water is worth its weight in gold. In a Gotham-like city, a terrible water shortage, caused by a 20-year drought, has led to a government-enforced ban on private toilets. The citizens must use public amenities, regulated by a single malevolent company that profits by charging admission for one of humanity's most basic needs. Amid the people, a hero decides he's had enough, and plans a revolution to lead them all to freedom! Inspired by the works of
Bertolt Brecht
and
Kurt Weill
, URINETOWN is an irreverently humorous satire in which no one is safe from scrutiny. Praised for reinvigorating the very notion of what a musical could be, URINETOWN catapults the "comedic romp"ť into the new millennium with its outrageous perspective, wickedly modern wit, and sustained ability to produce gales of unbridled laughter.
Click Here for More Information
ROCK OF AGES
Southern Kentucky Performing Arts Center
2/24-2/25/2014
In 1987 on the Sunset Strip, a small town girl met a big city rockeriż˝and in LA's most famous rock club, they fell in love to the greatest songs of the iż˝80s. It's ROCK OF AGES, an arena-rock love story told through the mind-blowing, face-melting hits of Journey, Bon Jovi, Poison and many more. Don't miss this awesomely good time about dreaming big, playing loud and partying on.
Click Here for More Information
RED
Tennessee Repertory Theatre
2/13-3/1/2014
Johnson Theater:
John Logan
; dir: Ren
Click Here for More Information
ANNIE GET YOUR GUN
Hendersonville Performing Arts Company
2/13-3/2/2014
Annie Oakley is the best shot around, and she manages to support her little brother and sisters by selling the game she hunts. When she's discovered by Col. Buffalo Bill, he persuades this novel sharpshooter to join his Wild West Show. It only takes one glance for her to fall head over heels for dashing shooting ace
Frank Butler
, who headlines the show. She soon eclipses Butler as the main attraction which, while good for business, is bad for romance. Butler hightails it off to join a rival show, his bruised male ego leading the way, but is ultimately pitted against Annie in a final shoot-out. The rousing, sure-fire finale hits the mark every time in a testament to the power of female ingenuity.Music and Lyrics by
Irving Berlin
; Book by
Herbert Fields
&
Dorothy Fields
Click Here for More Information
GHOST THE MUSICAL
Tennessee Performing Arts Center
2/25-3/2/2014
Set in modern day New York City, Ghost The Musical is a timeless fantasy about the power of love. Walking back to their apartment one night, Sam and Molly are mugged, leaving Sam murdered on a dark street. Sam is trapped as a ghost between this world and the next and unable to leave Molly, who he learns is in grave danger. With the help of a phony storefront psychic,
Oda Mae Brown
, Sam tries to communicate with Molly in the hope of saving and protecting her.
Click Here for More Information
THE TRIP TO BOUNTIFUL
Clarence Brown
Theatre Co
2/20-3/9/2014
Horton Foote
.
Click Here for More Information
ALWAYS A BRIDESMAID
Chaffin's Barn Dinner Theatre
2/13-3/16/2014
In this hilarious comedic romp, four friends have sworn to keep their high school promise to be in each other's weddings. . . no matter what. More than 30 years later, these Southern friends for life are still making "the long walk" for each other, determined to honor that vow.
Click Here for More Information
View All Show Listings for Nashville
Click Here to View BroadwayWorld.com Nashville Calendar