Now Playing Onstage in Nashville - Week of 2/09/2014
View All Show Listings for Nashville
Click Here to View BroadwayWorld.com Nashville Calendar
INTO THE WOODS
WEST HIGH SCHOOL
2/13-2/15/2014
The Brothers Grimm
hit Broadway with an epic fairytale where worlds collide.
James Lapine
and
Stephen Sondheim
take everyone's favorite storybook characters and brings them together for a timeless yet relevant piece and rare modern classic.The story follows a Baker and his wife who wish to have a child, Cinderella who wishes to attend the King's Festival, and Jack who wishes his cow would give milk. When the Baker and his wife learn that they cannot have a child because of a Witch's curse, the two set off on a journey to break the curse. Everyone's wish is granted, but the consequences of their actions return to haunt them later with disastrous results.One of Sondheim's most popular works, INTO THE WOODS is a musically sophisticated show with the opportunity to feature actors adept at dark comedy. Designers will especially enjoy highlighting the fantastical elements of this magical word.
Click Here for More Information
SHREK
CHATTANOOGA HIGH SCHOOL-CENTER FOR CREATIVE ARTS
2/13-2/15/2014
SHREK THE MUSICAL, based on the Oscar® winningDreamWorks film that started it all, brings the hilarious story ofeveryone's favorite ogre to dazzling new life on the stage. Ina faraway kingdom turned upside down, things get ugly when an unseemlyogre "" not a handsome prince "" shows up to rescue a feisty princess.Throw in a donkey who won't shut up, a bad guy with a SHORT temper, acookie with an attitude and over a dozen other fairy tale misfits, andyou've got the kind of mess that calls for a real hero. Luckily,there's one on hand...and his name is Shrek. Full of all-new songs, great dancing and breathtaking scenery, SHREK THE MUSICAL is part romance, part twisted fairy tale and all irreverent fun for everyone!**AVAILABLE FOR LICENSES FOR PERFORMANCES BEGINNING JUNE 2013**
Click Here for More Information
SEUSSICAL
HARDING ACADEMY
2/13-2/15/2014
Now one of the most performed shows in America, SEUSSICAL is a fantastical, magical, musical extravaganza! Tony winners
Lynn Ahrens
and
Stephen Flaherty
(LUCKY STIFF, MY FAVORITE YEAR, ONCE ON THIS ISLAND, and RAGTIME) have lovingly brought to life all of our favorite
Dr. Seuss
characters, including Horton the Elephant, The Cat in the Hat, Gertrude McFuzz, lazy Mayzie, and a little boy with a big imagination--Jojo. The colorful characters transport us from the Jungle of Nool to the Circus McGurkus to the invisible world of the Whos.The Cat in the Hat tells the story of Horton, an elephant who discovers a speck of dust containing Whos, including Jojo, a Who child sent off to military school for thinking too many "thinks." Horton faces a double challenge--not only must he protect the Whos from a world of naysayers and dangers, but he must guard an abandoned egg, left to his care by the irresponsible Mayzie La Bird. Although Horton faces ridicule, danger, kidnapping, and a trial, the intrepid Gertrude McFuzz never loses faith in him. Ultimately, the powers of friendship, loyalty, family, and community are challenged and emerge triumphant.SEUSSICAL is fun for the whole family! Performers of all ages will be excited to portray the characters from the familiar
Dr. Seuss
fables. This musical provides wonderful creative opportunities for set, lighting, and costume design.More Ahrens and FlahertyFor complet
Click Here for More Information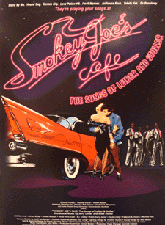 SMOKEY JOE'S CAFE - THE SONGS OF LEIBER AND STOLLER
Jonesborough Repertory Theatre
1/31-2/16/2014
Smokey Joe's Cafe - The Songs of Leiber and StollerLeiber and Stoller, as much as anyone, virtually invented rock 'n' roll, and now their songs provide the basis for an electrifying entertainment that illuminates a golden age of American culture. In an idealized '50's setting, the classic themes of love won, lost and imagined blend with hilarious set-pieces and slice-of-life emotions. Featuring nearly 40 of the greatest songs ever recorded, SMOKEY JOE'S CAFE isn't just great pop music - it's compelling musical theatre.
Click Here for More Information
THE WHIPPING MAN
Clarence Brown
Theatre Co
1/30-2/16/2014
Matthew Lopez
.
Click Here for More Information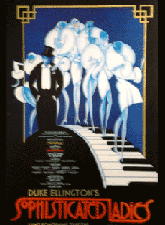 SOPHISTICATED LADIES
The
Larry Keeton
Theatre
2/6-2/22/2014
The musical legacy of The Duke is celebrated in this stylish and brassy retrospective that has taken audiences and critics alike by storm throughout the world. Act I takes us from his early days at The Cotton Club through his widening acceptance abroad, while Act II explores the private man as captured in his music. It's a high-stepping salute inspired by the glamorous nightlife and sensuous highlife of a man who lived to love.Concept by
Donald McKayle
; Based on the music of
Duke Ellington
; Music and Dance Arrangements by
Lloyd Mayers
; Vocal Arrangements by
Malcolm Dodds
and
Lloyd Mayers
; Music by
Duke Ellington
Click Here for More Information
RED
Tennessee Repertory Theatre
2/13-3/1/2014
Johnson Theater:
John Logan
; dir: Ren
Click Here for More Information
ANNIE GET YOUR GUN
Hendersonville Performing Arts Company
2/13-3/2/2014
Annie Oakley is the best shot around, and she manages to support her little brother and sisters by selling the game she hunts. When she's discovered by Col. Buffalo Bill, he persuades this novel sharpshooter to join his Wild West Show. It only takes one glance for her to fall head over heels for dashing shooting ace
Frank Butler
, who headlines the show. She soon eclipses Butler as the main attraction which, while good for business, is bad for romance. Butler hightails it off to join a rival show, his bruised male ego leading the way, but is ultimately pitted against Annie in a final shoot-out. The rousing, sure-fire finale hits the mark every time in a testament to the power of female ingenuity.Music and Lyrics by
Irving Berlin
; Book by
Herbert Fields
&
Dorothy Fields
Click Here for More Information
ALWAYS A BRIDESMAID
Chaffin's Barn Dinner Theatre
2/13-3/16/2014
In this hilarious comedic romp, four friends have sworn to keep their high school promise to be in each other's weddings. . . no matter what. More than 30 years later, these Southern friends for life are still making "the long walk" for each other, determined to honor that vow.
Click Here for More Information
View All Show Listings for Nashville
Click Here to View BroadwayWorld.com Nashville Calendar