Now Playing Onstage in Nashville - Week of 12/15/2013
December 15
10:12 AM 2013
View All Show Listings for Nashville
Click Here to View BroadwayWorld.com Nashville Calendar
A YEAR WITH FROG AND TOAD
ROXY REGIONAL THEATRE
12/13-12/21/2013
Arnold Lobel
's well-loved characters hop from the page to the stage in Robert and
Willie Reale
's Tony-nominated musical A YEAR WITH FROG AND TOAD. This whimsical show follows two great friends -- the cheerful, popular Frog and the rather grumpy Toad -- through four, fun-filled seasons.Waking from hibernation in the Spring, Frog and Toad plant gardens, swim, rake leaves, go sledding, and learn life lessons along the way. The two best friends celebrate and rejoice in their differences that make them unique and special. Part vaudeville, part make believe, all charm, A YEAR WITH FROG AND TOAD tells the story of a friendship that endures, weathering all seasons.The jazzy, upbeat score of A YEAR WITH FROG AND TOAD bubbles with melody and wit, making it an inventive, exuberant, and enchanting musical for the whole family. It is a perfect show to be performed by an ensemble group of actors and can be produced with either simple or extravagant staging and sets.
Click Here for More Information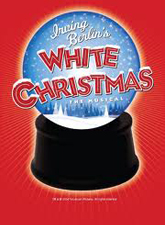 WHITE CHRISTMAS
The
Larry Keeton
Theatre
12/5-12/22/2013
White ChristmasBased on the beloved, timeless film, this heartwarming musical adaptation features seventeen
Irving Berlin
songs and a book by
David Ives
and
Paul Blake
. Veterans Bob Wallace and Phil Davis have a successful song-and-dance act after World War II. With romance in mind, the two follow a duo of beautiful singing sisters en route to their Christmas show at a Vermont lodge, which just happens to be owned by Bob and Phil's former army commander. The dazzling score features well known standards including Blue Skies, I Love A Piano, How Deep Is the Ocean and the perennial favorite, White Christmas. WHITE CHRISTMAS is an uplifting musical worthy of year-round productions.
Click Here for More Information
A TUNA CHRISTMAS
Murfreesboro Center for the Arts
12/6-12/22/2013
A Tuna Christmas is a comedy set in the fictional town of Tuna, Texas. The plot centers on the town's annual Christmas Yard Display Contest, won 14 times in a row by Vera Carp. A mysterious "Christmas Phantom," known for vandalizing the yard displays, has the contestants on edge. The play is both an affectionate commentary and withering satire of small town, Southern life and attitudes. A Tuna Christmas is the second in a series of comedic plays set in the fictional town of Tuna, Texas. Two actors play all 20 zany characters.
Click Here for More Information
A CHRISTMAS STORY THE MUSICAL
Chattanooga Theatre
12/6-12/22/2013
A Christmas Story: The Musical 12/06/13 To 12/22/13 A bright, bouyant retelling of the cherished comedy and much-repeated family holiday film. All the best-loved moments are in the production, including the leg lamp, the tongue-on-a-flagpole, the bunny suit, the santa slide and all of Ralphie's extravagant daydreams. A big Broadway hit last season, this year all the fun is right here at home, complete with dazzling dance numbers, scrumptious songs and an incredibly talented cast of youngsters.
Click Here for More Information
View All Show Listings for Nashville
Click Here to View BroadwayWorld.com Nashville Calendar