Now Playing Onstage in Montana - Week of 2/09/2014
View All Show Listings for Montana
Click Here to View BroadwayWorld.com Montana Calendar
THE MIRACLE WORKER
Alberta Bair Theater
2/11-2/11/2014
Few stories are as timeless or reveal the courage and resilience of the human spirit as well as The Miracle Worker. The stirring dramatization of the story of Helen Keller and her tutor
Anne Sullivan
has been mesmerizing audiences for decades. The Miracle Worker tells the story of Helen Keller, deaf and blind since infancy, who finds her way into the world of knowledge and understanding with the help of
Anne Sullivan
, her gifted tutor. In some of the most turbulent and emotion-packed scenes ever presented on the stage, Helen overcomes rage and confusion to triumph over her physical disabilities.
Click Here for More Information
CGT & MG3
Whitefish Theatre Company
2/13-2/13/2014
Inspired in 2009 by an impromptu studio session together in Montreal, two world-renowned guitar trios featuring six virtuoso guitarists from four countries - Japan, Canada, Belgium, and the US - combine for this unique event. California Guitar Trio's steel stringed guitars blend naturally with MG3's nylon stringed guitars to perform intricate, original compositions as well as new arrangements of progressive rock, jazz, world, and classical music. 40 years of combined performing experience blends into one unique six-by-6 string 'phenomensemble.'
Click Here for More Information
INTERNATIONAL GUITAR NIGHT
Alberta Bair Theater
2/15-2/15/2014
This is the perfect Valentine's concert; serenade your love with romantic music. IGN founder Brian Gore will be joined by Italy's Pino Forastiere, Mike Dawes from England, and Quique Sinesi from Argentina. Pino is revered in contemporary steel string guitar circles for his unique mix of melody, improvisation and hand percussion using the strings, the fretboard and the body of the guitar. Quique is a master of many South American melodies and rhythms on both guitar and charango. We are looking forward to a particularly inventive evening of contemporary guitar music.
Click Here for More Information
DISNEY'S CINDERELLA KIDS
Orphan Girl Theater
2/15-2/16/2014
The timeless fairy tale meets the magic of Disney in this adaptation of the treasured animated film. Poor Cinderella is endlessly mistreated by her wicked stepmother and stepsisters, and denied a chance to go to the Royal Ball. With a little help from her mice friends, and a lot of help from her Fairy Godmother, Cinderella goes to the ball, meets the Prince, and falls in love!
Click Here for More Information
LOMBARDI
Billings
Studio Theatre
2/8-2/22/2014
Sport produces great human drama, and there is no greater sports icon to bring to theatrical life than Hall of Fame football coach
Vince Lombardi
, unquestionably one of the most inspirational and quotable personalities of all time. Though football's Super Bowl trophy is named for him, few know the real story of Lombardi the man-his inspirations, his passions and his ability to drive people to achieve what they never thought possible.
Click Here for More Information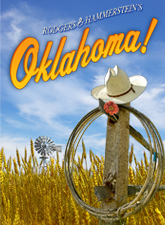 OKLAHOMA!
Hamilton Players Inc.
2/14-3/2/2014
Rodgers & Hammerstein's first collaboration remains, in many ways, their most innovative, having set the standards and established the rules of musical theatre still being followed today. Set in a Western Indian territory just after the turn of the century, the high-spirited rivalry between the local farmers and cowboys provides the colorful background against which Curly, a handsome cowboy, and Laurey, a winsome farm girl, play out their love story. Although the road to true love never runs smooth, with these two headstrong romantics holding the reins, love's journey is as bumpy as a surrey ride down a country road. That they will succeed in making a new life together we have no doubt, and that this new life will begin in a brand-new state provides the ultimate climax to the triumphant OKLAHOMA!Music by Rodgers, Richard; Book by
Oscar Hammerstein
II; Lyrics by
Oscar Hammerstein
II; Original Dances by
Agnes de Mille
; Based on the play `Green Grow the Lilacs` by
Lynn Riggs
Click Here for More Information
THE MIRACLE WORKER
Montana Repertory Theatre
1/24-4/13/2014
William Gibson
; dir: Bernadette Sweeney.
Click Here for More Information
View All Show Listings for Montana
Click Here to View BroadwayWorld.com Montana Calendar