Now Playing Onstage in Milwaukee, WI - Week of 10/20/2013
View All Show Listings for Milwaukee, WI
Click Here to View BroadwayWorld.com Milwaukee, WI Calendar
THE PHANTOM TOLLBOOTH
MIlwaukee Youth Theatre
10/24-10/25/2013
Based on the classic novel by Norton Juster, this stage adaptation features a bored boy named Milo. After a tollbooth appears his room, Milo goes on a magical quest through the Kingdom of Wisdom to the Castle in the Air, amazing places with magicians, princesses, and talking creatures. Along the way Milo strives to end the quarrel between King Azaz of Dictionopolis and the Mathemagician of Digitopolis. Tock the watchdog and Humbug are Milo's companions on his journey to save the banished Princesses of Rhyme and Reason. Milo and company encounter an entire cast of unforgettable characters who give them clues and teach valuable lessons along the way.
Click Here for More Information
AS YOU LIKE IT
Carthage College
10/18-10/26/2013
Join Rosalind, Celia, and Touchstone on their adventurous flight into the Forest of Arden in Carthage Theatre's production of Shakespeare's beloved classic. Directed by faculty member Anna Antaramian, As You Like It is among Shakespeare's most celebrated pastoral comedies: a heartwarming tale of rejection, redemption, loyalty, and love.
Click Here for More Information
JERSEY BOYS
Uihlein Hall, Marcus Center for the Performing Arts
10/16-10/26/2013
Jersey Boys, is the Tony®, Grammy® and Olivier Award-winning Best Musical about Rock and Roll Hall of Famers The Four Seasons:
Frankie Valli
,
Bob Gaudio
,
Tommy DeVito
and Nick Massi. This is the story of how four blue-collar kids became one of the greatest successes in pop music history. They wrote their own songs, invented their own sounds and sold 175 million records worldwide - all before they were 30! Jersey Boys features their hit songs "Sherry," "Big Girls Don't Cry," "Rag Doll," "Oh What a Night" and "Can't Take My Eyes Off You."
Click Here for More Information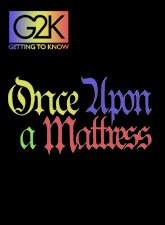 ONCE UPON A MATTRESS
Fireside Dinner Theatre
9/5-10/27/2013
The 'G2K' Getting To Know Series: Uniquely adapted musicals specifically for youth performers. If you thought you knew the story of 'The Princess and The Pea,' you may be in for a walloping surprise! Did you know, for instance, that Princess Winnifred actually swam the moat to reach Prince Dauntless the Drab? Or that it may not have been the pea at all that caused the princess a sleepless night? Carried on a wave of beguiling songs, by turns hilarious and raucous, romantic and melodic, this rollicking spin on the familiar classic of royal courtship and comeuppance provides for some side-splitting shenanigans. Chances are, you'll never look at fairy tales quite the same way again. In this adaptation for pre-high school students, the content has been edited to better suit younger actors and audiences, but all the magic, hilarity and fun of the original are still in place. G2K? ONCE UPON A MATTRESS is the perfect show to introduce young people to the magic of live theater. PLEASE NOTE: All schools wishing to peruse or perform a G2K musical should apply through theMusic by
Mary Rodgers
; Book by
Jay Thompson
&
Dean Fuller
&
Marshall Barer
; Lyrics by
Marshall Barer
; Adapted by
Tom Briggs
Click Here for More Information
BABES IN ARMS (OPPENHEIMER VERSION)
Catholic Central High School
10/24-10/27/2013
This quintessential 'Hey, kids, let's put on a show!' musical boasts one of the greatest scores ever written. Set at a summer stock theatre, the plot concerns a group of young apprentices and their conviction to mount the original revue they've created while dodging the underhanded attempts of the surly theatre owner to squash their efforts at every turn. Further complications are provided by the overbearing stage mother of a beautiful ex-child star and the inflated ego of a hack southern playwright. But of course the show must go on, and so it does in a resolution of comeuppance, reconciliation and romance. This version is the 1959 adaptation by
George Oppenheimer
. The Original 1937 version is also available. Please specify which version you would like when ordering. Music by Rodgers, Richard; Lyrics by
Lorenz Hart
; Book by
George Oppenheimer
; Based on the original by Rodgers & Hart
Click Here for More Information
THE BELLE OF AMHERST
Renaissance Theaterworks
10/18-11/10/2013
"BELLE is a play that poses all the right and great questions…and so does dazzle us." Gabriel Gilbert, Milwaukee's Downtown Edition December 23, 1991
Emily Dickinson
warmly welcomes us into her charming Amherst home for a slice of her special 'Black Cake' and a thoroughly entertaining evening. Told in two acts, this play gives voice to one of America's most enigmatic and eccentric poets. THE BELLE OF AMHERST is a breathing autobiography of a true nonconformist.
Click Here for More Information
SHREK THE MUSICAL
First Stage
10/11-11/17/2013
"Once upon a time, there was a little ogre named Shrek…" And thus begins the fairy tale of an unlikely hero who finds himself on a life-changing journey alongside a wisecracking Donkey, a feisty princess who resists her rescue, and a cast of banished fairy tale misfits. Through heroic feats, Shrek reverses a curse and learns to raise his Freak Flag high. This musical brings a story of adventure, friendship and ogre love that's bringing ugly back!
Click Here for More Information
View All Show Listings for Milwaukee, WI
Click Here to View BroadwayWorld.com Milwaukee, WI Calendar