Now Playing Onstage in Milwaukee, WI - Week of 10/06/2013
View All Show Listings for Milwaukee, WI
Click Here to View BroadwayWorld.com Milwaukee, WI Calendar
PERFECT MENDACITY
Next Act Theatre
9/19-10/13/2013
Jason Wells
; dir: David Cecsarini.
Click Here for More Information
THE DETECTIVE'S WIFE
Milwaukee Chamber Theatre,
Studio Theatre
9/18-10/13/2013
A Ghost Story Alice Conroy is an avid fan of murder mysteries. So when her husband, a Chicago homicide detective, is gunned down, she sets out to uncover who did it…and why. A unique collaboration with the UW-Milwaukee Peck School of the Arts Theatre Department
Click Here for More Information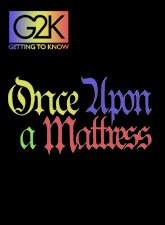 ONCE UPON A MATTRESS
Fireside Dinner Theatre
9/5-10/27/2013
The 'G2K' Getting To Know Series: Uniquely adapted musicals specifically for youth performers. If you thought you knew the story of 'The Princess and The Pea,' you may be in for a walloping surprise! Did you know, for instance, that Princess Winnifred actually swam the moat to reach Prince Dauntless the Drab? Or that it may not have been the pea at all that caused the princess a sleepless night? Carried on a wave of beguiling songs, by turns hilarious and raucous, romantic and melodic, this rollicking spin on the familiar classic of royal courtship and comeuppance provides for some side-splitting shenanigans. Chances are, you'll never look at fairy tales quite the same way again. In this adaptation for pre-high school students, the content has been edited to better suit younger actors and audiences, but all the magic, hilarity and fun of the original are still in place. G2K? ONCE UPON A MATTRESS is the perfect show to introduce young people to the magic of live theater. PLEASE NOTE: All schools wishing to peruse or perform a G2K musical should apply through theMusic by
Mary Rodgers
; Book by
Jay Thompson
&
Dean Fuller
&
Marshall Barer
; Lyrics by
Marshall Barer
; Adapted by
Tom Briggs
Click Here for More Information
SHREK THE MUSICAL
First Stage
10/11-11/17/2013
"Once upon a time, there was a little ogre named Shrek…" And thus begins the fairy tale of an unlikely hero who finds himself on a life-changing journey alongside a wisecracking Donkey, a feisty princess who resists her rescue, and a cast of banished fairy tale misfits. Through heroic feats, Shrek reverses a curse and learns to raise his Freak Flag high. This musical brings a story of adventure, friendship and ogre love that's bringing ugly back!
Click Here for More Information
View All Show Listings for Milwaukee, WI
Click Here to View BroadwayWorld.com Milwaukee, WI Calendar