Now Playing Onstage in Miami - Week of 9/01/2013
September 1
10:09 AM 2013
View All Show Listings for Miami
Click Here to View BroadwayWorld.com Miami Calendar
COMPANY
AMELIA MUSICAL PLAYHOUSE
9/5-9/14/2013
The clashing sounds and pulsing rhythms of New York City underscore this landmark "concept" show, considered by many to have inaugurated the modern era of musical theatre. COMPANY follows our anti-hero bachelor Robert as he makes his way through a series of encounters with April (the stewardess), Kathy (the girl who's going to marry someone else), Marta (the "peculiar" one), as well as with his married friends. On the night of his 35th birthday, confirmed bachelor
Robert Conte
mplates his unmarried state. In vignette after hilarious vignette, we are introduced to "those good and crazy people," his married friends, as Robert weighs the pros and cons of married life. In the end, he realizes being alone is "alone, not alive."An honest, witty, sophisticated look at relationships, COMPANY is as contemporary and relevant as ever (witness the recent hit revivals on Broadway and the West End). It features a brilliant energetic score containing many of
Stephen Sondheim
's best-known songs (including "Another Hundred People," "The Ladies Who Lunch" and "Being Alive").
Click Here for More Information
SEVEN BRIDES FOR SEVEN BROTHERS
Francis Wilson
PLAYHOUSE
9/5-9/22/2013
"Goin' courting"ť has never been as much fun as in this rip-roaring stage version of the popular MGM movie, adapted by
Lawrence Kasha
and
David Landay
. Set in Oregon in 1850, SEVEN BRIDES FOR SEVEN BROTHERS tells the story of Millie, a young bride living in the 1850's Oregon wilderness. Her plan to civilize and marry off her six rowdy brothers-in-law to ensure the success of her own marriage backfires when the brothers, in their enthusiasm, kidnap six women from a neighboring town to be their brides. Bursting with the rambunctious energy of the original film, SEVEN BRIDES FOR SEVEN BROTHERS is all boisterous fun and romance that harkens back to the glory days of the movie musical.SEVEN BRIDES FOR SEVEN BROTHERS is a glorious romp suitable for middle school, high school, and community theatre productions. This show's large ensemble is a perfect opportunity to showcase many performers of all types.
Click Here for More Information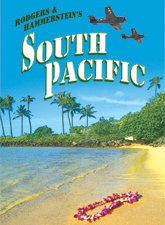 SOUTH PACIFIC
Eight O'Clock Theatre
9/6-9/22/2013
Set in an island paradise during World War II, two parallel love stories are threatened by the dangers of prejudice and war. Nellie, a spunky nurse from Arkansas, falls in love with a mature French planter, Emile. Nellie learns that the mother of his children was an island native and, unable to turn her back on the prejudices with which she was raised, refuses Emile's proposal of marriage. Meanwhile, the strapping Lt. Joe Cable denies himself the fulfillment of a future with an innocent Tonkinese girl with whom he's fallen in love out of the same fears that haunt Nellie. When Emile is recruited to accompany Joe on a dangerous mission that claims Joe's life, Nellie realizes that life is too short not to seize her own chance for happiness, thus confronting and conquering her prejudices.Music by Rodgers, Richard; Lyrics by
Oscar Hammerstein
II; Book by
Oscar Hammerstein
II &
Joshua Logan
; Adapted from the Pulitzer Prize winning novel
Click Here for More Information
LES MISERABLES
OCALA CIVIC THEATRE
9/5-10/13/2013
This international smash-hit may be the most popular musical in the world. In 19th century France, Jean Valjean is released from 19 years of unjust imprisonment, but finds nothing in store for him but mistrust and mistreatment. He breaks his parole in hopes of starting a new life, initiating a life-long struggle for redemption as he is relentlessly pursued by police inspector Javert, who refuses to believe Valjean can change his ways. Finally, during the Paris student uprising of 1832, Javert must confront his ideals after Valjean spares his life and saves that of the student revolutionary who has captured the heart of Valjean's adopted daughter. His world-view shattered, Javert commits suicide, and Valjean at last attains the peace he has sought for so long.Epic, grand and uplifting, LES MISÉRABLES packs an emotional wallop that has thrilled audiences all over the world. The sung-through pop opera is ideal for a cast of exceptional singers and overflows with melodies that are already standards. A spectacle on Broadway and in London, LES MISÉRABLES is equally effective with a minimal set; it is its powerful affirmation of the human spirit that has made LES MISÉRABLES a popular masterpiece.
Click Here for More Information
View All Show Listings for Miami
Click Here to View BroadwayWorld.com Miami Calendar