Now Playing Onstage in Memphis - Week of 2/09/2014
View All Show Listings for Memphis
Click Here to View BroadwayWorld.com Memphis Calendar
Marie Hartman
in Broadway" border="0" height="100" width="100" align="right">
ANNA MARIE HARTMAN
Bartlett Performing Arts and Conference Center
2/14-2/14/2014
Click Here for More Information
MONTY PYTHON'S SPAMALOT
Playhouse on the Square
1/24-2/16/2014
Monty Python's Spamalot is a musical comedy "lovingly ripped off from" the 1975 film Monty Python and the Holy Grail. Like the film, it is a highly irreverent parody of the Arthurian Legend, but it differs from the film in many ways.
Click Here for More Information
WICKED
Orpheum Theatre
1/29-2/16/2014
Back by "Popular" demand. Variety calls WICKED "a cultural phenomenon," and when it last played Memphis, it broke box office records and sold out in record time. Winner of 35 major awards, including a Grammy and three Tony Awards, WICKED is "Broadway's biggest blockbuster" (The New York Times). Long before that girl from Kansas arrives in Munchkinland, two girls meet in the land of Oz. One - born with emerald green skin - is smart, fiery and misunderstood. The other is beautiful, ambitious and very popular. How these two grow to become the Wicked Witch of the West and Glinda the Good makes for "the most complete - and completely satisfying - new musical in a long time" (USA Today).
Click Here for More Information
THE WHIPPING MAN
Clarence Brown
Theatre
1/30-2/16/2014
In April 1865, a wounded Jewish Confederate soldier returns to his home in Richmond only to find it ruined and abandoned - except for two former slaves also raised in the Jewish faith. As the three men celebrate Passover, they uncover a tangle of secrets and grapple with an uncertain future brought on by the end of the Civil War.
Click Here for More Information
HOMEBOUND: A PLAY FOR NOBODY
Clarence Brown
Theatre
2/13-2/16/2014
Nobody is a young girl determined to overcome her diagnosed mental illness. While on her journey, she discovers how to connect herself with the unfeeling present. With the help of her best friend and counselor, Nobody will face her fear of the public life and depression.
Click Here for More Information
THE ELIXIR OF LOVE
Tennessee Theatre
2/14-2/16/2014
Opera preview hosted by Maestro Salesky begins 45 minutes prior to each performance
Gaetano Donizetti
's The Elixir of Love is the perfect romantic comedy for your Valentine! Get ready for dazzling vocal fireworks and glorious melodies that will melt your heart as the desperate Nemorino pursues the feisty Adina. Although she is already engaged to a dashing sergeant, the determined Nemorino downs a love potion in hopes of stealing her away. "Liquid courage" triumphs! Presented in memory of
Luciano Pavarotti
whose legendary performances in Elixir won the hearts of millions of fans, including those who heard him perform arias from the opera at his 1990 Knoxville concert. Performed in Italian with projected English translations.
Click Here for More Information
WICKED (2ND NATIONAL TOUR)
Orpheum Theatre
1/29-2/16/2014
If you think you know the two iconic witches from Oz iż˝ the Wicked Witch (Elphaba) and the Good Witch (Glinda) iż˝ think again. This is the 2nd National Tour.
Click Here for More Information
SEVEN GUITARS
Hattiloo Theatre
2/13-3/2/2014
Click Here for More Information
AS YOU LIKE IT
Theatre Memphis
2/14-3/2/2014
As You Like It is a pastoral comedy by
William Shakespeare
believed to have been written in 1599 or early 1600 and first published in the First Folio, 1623.
Click Here for More Information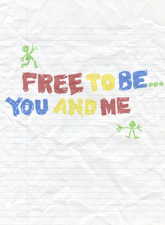 FREE TO BE... YOU AND ME
Playhouse on the Square - Youth
2/18-3/7/2014
Marlo Thomas
conceived a children's book that, instead of telling boys and girls who they should be, would open them to the possibilities of who they could be. She gathered many of her supremely talented friends from various worlds of the arts and the remarkable result is highly regarded as a modern classic of children's literature. Life-enhancing themes are imaginatively blended with music and humor to expand children's personal horizons, enabling them to invent their own futures without limitation, while dispelling some old constraints and worn-out conventions in the process. Parents, teachers and other grown-up friends will delight in sharing this extraordinary and memorable experience with the children in their lives.From the Book `Free To Be... You And Me`; Conceived By
Marlo Thomas
& and Friends; Contributions by Judy Blume & Dan Greenberg &
Carol Hall
&
Sheldon Harnick
& Bruce Hart &
Edward Kleban
& Elain Laron &
Stephen Lawrence
& Betty Miles & Shelley Miller &
Carl Reiner
&
Mary Rodgers
&
Shel Silverstein
&
Peter Stone
& Charlotte Zolotow; Adaptation Written for the Stage by Douglas Love and Regina Safran
Click Here for More Information
View All Show Listings for Memphis
Click Here to View BroadwayWorld.com Memphis Calendar