Now Playing Onstage in Maine - Week of 9/08/2013
September 8
10:09 AM 2013
View All Show Listings for Maine
Click Here to View BroadwayWorld.com Maine Calendar
WEST SIDE STORY
OGUNQUIT PLAYHOUSE
9/4-9/28/2013
The world's greatest love story takes to the streets in this landmarkBroadway musical that is one of the theatre's finest accomplishments.Shakespeare's Romeo and Juliet istransported to modern-day New York City, as two young idealistic loversfind themselves caught between warring street gangs, the "American"Jets and the Puerto Rican Sharks. Their struggle to survive in a worldof hate, violence and prejudice is one of the most innovative,heart-wrenching and relevant musical dramas of our time.Highlighting the talents of a young ensemble cast, WEST SIDE STORY has found popularity in schools as well as professional theatres throughout the world. Its exciting, sophisticated score by Bernstein and Sondheim is often considered Broadway's finest--its songs part of the nation's musical heritage. As originally staged by the legendary
Jerome Robbins
, the show is an impressive showcase for accomplished dancers (a guide featuring the original choreography is available for rental). And with a reduced orchestration and transpositions on demand, this masterpiece is easier to mount than ever before!
Click Here for More Information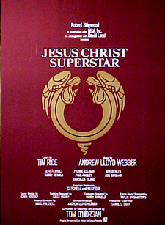 JESUS CHRIST SUPERSTAR
Portland Players
9/13-9/29/2013
It seems especially fitting that the first rock opera, created as a concept album at the end of the turbulent '60s, should have at its center a social and political rebel. Jesus' meteor-like rise in renown provides, as the title suggests, a parallel to contemporary celebrity worship. As his radical teachings are evermore embraced, Judas increasingly questions the enlightened motives of this new prophet, resulting in betrayal. Christ's final days are dramatized with emotional intensity, thought-provoking edge and explosive theatricality. Propelled by a stirring score, by turns driving and majestic, satirical and tender, JESUS CHRIST SUPERSTAR illuminates the transcendent power of the human spirit with a passion that goes straight to the heart.Lyrics by
Tim Rice
; Music by
Andrew Lloyd Webber
Click Here for More Information
DISNEY'S THE LITTLE MERMAID JR
OUR THEATRE COMPANY
9/14-9/29/2013
In a magical kingdom fathoms below, the beautiful young mermaid Ariel longs to leave her ocean home to live in the world above. But first, she'll have to defy her father King Triton, make a deal with the evil sea witch Ursula, and convince Prince Eric that she's the girl with the enchanting voice. Adapted from Disney's 2008 Broadway production, Disney's THE LITTLE MERMAID JR. features the hit songs "Part of Your World," "She's in Love," and the Oscar-winning "Under the Sea."
Click Here for More Information
View All Show Listings for Maine
Click Here to View BroadwayWorld.com Maine Calendar