Now Playing Onstage in Louisville - Week of 3/30/2014
View All Show Listings for Louisville
Click Here to View BroadwayWorld.com Louisville Calendar
THE ISRAEL PHILHARMONIC ORCHESTRA
Kentucky Center, Whitney Hall
4/1-4/1/2014
Founded in 1936, the Israel Philharmonic Orchestra (IPO) is in constant demand at the world's cultural centers and most prestigious festivals. The IPO has hosted most of the world's greatest conductors and soloists, and works to develop young talent from Israel and abroad. Guest principal conductor Gianandrea Noseda also serves as Music Director of Teatro Regio in Turin, and Laureate Conductor of the BBC Philharmonic. Program: FAUR…: Pelleas et Melisande: Suite, Op.80 RAVEL: Ma Mere l'Oye (Mother Goose): Suite RAVEL: Daphnis et Chloe: Suite No.2 BERLIOZ: Symphonie fantastique, Op.14
Click Here for More Information
SEUSSICAL JR
PULASKI COUNTY HIGH SCHOOL
4/3-4/3/2014
A delight for children to perform, SEUSSICAL is now one of the most-performed shows in America! In this fantastical, magical, musical extravaganza, Tony winners
Lynn Ahrens
and
Stephen Flaherty
(LUCKY STIFF, MY FAVORITE YEAR, ONCE ON THIS ISLAND, and RAGTIME) have lovingly brought to life all of our favorite
Dr. Seuss
characters, including Horton the Elephant, The Cat in the Hat, Gertrude McFuzz, lazy Mayzie and a little boy with a big imagination--Jojo. The colorful characters transport us from the Jungle of Nool to the Circus McGurkus to the invisible world of the Whos.The Cat in the Hat tells the story of Horton, an elephant who discovers a speck of dust containing Whos, including Jojo, a Who child who gets in trouble for thinking too many "thinks." Horton faces a double challenge--not only must he protect the Whos from a world of naysayers and dangers, but he must guard an abandoned egg, left to his care by the irresponsible Mayzie La Bird. Although Horton faces ridicule, danger, kidnapping, and a trial, the intrepid Gertrude McFuzz never loses faith in him. Ultimately, the powers of friendship, loyalty, family, and community are challenged and emerge triumphant!SEUSSICAL JR. is fun for the whole family! Young performers will be excited to portray the characters from the familiar
Dr. Seuss
fables. This musical provides wonderful creative opportunities in terms of set design, lighting, and costuming.Note: for this version, certain
Click Here for More Information
COMPLEMENTARY VOICES
Louisville Ballet
4/4-4/5/2014
Striving to challenge your perception of dance today, the Louisville Ballet brings the work three prominent choreographers to one program to push the limits.
Click Here for More Information
THE WHO'S TOMMY
UNION COMMUNITY THEATRE,INC
3/27-4/5/2014
Peter Townshend'stale of a young boy's journey from pain to triumph is the mostelectrifying evening of rock and roll ever to play in a theatre!Afterwitnessing the accidental murder of his mother's lover by his father,Tommy is traumatized into catatonia, and as the boy grows, he suffersabuse at the hands of his sadistic relatives and neighbors. As anadolescent, he's discovered to have an uncanny knack for playingpinball, and when his mother finally breaks through his catatonia, hebecomes an international pinball superstar.The classic '60s rock opera by The Who was translated to the stage by theatrical wizard
Des McAnuff
into a high-energy, one-of-a-kind theatrical event. The exhilaratingscore is timeless in its youthful appeal, giving the show across-generational appeal that has made it a smash-hit in high schoolsand colleges around the world. A small rock band orchestration andspectacular original Broadway production slides allow you to capturethe excitement of the New York production on a modest budget.
Click Here for More Information
HUMANA FESTIVAL OF NEW AMERICAN PLAYS
Actors Theatre of Louisville
2/26-4/6/2014
Click Here for More Information
THOROUGHLY MODERN MILLIE
NOTRE DAME ACADEMY
4/4-4/6/2014
THOROUGHLY MODERN MILLIE is a high-spirited musicalromp that has all of New York dancing the Charleston. It's the zany new1920's musical that has taken Broadway by storm, winning the TONY Award for BEST MUSICAL!Taking place in New York City in 1922, THOROUGHLY MODERN MILLIEtells the story of young Millie Dillmount, who has just moved to thecity in search of a new life for herself. It's a New York full ofintrigue and jazz - a time when women were entering the workforce andthe rules of love and social behavior were changing forever. Based onthe popular movie, the stage version of THOROUGHLY MODERN MILLIE includes a full score of new songs and bright dance numbers.Filled with frisky flappers, dashing leading men and a dragon-lady of a villainess audiences will love to hate, THOROUGHLY MODERN MILLIEis a perfectly constructed evening of madcap merriment. And with therole of Millie Dillmount, musical theatre has found a new heroine forthe ages in THOROUGHLY MODERN MILLIE!
Click Here for More Information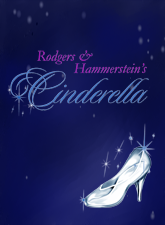 CINDERELLA
Bishop Brossart High School
4/4-4/6/2014
The timeless enchantment of a magical fairy tale is reborn with the Rodgers & Hammerstein hallmarks of originality, charm and elegance. Originally presented on television in 1957 starring
Julie Andrews
, Rodgers & Hammerstein's CINDERELLA was the most widely viewed program in the history of the medium. Its recreation in 1965 starring
Lesley
Ann Warren
was no less successful in transporting a new generation to the miraculous kingdom of dreams-come-true, and so was a second remake in 1997, which starred Brandy as Cinderella and
Whitney Houston
as her Fairy Godmother. As adapted for the stage, with great warmth and more than a touch of hilarity, the hearts of children and adults alike still soar when the slipper fits.Music by Rodgers, Richard; Book by
Oscar Hammerstein
II; Lyrics by
Oscar Hammerstein
II
Click Here for More Information
LADY DAY AT EMERSON'S BAR & GRILL
Bunbury Theatre
4/4-4/18/2014
The time is 1959. The place is a seedy bar in Philadelphia. The audience is about to witness one of
Billie Holiday
's last performances, given four months before her death. More than a dozen musical numbers are interlaced with salty, often humorous, reminiscences to project a riveting portrait of the lady and her music.
Click Here for More Information
JESUS CHRIST SUPERSTAR
Berea College
4/1-4/19/2014
It seems especially fitting that the first rock opera, created as a concept album at the end of the turbulent '60s, should have at its center a social and political rebel. Jesus' meteor-like rise in renown provides, as the title suggests, a parallel to contemporary celebrity worship. As his radical teachings are evermore embraced, Judas increasingly questions the enlightened motives of this new prophet, resulting in betrayal. Christ's final days are dramatized with emotional intensity, thought-provoking edge and explosive theatricality. Propelled by a stirring score, by turns driving and majestic, satirical and tender, JESUS CHRIST SUPERSTAR illuminates the transcendent power of the human spirit with a passion that goes straight to the heart.Lyrics by
Tim Rice
; Music by
Andrew Lloyd Webber
Click Here for More Information
View All Show Listings for Louisville
Click Here to View BroadwayWorld.com Louisville Calendar