Now Playing Onstage in Jacksonville - Week of 11/03/2013
View All Show Listings for Jacksonville
Click Here to View BroadwayWorld.com Jacksonville Calendar
THE PIANO GUYS
Florida Theatre
11/7-11/7/2013
Hailing from Utah, The Piano Guys became an Internet sensation by way of their immensely successful series of strikingly original self-made music videos. They've made over 35 since joining forces in early 2011, including their hit video, an innovative 10-handed version of
One Direction
's "What Makes You Beautiful." But it's the Guys' highly original blend of classical music with pop that has really been the cause of an Internet phenomenon that has brought them to their major label debut album, The Piano Guys, released on Sony Masterworks. In the last few months, The Piano Guys have performed on everywhere from "The Tonight Show with
Jay Leno
," to "The Today Show" and "Katie." Their most recent video "Mission Impossible" featuring YouTube violin sensation Lindsey Stirling, continues to build momemtum with over 1.5M views in a month. It finds the band and Stirling in a spy thriller as covert operatives while playing their unique take on this famous musical theme. The album features more of the imaginative mash-up arrangements that The Piano Guys are already famous for, including sources ranging from
Michael Jackson
to Mozart, The Bourne Identity to
David Guetta
. It also includes an original song and innovative takes on hits by
One Direction
, Adele and
Christina Perri
.
Click Here for More Information
LOVE, LOSS, AND WHAT I WORE
Atlantic Beach Experimental Theatre
10/25-11/9/2013
An international hit, proving that a great show is always in fashion. With its compulsively entertaining subject matter, the show uses clothing and accessories and the memories they trigger to tell funny and often poignant stories that all can relate to, creating one of the most enduring theatergoing experiences domestically and overseas.
Click Here for More Information
LOMBARDI
Theatre Jacksonville
10/25-11/9/2013
Sport produces great human drama and there is no greater sports icon to bring to theatrical life than Hall of Fame football coach
Vince Lombardi
, unquestionably one of the most inspirational and quotable personalities of all time. Though football's Super Bowl trophy is named for him, few know the real story of Lombardi the man-his inspirations, his passions and ability to drive people to achieve what they never thought possible.
Click Here for More Information
CELTIC THUNDER
Times Union Center - Moran Theater
11/10-11/10/2013
MYTHOLOGY tells the story of our ancestors in Ireland, their legends, their history and their stories. It's the lifeblood of modern day Ireland and it's influences from our Celtic past that are that are still reflected in its people today. Like the Celts, Mythology is bold, challenging, strong, proud and steeped in history. On the set of Mythology the old and the new combine, modern catalyst images are projected onto ancient standing stones, a giant Celtic cross takes center stage and the tempo of the music is strongly echoed in the theatrical and moody lighting.
Click Here for More Information
DEATH OF A SALESMAN
THEATREWORKS
10/24-11/10/2013
Dusty Loo Bon Vivant Theater:
Arthur Miller
; dir:
Murray Ross
.
Click Here for More Information
THE LOVE OF THE NIGHTINGALE
Florida State University - The Lab Theatre
11/8-11/17/2013
A King's lust and greed, love lost, death, revenge, and the bond between sisters. An epic journey of deceit, feminism, and cathartic revenge are the cornerstones of this haunting adaptation of the ancient Greek myth of Philomele.
Click Here for More Information
THE WHIPPING MAN
Players By The Sea
11/8-11/23/2013
A moving drama about freedom and faith. In the last days of the Civil War, Caleb, a wounded young Confederate officer staggers into his family's war-ravaged home in Richmond, Virginia. He finds that his family has fled, leaving behind only two former slaves, Simon and John, to protect the property. Caleb, maimed and disillusioned by war, has lost his faith. John is using his new freedom to plunder the deserted homes of the neighborhood. Only Simon retains a steadfast moral compass, sustained by the family faith - which is Jewish. In a powerful scene, he organizes a Passover Seder that celebrates not only the deliverance of the Israelites from Pharaoh's bondage, but the emancipation of his own people from slavery. The three men grapple with their new relationship and interdependency, not as master and slave, but as comrades and brothers.
Click Here for More Information
BAD SEED
Limelight Theatre
11/1-11/24/2013
On the surface Rhoda Penmark is sweet, charming and admired by her elders. But things take a dark turn when one of Rhoda's rival schoolmates mysteriously drowns at a picnic.
Click Here for More Information
THE D* WORD, A MUSICAL
Times Union Center - Terry Theater
10/4-11/24/2013
The 90-minute laugh-aloud, sing-a-long celebration follows the woes and wows of four single and single-again women who learn the art of happily EVEN after with the help of martinis, Mojo Makeovers and girlfriend magic. Featuring songs from I Will Survive and Hot Stuff to Before He Cheats and Turn Me On! this party show will have you D*ancing in the aisles.
Click Here for More Information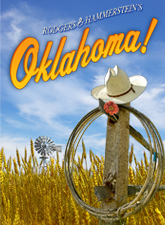 SOUTH PACIFIC
Theatre Partners
, LLC
10/23-12/1/2013
Set in an island paradise during World War II, two parallel love stories are threatened by the dangers of prejudice and war. Nellie, a spunky nurse from Arkansas, falls in love with a mature French planter, Emile. Nellie learns that the mother of his children was an island native and, unable to turn her back on the prejudices with which she was raised, refuses Emile's proposal of marriage. Meanwhile, the strapping Lt. Joe Cable denies himself the fulfillment of a future with an innocent Tonkinese girl with whom he's fallen in love out of the same fears that haunt Nellie. When Emile is recruited to accompany Joe on a dangerous mission that claims Joe's life, Nellie realizes that life is too short not to seize her own chance for happiness, thus confronting and conquering her prejudices.Music by Rodgers, Richard; Lyrics by
Oscar Hammerstein
II; Book by
Oscar Hammerstein
II &
Joshua Logan
; Adapted from the Pulitzer Prize winning novel
Click Here for More Information
View All Show Listings for Jacksonville
Click Here to View BroadwayWorld.com Jacksonville Calendar