Now Playing Onstage in Houston - Week of 1/12/2014
View All Show Listings for Houston
Click Here to View BroadwayWorld.com Houston Calendar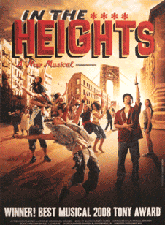 IN THE HEIGHTS
Carver High School
1/9-1/18/2014
IN THE HEIGHTS tells the universal story of a vibrant community in New York?s Washington Heights neighborhood ? a place where the coffee from the corner bodega is light and sweet, the windows are always open and the breeze carries the rhythm of three generations of music. It?s a community on the brink of change, full of hopes, dreams and pressures, where the biggest struggles can be deciding which tradtions you take with you, and which ones you leave behind. IN THE HEIGHTS is the winner of the 2008 Tony Awards for Best Musical, Best Score, Best Choreography and Best Orchestrations. Music and Lyrics by
Lin-Manuel Miranda
; Book by Quiara Aleg
Click Here for More Information
CABARET
Beaumont Community Players
1/17-2/1/2014
The scene is a nightclub in Berlin as the 1920's are drawing to a close. The Master of Ceremonies welcomes the audience to the show and assures them that, whatever their troubles, they will forget them at the Cabaret. His songs provide wry commentary throughout the show. On the train to Berlin we find Cliff, a young American writer, and Ernst, a German who surprises Cliff by putting his briefcase among Cliff's luggage at the German border. History is in the process of being made. We find Cliff on the train again, now leaving Berlin alone. He writes about Sally and the people of Berlin leading up to the Third Reich. It has been a tumultuous and heartbreaking era. Musical numbers include It Couldn't Please Me More, Willkommen, Cabaret,
Don't Tell Mama
and Two Ladies.
Click Here for More Information
THE PASSENGER
Houston Grand Opera
1/18-2/2/2014
Memory can comfort, torment-even terrify-but it is always with us. As Faulkner wrote, "The past isn't dead. It isn't even past." The horrors of the Second World War, still raw today, were fresh in 1959 when Auschwitz survivor Zofia Posmysz wrote a play titled The Passenger from Cabin 45 for Polish radio. The play became the basis of the opera by Mieczyslaw Weinberg in 1967. En route to a new post with her husband, a German diplomat, Lisa is unnerved by the sight of a woman-another passenger-who eerily resembles Martha, one of the inmates Lisa tormented when she was an SS overseer at Auschwitz. The action of the drama takes us from the stylish gentility of a luxury liner's deck to the squalor of a death camp where cruelty, despair, and unspeakable courage are evident in equal measure. This American premiere will be one of the most important musical events of the year.
Click Here for More Information
OTHER DESERT CITIES
Alley Theatre
1/10-2/2/2014
A riveting new play by Pulitzer Prize nominee and creator of TV's hit drama Brothers & Sisters,
Jon Robin Baitz
's Other Desert Cities was named the Outstanding Play by the Outer Critics Circle and called "the best new play on Broadway" by The New York Times. After a six-year absence, Brooke Wyeth returns home to Palm Springs to celebrate Christmas with her parents, brother and aunt. The warm desert air turns chilly when news of her upcoming memoir threatens to revive the most painful chapter of the family's history. The New York Daily News calls this dysfunctional family drama "a winner … funny and fierce, invigorating and intelligent."
Click Here for More Information
MONTY PYTHON'S SPAMALOT
Stage Door Inc.
1/10-2/2/2014
Lovingly ripped off from the classic film comedy MONTY PYTHON AND THE HOLY GRAIL, SPAMALOT retells the legend of King Arthur and his Knights of the Round Table, and features a bevy of beautiful show girls, not to mention cows, killer rabbits, and French people. Did we mention the bevy of beautiful show girls?
Click Here for More Information
A RAISIN IN THE SUN
The Garza Main Stage
1/10-2/2/2014
For a struggling black family in 1950's Chicago, the anticipation of a windfall insurance check rekindles dreams long deferred. But dreams can slip away. This emotionally-charged but tender drama examines the hardships that accompany the pursuit of the American Dream.
Click Here for More Information
WE WILL ROCK YOU
Hobby Center for the Performing Arts
1/21-2/2/2014
In its 11th smash year in London, with productions having occurred all over the world -Australia, Russia, Germany, Japan, Spain, South Africa, South Korea, Switzerland, Italy, Sweden, Canada, and Austria to name a few- WE WILL ROCK YOU, featuring the music of QUEEN, comes to North America for its first National Tour, beginning in the fall of 2013. Seen by more than 15 million people worldwide, WE WILL ROCK YOU is a guitar-thrashing, leather clad musical based on over two dozen QUEEN songs with a script and direction by
Ben Elton
, music supervision by QUEEN,
Roger Taylor
and
Brian May
, and produced by
Phil Mcintyre
Entertainment,
Tribeca Theatrical Productions
and Queen Theatrical Productions.
Click Here for More Information
INTO THE WOODS
Main Street Theater
1/11-2/16/2014
Stephen Sondheim
and
James Lapine
's beloved musical re-imagined for a small cast and intimate stage. The story follows a Baker and his wife's wish to have a child, Cinderella's wish to attend the King's Festival, and Jack's wish that his cow would give milk. When the Baker and his wife learn that they cannot have a child because of a Witch's spell, the two set off on a journey to break the curse. Everyone's wish is granted, but the consequences of their actions return to haunt them later with disastrous results. In 1988, Into the Woods won Tony Awards for Best Original Score and Best Book of a Musical.
Click Here for More Information
View All Show Listings for Houston
Click Here to View BroadwayWorld.com Houston Calendar