Now Playing Onstage in Hawaii - Week of 11/03/2013
View All Show Listings for Hawaii
Click Here to View BroadwayWorld.com Hawaii Calendar
THE MIKADO
Hawaii Theatre
11/6-11/6/2013
Hilarious confusion follows the noble Nanki-Poo as he disguises himself as a "wand'ring minstrel" and flees the Japanese court to avoid the lovelorn Katisha. Things only get more complicated when he falls in love with Yum-Yum, the most beautiful of the "three little maids from school." Gilbert's clever dialogue and Sullivan's catchy melodies make for a child-friendly introduction to opera. Students also participate in the opera!
Click Here for More Information
NOTHING IS THE SAME
Kahilu Theatre
11/8-11/8/2013
Kahilu Theatre welcomes the Honolulu Theatre for Youth back to our stage for two schools shows and one public show of "Nothing is The Same". Set on O`ahu on December 7, 1941, "Nothing is the Same" follows the lives of four 11 year-olds who are changed forever when Japanese planes, on their way to Pearl Harbor, bomb their small town. Through comedy and drama award winning playwright York explores what friendship means when everything in the world is turned upside down.
Click Here for More Information
RECALLING HAWAII
Hawaii Theatre
11/9-11/9/2013
RECALLING HAWAI'I is a heartfelt hula theatre chronicle awakening the past, revealing the present and the future of Hawai'i through imagery, music and dance. Visionary Roselle (Keli'ihonipua Lindsey) Bailey directs the diverse cast of 60 performers of all ages, including dancers, chanters, musicians and actors. Eight halau of Maui, Kaua'i, O'ahu, California, Germany and Switzerland are uniquely woven together under Ka 'Imi Na'auao O Hawai'i Nei Institute to bring this extravaganza to O'ahu Island. Recalling Hawai'i began in 2010 by a special invitation to perform at Heidelberg Castle in Germany. The production was followed by sold out shows in Basel, Switzerland and Augsburg, Germany that same year and a sell-out again on Kaua'i in May, 2011. In June of 2012 the show played to nearly 1000 at the Maui Arts and Cultural Center's Castle Theater and again in February of 2013 at Hilo's Palace Theater. The show is Roselle Bailey's personal interpretation of Hawai'i's history from the time of creation, or Kumulipo - through all the historical highlights that have made Hawai'i what it is today. It mixes traditional and contemporary Hawaiian music and hula, complemented by projected images in the background.
Click Here for More Information
LONO'S JOURNEY
Honolulu Theatre for Youth
10/18-11/9/2013
Lonoikamakahiki! We celebrate the beginning of the Hawaiian New Year by bringing new life to old artifacts through storytelling. This age-appropriate performance incorporates Hawaiian language, music, dance, sport, and puppetry, inviting audiences to join one of Hawai'i's most important figures on a journey around the islands to find his better self.
Click Here for More Information
A KOREAN CINDERELLA
Kahilu Theatre
11/9-11/9/2013
As the beautiful and kind Konji reaches out for help in overcoming the bullying of her wicked stepmother and sister, a magical turtle, ox and even a dancing Prince come to her aid, but are they enough? This new telling of the Cinderella story mixes modern K-pop with traditional Korean drumming, dance and costumes to create a ball like nothing you have seen before. A world premiere by Alvin Chan.
Click Here for More Information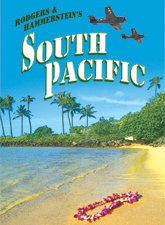 SOUTH PACIFIC
Kamehameha High School
11/7-11/9/2013
South PacificSet in an island paradise during World War II, two parallel love stories are threatened by the dangers of prejudice and war. Nellie, a spunky nurse from Arkansas, falls in love with a mature French planter, Emile. Nellie learns that the mother of his children was an island native and, unable to turn her back on the prejudices with which she was raised, refuses Emile's proposal of marriage. Meanwhile, the strapping Lt. Joe Cable denies himself the fulfillment of a future with an innocent Tonkinese girl with whom he's fallen in love out of the same fears that haunt Nellie. When Emile is recruited to accompany Joe on a dangerous mission that claims Joe's life, Nellie realizes that life is too short not to seize her own chance for happiness, thus confronting and conquering her prejudices.
Click Here for More Information
GODSPELL JR
NEW HOPE CHRISTIAN FELLOWSHIP
11/7-11/17/2013
This best loved musical by two-time Academy Award-winner
Stephen Schwartz
is now available in a Broadway Junior version! Based on the Gospel According to
St. Matthew
, and featuring a sparkling score, GODSPELL JR. boasts a string of well-loved songs, led by the international hit, "Day By Day." As the cast performs "Prepare Ye The Way Of The Lord," "Learn Your Lessons Well," "All For The Best," "All Good Gifts," "Turn Back, O Man" and "By My Side," the parables of Jesus Christ come humanly and hearteningly to life. Drawing from various theatrical traditions, such as clowning, pantomime, charades, acrobatics and vaudeville, GODSPELL JR. is a unique reflection on the life of Jesus, with a message of kindness, tolerance and love.GODSPELL JR. can be performed virtually anywhere with the simplest of sets, costumes, lights, and music. It is sure to be a crowd pleaser.
Click Here for More Information
FLOWERS OF HAWAI'I
Kumu Kahua Theatre
11/7-12/7/2013
Kumu audience favorite Lee Cataluna returns to our stage with a series of short playlets depicting the strained and often confrontational relationships among members of several Hawaii families. An elderly woman's children and grandchildren claim her possessions while she's still alive, sticking name tags under her belongings. A young mother tries to foist off the responsibilities of raising her child onto her mother. A married woman grows tired of her affair with a possessive policeman. And a neighbor discovers that his friend is being physically abused by his wife. Cataluna, well known for her hilarious local-style comedies, gets serious without absenting her sense of humor in this world premiere drama.
Click Here for More Information
View All Show Listings for Hawaii
Click Here to View BroadwayWorld.com Hawaii Calendar