Now Playing Onstage in Fargo - Week of 7/07/2013
View All Show Listings for Fargo
Click Here to View BroadwayWorld.com Fargo Calendar
DISNEY'S WINNIE THE POOH KIDS
FARGO MOORHEAD COMM THEATRE
6/21-7/13/2013
DISNEY'S WINNIE THE POOH KIDS is a delightful new show based on the beloved characters of
A.A. Milne
and the 2011 Disney animated feature film.DISNEY'S WINNIE THE POOH KIDS welcomes audiences to the Hundred Acre Wood, where Winnie the Pooh is once again in search of honey. Along the way, he meets his pals Tigger, Piglet, Rabbit, and Owl, but soon discovers that Christopher Robin has been captured by the Backson! As they prepare for a rescue operation, the animals learn about teamwork, friendship, and sharing snacks.As a title in the MTI Broadway Junior Collection, DISNEY'S WINNIE THE POOH KIDS is approximately 30 minutes in length and is appropriate for performance by elementary school-aged students.
Click Here for More Information
THE PHANTOM TOLLBOOTH
Dakota Stage Ltd
7/11-7/14/2013
The exceptional tale of Milo, Tock, and a certain magic tollbooth is brought splendidly to life on stage by the incomparable
Sheldon Harnick
(FIDDLER ON THE ROOF, SHE LOVES ME),
Arnold Black
and
Norton Juster
. Even surrounded by dozens of toys, Milo is bored. Nothing interests him at all. THE PHANTOM TOLLBOOTH comes to the rescue! Transported to the Land of Wisdom Milo is thrust into adventure when told princesses Rhyme and Reason need rescuing, so as to bring peace between two kings. They are divided over which is more important: words or numbers. Knee-deep in danger, language, and math along the way, Milo learns everything has a purpose. Upon his return home, he realizes there is never a reason to be bored in a world full of so many things to discover. Being an astoundingly well-known title and story makes the prospect of producing THE PHANTOM TOLLBOOTH most ideal. Those on the stage, behind the scenes, and in the audience will undoubtedly adore the delightful experience this book offers.
Click Here for More Information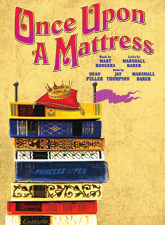 ONCE UPON A MATTRESS
Red River High School
7/12-7/18/2013
If you thought you knew the story of 'The Princess and The Pea,' you may be in for a walloping surprise! Did you know, for instance, that Princess Winnifred actually swam the moat to reach Prince Dauntless the Drab? Or that Lady Larken's love for Sir Harry provided a rather compelling reason that she reach the bridal altar post haste? Or that, in fact, it wasn't the pea at all that caused the princess a sleepless night? Carried on a wave of wonderful songs, by turns hilarious and raucous, romantic and melodic, this rollicking spin on the familiar classic of royal courtship and comeuppance provides for some side-splitting shenanigans. Chances are you'll never look at fairy tales quite the same way again.Music by
Mary Rodgers
; Book by
Jay Thompson
&
Dean Fuller
&
Marshall Barer
; Lyrics by
Marshall Barer
Click Here for More Information
DISNEY'S MULAN JR
YOUTH EDUCATION ON STAGE
7/16-7/18/2013
Travel back to the legendary, story-telling days of ancient China with this action-packed stage adaptation of Disney's Mulan. The Huns have invaded, and it is up to the misfit Mulan and her mischievous sidekick Mushu to save the Emperor! Disney's MULAN JR. is a heartwarming celebration of culture, honor and a fighting spirit. The score includes favorites like "Reflection,"ť "Honor to Us All"ť and "I'll Make a Man Out of You"ť as well as new songs that will get your audience up on its feet!
Click Here for More Information
THE PAJAMA GAME
FT TOTTEN LITTLE THEATRE
7/6-7/28/2013
The dangers of a workplace romance are explored to hysterical effect in this romantic comedy (from the creators of DAMN YANKEES). Conditions at the Sleep-Tite Pajama Factory are anything but peaceful, as sparks fly between new superintendent Sid Sorokin and Babe Williams, leader of the union grievance committee. Their stormy relationship comes to a head when the workers strike for a 7 and a half cent pay increase, setting off not only a conflict between management and labor, but a battle of the sexes as well. Bright and brassy, this unconventional, fast-paced Broadway favorite is every bit the embodiment of legendary director
George Abbott
at his very best. The energetic score by
Richard Adler
and
Jerry Ross
is brimming with songs and dances, which have become popular and musical theatre standards (among them "Hey There," "Steam Heat" and "Hernando's Hideaway") and features plenty of splashy, fun production numbers, including a comic "dream ballet." For solid, classic musical comedy, it's hard to beat THE PAJAMA GAME!
Click Here for More Information
DISNEY'S THE LITTLE MERMAID JR
SLEEPY HOLLOW SUMMER THEATRE
7/7-7/31/2013
In a magical kingdom fathoms below, the beautiful young mermaid Ariel longs to leave her ocean home to live in the world above. But first, she'll have to defy her father King Triton, make a deal with the evil sea witch Ursula, and convince Prince Eric that she's the girl with the enchanting voice. Adapted from Disney's 2008 Broadway production, Disney's THE LITTLE MERMAID JR. features the hit songs "Part of Your World," "She's in Love," and the Oscar-winning "Under the Sea."
Click Here for More Information
THE MUSIC MAN
FROST FIRE SUMMER THEATRE
6/29-7/31/2013
An affectionate paean to Smalltown, U.S.A. of a bygone era,
Meredith Willson
's THE MUSIC MAN follows fast-talking traveling salesman Harold Hill as he cons the people of River City, Iowa into buying instruments and uniforms for a boys' band he vows to organize - this despite the fact he doesn't know a trombone from a treble clef. His plans to skip town with the cash are foiled when he falls for Marian the librarian, who transforms him into a respectable citizen by curtain's fall. Perfect for professional theatres, community groups, summer stock and schools alike, this award-winning, critically acclaimed Broadway classic is an all-American institution, thanks to is quirky characters, charmingly predictable dramatic situations, and one-of-a-kind, nostalgic score of rousing marches, barbershop quartets and sentimental ballads which have become popular standards. The cast features a soaring soprano ingenue, parts for young performers and children, and one of the musical theatre's treasures, a tour de force leading role for a charismatic actor who doesn't need to be a trained singer. By turns wicked, funny, warm, romantic and touching, THE MUSIC MAN is family entertainment at its best.
Click Here for More Information
LES MISERABLES
SLEEPY HOLLOW SUMMER THEATRE
7/8-7/31/2013
This international smash-hit may be the most popular musical in the world. In 19th century France, Jean Valjean is released from 19 years of unjust imprisonment, but finds nothing in store for him but mistrust and mistreatment. He breaks his parole in hopes of starting a new life, initiating a life-long struggle for redemption as he is relentlessly pursued by police inspector Javert, who refuses to believe Valjean can change his ways. Finally, during the Paris student uprising of 1832, Javert must confront his ideals after Valjean spares his life and saves that of the student revolutionary who has captured the heart of Valjean's adopted daughter. His world-view shattered, Javert commits suicide, and Valjean at last attains the peace he has sought for so long.Epic, grand and uplifting, LES MISÉRABLES packs an emotional wallop that has thrilled audiences all over the world. The sung-through pop opera is ideal for a cast of exceptional singers and overflows with melodies that are already standards. A spectacle on Broadway and in London, LES MISÉRABLES is equally effective with a minimal set; it is its powerful affirmation of the human spirit that has made LES MISÉRABLES a popular masterpiece.
Click Here for More Information
View All Show Listings for Fargo
Click Here to View BroadwayWorld.com Fargo Calendar