Now Playing Onstage in Detroit - Week of 2/23/2014
February 23
10:02 AM 2014
View All Show Listings for Detroit
Click Here to View BroadwayWorld.com Detroit Calendar
ASSASSINS
FARMINGTON PLAYERS, INC.
2/14-3/1/2014
Bold, original, disturbing, and alarmingly funny, ASSASSINS is perhaps the most controversial musical ever written.This American of musicals lays bare the lives of nine individuals who assassinated or tried to assassinate the President of the United States, in a one-act historical "revusical" that explores the dark side of the American experience. From
John Wilkes Booth
to Lee Harvey Oswald, writers
Stephen Sondheim
and
John Weidman
bend the rules of time and space, taking us on a nightmarish roller coaster ride in which assassins and would-be assassins from different historical periods meet, interact and inspire each other to harrowing acts in the name of the American Dream.ASSASSINS requires skilled singers who can act. This is an ideal choice for mature audiences and will challenge your designers as they try to recreate famous moments and people in America's history.
Click Here for More Information
GUYS & DOLLS
BYRON CENTER HIGH SCHOOL
2/27-3/1/2014
Set in
Damon Runyon
's mythical New York City, this oddball romantic comedy - considered by many to be the perfect musical comedy - soars with the spirit of Broadway as it introduces us to a cast of vivid characters who have become legends in the canon:
Sarah Brown
, the upright but uptight "mission doll," out to reform the evildoers of Time Square; Sky Masterson, the slick, high-rolling gambler who woos her on a bet and ends up falling in love; Adelaide, the chronically ill nightclub performer whose condition is brought on by the fact she's been engaged to the same man for 14 years; and Nathan Detroit, her devoted fiance, desperate as always to find a spot for his infamous floating crap game.Everything works out in the end, thanks to the machinations of
Abe Burrows
and
Jo Swerling
's hilarious, fast-paced book and
Frank Loesser
's bright, brassy, immortal score, which takes us from the heart of Times Square to the cafes of Havana, Cuba, and even into the sewers of New York City. Funny and romantic, GUYS AND DOLLS is ideal for audiences and performers of any age.
Click Here for More Information
AIN'T MISBEHAVIN'
STAGECRAFTERS
2/14-3/2/2014
The outrageously prodigious comic and musical soul of 1930's Harlem lives on in this rollicking, swinging, finger-snapping revue that is still considered one of Broadway's best. The inimitable Thomas "Fats" Waller rose to international fame during the Golden Age of the Cotton Club, honky tonk dives along Lenox Avenue, rent parties, stride piano players and that jumpin' new beat, Swing. Although not quite a biography, AIN'T MISBEHAVIN' evokes the delightful humor and infectious energy of this American original as a versatile cast struts, strums and sings the songs he made famous in a career that ranged from uptown clubs to downtown Tin Pan Alley to Hollywood and concert stages in the U.S., Canada and Europe.Assembled under the expert eye of director/lyricist
Richard Maltby
, Jr., AIN'T MISBEHAVIN' is one of the most popular, well-crafted revues of all time. Sometimes sassy, sometimes sultry, with moments of devastating beauty, AIN'T MISBEHAVIN' is simply unforgettable.
Click Here for More Information
SHREK
BEDFORD HIGH SCHOOL
2/27-3/2/2014
SHREK THE MUSICAL, based on the Oscar® winningDreamWorks film that started it all, brings the hilarious story ofeveryone's favorite ogre to dazzling new life on the stage. Ina faraway kingdom turned upside down, things get ugly when an unseemlyogre "" not a handsome prince "" shows up to rescue a feisty princess.Throw in a donkey who won't shut up, a bad guy with a SHORT temper, acookie with an attitude and over a dozen other fairy tale misfits, andyou've got the kind of mess that calls for a real hero. Luckily,there's one on hand...and his name is Shrek. Full of all-new songs, great dancing and breathtaking scenery, SHREK THE MUSICAL is part romance, part twisted fairy tale and all irreverent fun for everyone!**AVAILABLE FOR LICENSES FOR PERFORMANCES BEGINNING JUNE 2013**
Click Here for More Information
ALL SHOOK UP
Blue Light Players
2/21-3/2/2014
Click Here for More Information
MONTY PYTHON'S SPAMALOT
Players De Noc, Inc.
2/28-3/8/2014
Click Here for More Information
LYSISTRATA JONES
Meadow Brook Theatre
2/12-3/9/2014
Meadow Brook Theatre:book:
Douglas Carter Beane
; lyrics:
Lewis Flinn
; music:
Lewis Flinn
.
Click Here for More Information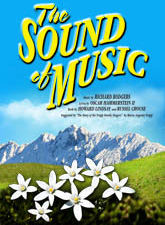 THE SOUND OF MUSIC
Charlevoix High School Performing Arts
2/28-3/9/2014
The final collaboration between Rodgers & Hammerstein was destined to become the world's most beloved musical. When a postulant proves too high-spirited for the religious life, she is dispatched to serve as governess for the seven children of a widowed naval Captain. Her growing rapport with the youngsters, coupled with her generosity of spirit, gradually captures the heart of the stern Captain, and they marry. Upon returning from their honeymoon they discover that Austria has been invaded by the Nazis, who demand the Captain's immediate service in their navy. The family's narrow escape over the mountains to Switzerland on the eve of World War II provides one of the most thrilling and inspirational finales ever presented in the theatre. The motion picture version remains the most popular movie musical of all time.Music by Rodgers, Richard; Lyrics by
Oscar Hammerstein
II; Book by
Howard Lindsay
&
Russel Crouse
; Suggested by `The
Trapp Family Singers
` by
Maria Augusta Trapp
Click Here for More Information
MY OCCASION OF SIN
Detroit Repertory Theatre
1/9-3/16/2014
Monica Bauer
; dir:
Leah Smith
.
Click Here for More Information
VENUS IN FUR
Performance Network Theatre
2/27-4/6/2014
Shure Theatre:
David Ives
; dir:
Suzanne Regan
.
Click Here for More Information
View All Show Listings for Detroit
Click Here to View BroadwayWorld.com Detroit Calendar