Now Playing Onstage in Detroit - Week of 2/09/2014
View All Show Listings for Detroit
Click Here to View BroadwayWorld.com Detroit Calendar
BROADWAY THROUGH THE 80'S
Pontiac Theatre IV
2/14-2/15/2014
Pontiac Theatre IV is pleased to present our 2014 music revue! The show will feature music from a variety of Broadway shows from the 80's, including: Les Miserables, Cats, Dreamgirls, Little Shop of Horrors, Nine, Chess, Joseph and the Amazing Technicolor Dreamcoat, 42nd Street, Sunday in the Park with George, Merrily We Go Along, La Cage aux Folles, Song and Dance, Carrie, and much, much more! Featuring: Alissa Bandalene, Karen Brody, Mike Brody, Tony Castellani, Steve Cunningham,
Don DeLair
e, Shayna Lax, Cheri Nadolni, Jenna Kellie Pittman, Shaun Pittman, McKinley Shaw, Camy Sylvestre and emceed by AmandaJane Schade Rhodes Produced and Directed by John Tonner Music Directed by
M. Scott
ie Moilanen Friday, February 14, 2014, show only at 8pm **Tickets: $5 for PTIV members, $10 for non-members** Saturday, February 15, 2014, dinner at 6:30pm and show at 8pm **Tickets: $15 for PTIV members, $20 for non-members** Call John Tonner at 248-624-3187 to reserve tickets or for more information, or email jtonner481@aol.com. Tickets will also be available at Bartelli's.
Click Here for More Information
SHREK
ST FRANCIS HIGH SCHOOL
2/7-2/16/2014
SHREK THE MUSICAL, based on the Oscar® winningDreamWorks film that started it all, brings the hilarious story ofeveryone's favorite ogre to dazzling new life on the stage. Ina faraway kingdom turned upside down, things get ugly when an unseemlyogre "? not a handsome prince "? shows up to rescue a feisty princess.Throw in a donkey who won't shut up, a bad guy with a SHORT temper, acookie with an attitude and over a dozen other fairy tale misfits, andyou've got the kind of mess that calls for a real hero. Luckily,there's one on hand...and his name is Shrek. Full of all-new songs, great dancing and breathtaking scenery, SHREK THE MUSICAL is part romance, part twisted fairy tale and all irreverent fun for everyone!**AVAILABLE FOR LICENSES FOR PERFORMANCES BEGINNING JUNE 2013**
Click Here for More Information
INTO THE WOODS
KALAMAZOO CIVIC PLAYERS
1/24-2/16/2014
The Brothers Grimm
hit Broadway with an epic fairytale where worlds collide.
James Lapine
and
Stephen Sondheim
take everyone's favorite storybook characters and brings them together for a timeless yet relevant piece and rare modern classic.The story follows a Baker and his wife who wish to have a child, Cinderella who wishes to attend the King's Festival, and Jack who wishes his cow would give milk. When the Baker and his wife learn that they cannot have a child because of a Witch's curse, the two set off on a journey to break the curse. Everyone's wish is granted, but the consequences of their actions return to haunt them later with disastrous results.One of Sondheim's most popular works, INTO THE WOODS is a musically sophisticated show with the opportunity to feature actors adept at dark comedy. Designers will especially enjoy highlighting the fantastical elements of this magical word.
Click Here for More Information
COUNTY LINE
Performance Network Theatre
1/16-2/16/2014
Shure Theatre:
David Wells
; dir: David Wolber.
Click Here for More Information
[TITLE OF SHOW]
Lakeside Civic Players
2/7-2/16/2014
Jeff and Hunter, two struggling writers, hear about a new musical theatre festival. However, the deadline for submissions is a mere three weeks away. With nothing to lose, the pair decides to try to create something new with the help of their friends Susan, Heidi and Larry on the eighty-eights. With the cast in place, Jeff and Hunter begin a conversation about what to write about. Eventually, Jeff suggests they write about what to write about. They make a pact to write up until the festival?s deadline and dream about the show changing their lives. [title of show]?taken from the space on the festival?s application form which asks for the [title of show]?follows Hunter and Jeff and their friends on their journey through the gauntlet of creative self-expression. In the span of 90 minutes they write and perform their show at the festival and learn lessons about themselves as people, friends and artists. [title of show] is, above all, a love letter to the musical theatre?a uniquely American art form?and to the joy of collaboration. The musical received a Tony AwardMusic and Lyrics by
Jeff Bowen
; Book by
Hunter Bell
Click Here for More Information
BLOODY BLOODY ANDREW JACKSON
ACTORS THEATRE
2/6-2/22/2014
BLOODY BLOODY ANDREW JACKSON creators
Michael Friedman
and
Alex Timbers
cook up an alternate universe (and draw parallels to today's political/populist landscape) with their musical about the seventh U.S. president, reinvented as an "emo" rock star. BLOODY BLOODY ANDREW JACKSON tells the story of America's first political maverick. A.J. kicked British butt, shafted the Indians and smacked down the Spaniards all in the name of these United States--who cares if he didn't have permission?An exhilarating and white-knuckled look at one of our nation's founding rock stars, BLOODY BLOODY ANDREW JACKSON recreates and reinvents the life of "Old Hickory," from his humble beginnings on the Tennessee frontier to his days as Commander-in-Chief. It also asks the question, is wanting to have a beer with someone reason enough to elect him? What if he's really, really hot?This wildly entertaining 90-minute show is perfect for comedic actors and singers, with minimal dancing required. BLOODY BLOODY ANDREW JACKSON is an actor driven rather than design-dependent musical; it encourages breaking the fourth wall, audience participation, and rocking out!
Click Here for More Information
THE LION IN WINTER
Williamston Theatre
1/23-2/23/2014
James Goldman
; dir:
John Lepard
.
Click Here for More Information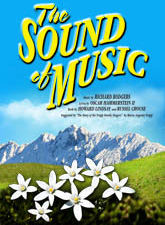 THE SOUND OF MUSIC
Portage Central High School
2/7-2/23/2014
The final collaboration between Rodgers & Hammerstein was destined to become the world's most beloved musical. When a postulant proves too high-spirited for the religious life, she is dispatched to serve as governess for the seven children of a widowed naval Captain. Her growing rapport with the youngsters, coupled with her generosity of spirit, gradually captures the heart of the stern Captain, and they marry. Upon returning from their honeymoon they discover that Austria has been invaded by the Nazis, who demand the Captain's immediate service in their navy. The family's narrow escape over the mountains to Switzerland on the eve of World War II provides one of the most thrilling and inspirational finales ever presented in the theatre. The motion picture version remains the most popular movie musical of all time.Music by Rodgers, Richard; Lyrics by
Oscar Hammerstein
II; Book by
Howard Lindsay
&
Russel Crouse
; Suggested by `The
Trapp Family Singers
` by
Maria Augusta Trapp
Click Here for More Information
ASSASSINS
FARMINGTON PLAYERS, INC.
2/14-3/1/2014
Bold, original, disturbing, and alarmingly funny, ASSASSINS is perhaps the most controversial musical ever written.This American of musicals lays bare the lives of nine individuals who assassinated or tried to assassinate the President of the United States, in a one-act historical "revusical" that explores the dark side of the American experience. From
John Wilkes Booth
to Lee Harvey Oswald, writers
Stephen Sondheim
and
John Weidman
bend the rules of time and space, taking us on a nightmarish roller coaster ride in which assassins and would-be assassins from different historical periods meet, interact and inspire each other to harrowing acts in the name of the American Dream.ASSASSINS requires skilled singers who can act. This is an ideal choice for mature audiences and will challenge your designers as they try to recreate famous moments and people in America's history.
Click Here for More Information
AIN'T MISBEHAVIN'
STAGECRAFTERS
2/14-3/2/2014
The outrageously prodigious comic and musical soul of 1930's Harlem lives on in this rollicking, swinging, finger-snapping revue that is still considered one of Broadway's best. The inimitable Thomas "Fats" Waller rose to international fame during the Golden Age of the Cotton Club, honky tonk dives along Lenox Avenue, rent parties, stride piano players and that jumpin' new beat, Swing. Although not quite a biography, AIN'T MISBEHAVIN' evokes the delightful humor and infectious energy of this American original as a versatile cast struts, strums and sings the songs he made famous in a career that ranged from uptown clubs to downtown Tin Pan Alley to Hollywood and concert stages in the U.S., Canada and Europe.Assembled under the expert eye of director/lyricist
Richard Maltby
, Jr., AIN'T MISBEHAVIN' is one of the most popular, well-crafted revues of all time. Sometimes sassy, sometimes sultry, with moments of devastating beauty, AIN'T MISBEHAVIN' is simply unforgettable.
Click Here for More Information
LYSISTRATA JONES
Meadow Brook Theatre
2/12-3/9/2014
Meadow Brook Theatre:book:
Douglas Carter Beane
; lyrics:
Lewis Flinn
; music:
Lewis Flinn
.
Click Here for More Information
MY OCCASION OF SIN
Detroit Repertory Theatre
1/9-3/16/2014
Monica Bauer
; dir:
Leah Smith
.
Click Here for More Information
View All Show Listings for Detroit
Click Here to View BroadwayWorld.com Detroit Calendar