Now Playing Onstage in Delaware - Week of 4/06/2014
View All Show Listings for Delaware
Click Here to View BroadwayWorld.com Delaware Calendar
THE 39 STEPS
Kent County
Theatre Guild
3/28-4/12/2014
Click Here for More Information
THE 39 STEPS
Kent County
Theatre Guild
3/28-4/12/2014
Click Here for More Information
ASSISTED LIVING: THE MUSICAL
The Grand Wilmington
4/12-4/13/2014
Assisted Living: The Musical comically explores the personal eccentricities, desires, and foibles of modern maturity through songs and sketches set at the Pelican Roost retirement community. This two-person show, which has been a hit for several years in Florida (go figure!), tells the aging story from the inside with jokes that are pointed but not mocking. The San Francisco Examiner calls the show "lively and wickedly funny." The light-hearted musical score - including "Help I've Fallen (for You) but I Can't Get Up," "The Uplifting Viagra Medley," and "I Lost My Dentures on Steak Night Blues" - are ideal for those of a certain age, those with parents entering this phase of life, and everyone who hopes to grow old with dignity and a sense of humor.
Click Here for More Information
CINDERELLA
The Grand Wilmington
4/12-4/13/2014
Click Here for More Information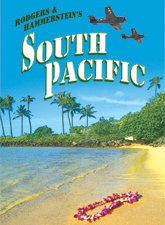 SOUTH PACIFIC
Possum Point Players
4/4-4/13/2014
Set in an island paradise during World War II, two parallel love stories are threatened by the dangers of prejudice and war. Nellie, a spunky nurse from Arkansas, falls in love with a mature French planter, Emile. Nellie learns that the mother of his children was an island native and, unable to turn her back on the prejudices with which she was raised, refuses Emile's proposal of marriage. Meanwhile, the strapping Lt. Joe Cable denies himself the fulfillment of a future with an innocent Tonkinese girl with whom he's fallen in love out of the same fears that haunt Nellie. When Emile is recruited to accompany Joe on a dangerous mission that claims Joe's life, Nellie realizes that life is too short not to seize her own chance for happiness, thus confronting and conquering her prejudices.Music by Rodgers, Richard; Lyrics by
Oscar Hammerstein
II; Book by
Oscar Hammerstein
II &
Joshua Logan
; Adapted from the Pulitzer Prize winning novel
Click Here for More Information
[TITLE OF SHOW]
University of Delaware - Harrington Theatre Arts Co.
4/11-4/19/2014
Jeff and Hunter, two struggling writers, hear about a new musical theatre festival. However, the deadline for submissions is a mere three weeks away. With nothing to lose, the pair decides to try to create something new with the help of their friends Susan, Heidi and Larry on the eighty-eights. With the cast in place, Jeff and Hunter begin a conversation about what to write about. Eventually, Jeff suggests they write about what to write about. They make a pact to write up until the festival?s deadline and dream about the show changing their lives. [title of show]?taken from the space on the festival?s application form which asks for the [title of show]?follows Hunter and Jeff and their friends on their journey through the gauntlet of creative self-expression. In the span of 90 minutes they write and perform their show at the festival and learn lessons about themselves as people, friends and artists. [title of show] is, above all, a love letter to the musical theatre?a uniquely American art form?and to the joy of collaboration. The musical received a Tony AwardMusic and Lyrics by
Jeff Bowen
; Book by
Hunter Bell
Click Here for More Information
AIN'T MISBEHAVIN'
DELAWARE THEATRE COMPANY
4/9-5/4/2014
The outrageously prodigious comic and musical soul of 1930's Harlem lives on in this rollicking, swinging, finger-snapping revue that is still considered one of Broadway's best. The inimitable Thomas "Fats" Waller rose to international fame during the Golden Age of the Cotton Club, honky tonk dives along Lenox Avenue, rent parties, stride piano players and that jumpin' new beat, Swing. Although not quite a biography, AIN'T MISBEHAVIN' evokes the delightful humor and infectious energy of this American original as a versatile cast struts, strums and sings the songs he made famous in a career that ranged from uptown clubs to downtown Tin Pan Alley to Hollywood and concert stages in the U.S., Canada and Europe.Assembled under the expert eye of director/lyricist
Richard Maltby
, Jr., AIN'T MISBEHAVIN' is one of the most popular, well-crafted revues of all time. Sometimes sassy, sometimes sultry, with moments of devastating beauty, AIN'T MISBEHAVIN' is simply unforgettable.
Click Here for More Information
SLEEPING BEAUTY
Delaware Children's Theatre
4/5-5/10/2014
An original from Donna Swajeski who wrote our poplar Snow White, enjoy a humorous re-telling of this wonderful fairy tale with a contemporary twist, fresh new characters, battling fairy godmothers, a boy band, and the spell-binding Princess Aurora. Come in costume and join our princess parade!
Click Here for More Information
View All Show Listings for Delaware
Click Here to View BroadwayWorld.com Delaware Calendar