Now Playing Onstage in Costa Mesa - Week of 11/03/2013
View All Show Listings for Costa Mesa
Click Here to View BroadwayWorld.com Costa Mesa Calendar
The Edge
in Broadway" border="0" height="100" width="100" align="right">
DIANA VISHNEVA: ON
The Edge
Segerstrom Center for the Arts, Segestrom Hall
11/6-11/10/2013
Diana Vishneva is a true international superstar of ballet. Her passion for an commitment to dance extend far beyond her acclaimed performances with the Mariinsky Theatre and
American Ballet Theatre
, which have justly earned her legions of fans..Her signature projects, such as the award-winning Beauty in Motion, which received its world premiere at the Center in 2008, enable audiences to discover a new side to one of the world's greatest dancers.
Click Here for More Information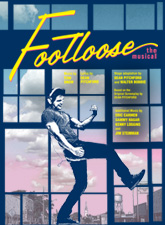 FOOTLOOSE
Irvine Valley College
11/1-11/10/2013
One of the most explosive movie musicals in recent memory bursts onto the live stage with exhilarating results. When Ren and his mother move from Chicago to a small farming town, Ren is prepared for the inevitable adjustment period at his new high school. What he isn't prepared for are the rigorous local edicts, including a ban on dancing instituted by the local preacher, determined to exercise the control over the town's youth that he cannot command in his own home. When the reverend's rebellious daughter sets her sights on Ren, her roughneck boyfriend tries to sabotage Ren's reputation, with many of the locals eager to believe the worst about the new kid. The heartfelt story that emerges is of a father longing for the son he lost and of a young man aching for the father who walked out on him. To the rockin' rhythm of its Oscar and Tony-nominated top 40 score (the soundtrack album reached number one on the Billboard charts and has sold over 15 million copies!) and augmented with dynamic new songs for the stage musical, FOOTLOOSE celebrates the wisdom of listening to young people, guiding them with a warm heart and an open mind.Music by
Tom Snow
; Stage Adaptation by
Dean Pitchford
and
Walter Bobbie
; Lyrics by
Dean Pitchford
; Based on the original screenplay by
Dean Pitchford
; Additional Music by
Eric Carmen
,
Sammy Hagar
,
Kenny Loggins
and
Jim Steinman
Click Here for More Information
YOUNG FRANKENSTEIN
Musical
Theatre West
11/1-11/17/2013
REGIONAL PREMIERE. A big, fat, funny, irreverent hit based on the classic 1974
Mel B
rooks film starring
Gene Wilder
. Iconic lines from the film have been turned into some of the most hilarious musical numbers ever. Add to that the show-stopping "Puttin' on the Ritz" and you'll be in musical comedy heaven.
Click Here for More Information
4000 MILES
South Coast Repertory
10/18-11/17/2013
Vera is 91, an old world Leftie. Her grandson, Leo, is 21, a new age Hippie. After a cross-country trip, Leo turns up at Vera's New York apartment with a backpack, a bike and no money. She agrees to let him spend the night; a few weeks later, he's still there. Leo is at a bad place with his parents, his girlfriend wants to break up, and something terrible happened on his trip. As Vera listens-when her hearing aid is turned on-we listen, with compassion. This odd couple has grabbed our hearts and will not let go. They are, as The New York Times says, "Altogether wonderful."
Click Here for More Information
IVY + BEAN, THE MUSICAL
South Coast Repertory
11/8-11/24/2013
Ivy is all about ideas; she loves to read. Bean is all about action; she loves to be the center of attention. How could these two second-graders become inseparable friends? Just wait! When they get together, the result is mischief, occasional chaos and non-stop laughter. Along the way, hidden within their plotting and planning, are wonderful lessons about friendship and family.
Click Here for More Information
View All Show Listings for Costa Mesa
Click Here to View BroadwayWorld.com Costa Mesa Calendar