Now Playing Onstage in Connecticut - Week of 2/02/2014
View All Show Listings for Connecticut
Click Here to View BroadwayWorld.com Connecticut Calendar
JESUS CHRIST SUPERSTAR
The Steeple Players
1/31-2/8/2014
It seems especially fitting that the first rock opera, created as a concept album at the end of the turbulent '60s, should have at its center a social and political rebel. Jesus' meteor-like rise in renown provides, as the title suggests, a parallel to contemporary celebrity worship. As his radical teachings are evermore embraced, Judas increasingly questions the enlightened motives of this new prophet, resulting in betrayal. Christ's final days are dramatized with emotional intensity, thought-provoking edge and explosive theatricality. Propelled by a stirring score, by turns driving and majestic, satirical and tender, JESUS CHRIST SUPERSTAR illuminates the transcendent power of the human spirit with a passion that goes straight to the heart.Lyrics by
Tim Rice
; Music by
Andrew Lloyd Webber
Click Here for More Information
THE CONSULTANT
Long Wharf Theatre
1/8-2/9/2014
Stage II:
Heidi Schreck
; dir:
Kip Fagan
.
Click Here for More Information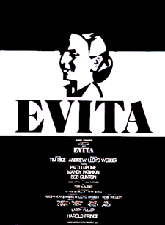 EVITA
Warner Theatre
2/1-2/9/2014
Argentina's controversial First Lady is the subject of this dynamic musical masterpiece. As an illegitimate fifteen year old, Eva escaped her dirt-poor existence for the bright lights of Buenos Aires. Driven by ambition and blessed with charisma, she was a starlet at twenty-two, the president's mistress at twenty-four, First Lady at twenty-seven, and dead at thirty-three. Eva Peron 'saint to the working-class, reviled by the aristocracy and mistrusted by the military' was destined to leave a fascinating political legacy unique in the 20th century. Told through a compelling score that fuses haunting chorales with exuberant Latin, pop and jazz influences, EVITA creates an arresting theatrical portrait as complex as the woman herself.Lyrics by
Tim Rice
; Music by
Andrew Lloyd Webber
Click Here for More Information
FIDDLER ON THE ROOF
CENTER STAGE
1/24-2/16/2014
In the little village of Anatevka, Tevye, a poor dairyman, tries to instill in his five daughters the traditions of his tight-knit Jewish community in the face of changing social mores and the growing anti-Semitism of Czarist Russia. Rich in historical and ethnic detail, FIDDLER ON THE ROOF has touched audiences around the world with its humor, warmth and honesty. The universal theme of tradition cuts across barriers of race, class, nationality and religion, leaving audiences crying tears of laughter, joy and sadness.The show features a star turn in Tevye, among the most memorable roles in musical theatre. Original director/choreographer
Jerome Robbins
' staging is legendary, and available from MTI in a comprehensive choreographic guide. Its celebrated score by
Jerry Bock
and
Sheldon Harnick
, features songs loved the world over: "Sunrise, Sunset," "If I Were A Rich Man" and "Matchmaker," to name a few. FIDDLER ON THE ROOF is simply Broadway at its very best.
Click Here for More Information
THE FAIRYTALE LIVES OF RUSSIAN GIRLS
Yale Repertory Theatre
1/31-2/22/2014
Yale Repertory Theatre
:
Meg Miroshnik
; dir:
Rachel Chavkin
.
Click Here for More Information
BRIGHTON BEACH MEMOIRS
Farmington Valley Stage Company
2/7-2/22/2014
Take two families, put them in cramped conditions under one roof during the Great Depression and what do you get? BRIGHTON BEACH MEMOIRS,
Neil Simon
's award-winning blend of comedy and conflict. Winner of the New York Drama Critic's Circle Award for Best Play 1983, it has been hailed as: "Simon's funniest, richest and, consequently, the most affecting of his plays" -New York Daily News Set in the Brighton Beach section of Brooklyn, New York in September 1937, this coming of age comedy focuses, thru the eyes of its narrator, 15-year old Eugene Morris Jerome (
Ian Galligan
of Meriden), writer-to-be and alternately perplexed and perceptive observer and guide, on life with the Jerome family. Eugene is a Polish Jewish American teenager who experiences puberty, sexual awakening and a search for identity as he tries to deal with his Depression-era family. Eugene, his parents, Kate (Dawn Maselli of Wethersfield) and Jack (Roy Donnelly of Unionville), and his brother Stanley (Ian Kaminski of Canton) have shared their home for the last three years with Kate's sister Blanche (Virginia Wolf of Farmington) and her two daughters Nora (Emily Nyerick of Southington) and Laurie (McKari Dauch of Wethersfield) since the death of their father. This extended family is troubled by illness, unemployment, poverty, deep resentments and foreboding signs of World War II, but as portrayed by
Neil Simon
, their lives are neither miserable or pitiful. The family meets their challenges with innocence, dignity, warmth, vigor and spirit, showing that life, at once humorous and poignant, is something to celebrate by all. "Simultaneously poignant and funny. An outstanding show!" - Variety. "A hilarious comedy... A delightful and enriching experience." -CBS-TV Under the direction of Bloomfield's Chris Bushey, BRIGHTON BEACH MEMOIRS will be performed February 7, 8, 14, 15, 21 & 22 at 8:00pm, and February 9 & 16 at 2:00pm, at the Canton Town Hall (4 Market Street, Collinsville, CT). Tickets are $25, and may be purchased online at www.FVStage.org.
Click Here for More Information
LES MISERABLES
CURTAIN CALL
2/7-3/8/2014
This international smash-hit may be the most popular musical in the world. In 19th century France, Jean Valjean is released from 19 years of unjust imprisonment, but finds nothing in store for him but mistrust and mistreatment. He breaks his parole in hopes of starting a new life, initiating a life-long struggle for redemption as he is relentlessly pursued by police inspector Javert, who refuses to believe Valjean can change his ways. Finally, during the Paris student uprising of 1832, Javert must confront his ideals after Valjean spares his life and saves that of the student revolutionary who has captured the heart of Valjean's adopted daughter. His world-view shattered, Javert commits suicide, and Valjean at last attains the peace he has sought for so long.Epic, grand and uplifting, LES MISÉRABLES packs an emotional wallop that has thrilled audiences all over the world. The sung-through pop opera is ideal for a cast of exceptional singers and overflows with melodies that are already standards. A spectacle on Broadway and in London, LES MISÉRABLES is equally effective with a minimal set; it is its powerful affirmation of the human spirit that has made LES MISÉRABLES a popular masterpiece.
Click Here for More Information
View All Show Listings for Connecticut
Click Here to View BroadwayWorld.com Connecticut Calendar