Now Playing Onstage in Cleveland - Week of 9/01/2013
September 1
10:09 AM 2013
View All Show Listings for Cleveland
Click Here to View BroadwayWorld.com Cleveland Calendar
DISNEY'S ALICE IN WONDERLAND JR
SOCK & BUSKIN PLAYERS
9/6-9/7/2013
Join Alice's madcap adventures in Wonderland as she chases the White Rabbit, races the Dodo Bird, gets tied up with the Tweedles, raps with a bubble-blowing Caterpillar, and beats the Queen of Hearts at her own game! Roles are plentiful, including three Cheshire Cats and dozens of other wonderfully wacky characters. Disney's ALICE IN WONDERLAND JR. is a fast-paced stage adaptation of featuring updated dialogue and new arrangements of such classic Disney songs as "I'm Late," "The Un-birthday Song" and "Zip-A-Dee-Doo-Dah."
Click Here for More Information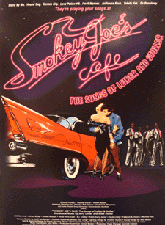 PANDEMONIUM 2013: SHINE
Cleveland Public Theatre
9/7-9/7/2013
Click Here for More Information
MERRILY WE ROLL ALONG
MUSICAL THEATRE PROJECT
9/7-9/8/2013
The authors of the landmark COMPANY reunite to turn the traditional showbiz musical on its head in this thrilling and compelling Broadway fable about friendship, compromise and the high price of success.MERRILY WE ROLL ALONG begins in the present and moves backwards, tracing the lives of wealthy, jaded composer Franklin Shepard and his two estranged friends through each milestone of their personal and professional lives (good and bad). The show ends with a touch of rueful irony, as the three best friends at the start of their careers face a bright future: young, talented and enthusiastic about the worlds waiting to be conquered.
Stephen Sondheim
and
George Furth
expertly blend the excitement and energy of a backstage musical with a poignant and emotional contemporary story about the importance of staying true to one's ideals. Like COMPANY, MERRILY WE ROLL ALONG is a modest-sized show that crackles with the wit, humor and intensity that embody the spirit of New York City. With a brilliant "Broadway-style" score and that deep insight one expects from any Sondheim endeavor, MERRILY WE ROLL ALONG is a spirited and moving cautionary tale for anyone who has ever pursued a dream.
Click Here for More Information
DISNEY'S CAMP ROCK THE MUSICAL
Caryl Crane
YOUTH THEATRE
9/7-9/14/2013
Disney's CAMP ROCK: The Musical, based on the hit Disney Channel Original Movies Camp Rock and Camp Rock 2: The Final Jam (starring teen idols
Demi Lovato
and the
Jonas Brothers
) will fire up your stage with over a dozen songs, including "This Is Me,"ť "Can't Back Down,"ť "It's On,"ť and "We Rock."ťA classic story of rivalry and power, Disney's CAMP ROCK: The Musical opens with Mitchie and her friends arriving at Camp Rock, ready to spend another summer jamming out and having the time of their lives. But the new, flashy Camp Star across the lake now threatens Camp Rock's very existence. To keep the doors open, Mitchie steps up, rallies her fellow Camp Rockers, and gets them into top shape for the ultimate showdown! Disney's CAMP ROCK: The Musical features a large ensemble cast with many featured roles. Whether your students are singers, actors, dancers, or triple threats, everyone has an opportunity to shine in this high-energy show!
Click Here for More Information
DISNEY'S ALADDIN JR
Caryl Crane
YOUTH THEATRE
9/6-9/15/2013
Welcome to Agrabah, City of Enchantment, where every beggar has a story and every camel has a tail! All of your favorite characters are here in Disney's ALADDIN JR., a stage adaptation of the Disney hit film. Filled with magic, mayhem, and flying carpet rides, audiences' spirits will soar with excitement. Most of all, the tuneful, Academy award-winning score with songs including "A Whole New World" and "Friend Like Me" will certainly make this musical a favorite for many years to come!
Click Here for More Information
FOREVER PLAID
GEAUGA LYRIC
Theatre Guild
9/6-9/21/2013
FOREVER PLAID is one of the most popular and successful musicals in recent memory. This deliciously goofy revue centers on four young, eager male singers killed in a car crash in the 1950's on the way to their first big concert, and now miraculously revived for the posthumous chance to fulfill their dreams and perform the show that never was. Singing in the closest of harmony, squabbling boyishly over the smallest intonations and executing their charmingly outlandish choreography with over-zealous precision, the "Plaids" are a guaranteed smash, with a program of beloved songs and delightful patter that keeps audiences rolling in the aisles when they're not humming along to some of the great nostalgic pop hits of the 1950's.
Click Here for More Information
HAIRSPRAY
DAYTON PLAYHOUSE
9/6-9/22/2013
The 1950's are out and change is in the air! HAIRSPRAY, winner of 8 Tony Awards including Best Musical, is a family-friendly musical piled bouffant high with laughter, romance, and deliriously tuneful songs.It's 1962 in Baltimore, and the lovable plus-size teen Tracy Turnblad has only one desire -- to dance on the popular Corny Collins Show. When her dream comes true, Tracy is transformed from social outcast to sudden star. She must use her newfound power to dethrone the reigning Teen Queen, win the affections of heartthrob Link Larkin, and integrate a TV network, all without denting her 'do!HAIRSPRAY is ideal for a large cast of strong singers and dancers. It provides great opportunities in terms of set design, costuming, and lighting choices.
Click Here for More Information
XANADU
WEATHERVANE COMMUNITY PLAYHOUSE
9/5-9/22/2013
XANADU follows the journey of a magical and beautiful Greek muse, Kira, who descends from the heavens of Mt. Olympus to Venice Beach, California in 1980 on a quest to inspire a struggling artist, Sonny, to achieve the greatest artistic creation of all time - the first ROLLER DISCO! (Hey, it's 1980!) But, when Kira falls into forbidden love with the mortal Sonny, her jealous sisters take advantage of the situation and chaos abounds. This hilarious, roller skating, musical adventure about following your dreams despite the limitations others set for you, rolls along to the original hit score composed by pop-rock legends
Jeff Lynne
and
John Farrar
, and includes, "Magic", "All Over The World", "Suddenly", "I'm Alive", "Evil Woman", "Have You Never Been Mellow" and "Xanadu", to name a few, and is based on the
Universal Pictures
' cult classic movie of the same title, which starred
Olivia Newton-John
and
Gene Kelly
. It's hilarity on wheels for adults, children and anyone who has ever wanted to feel inspired, as one of Broadway's master storytellers,
Douglas Carter Beane
, weaves a moving, electrifying tale of endless fun that will keep you in stitches, while the original, legendary chart-topping tunes lift you out of your seat. You'll want to keep the music in your head, and XANADU in your heart, forever.
Click Here for More Information
ANNIE
PLAYERS GUILD THEATRE - CANTON PLAYERS GUILD
9/6-9/29/2013
Leapin' Lizards! The popular comic strip heroine takes center stage in one of the world's best-loved musicals. With equal measures of pluck and positivity, little orphan ANNIE charms everyone's hearts, despite a next-to-nothing start in 1930s New York City. She is determined to find her parents, who abandoned her years ago on the doorstep of a New York City Orphanage run by the cruel, embittered Miss Hannigan.With the help of the other girls in the Orphanage, ANNIE escapes to the wondrous and magical world of NYC. In adventure after fun-filled adventure, ANNIE foils Miss Hannigan's evil machinations and befriends President Franklin Delano Roosevelt. She finds a new home and family in billionaire Oliver Warbucks, his personal secretary
Grace Farrell
, and a lovable mutt named Sandy. ANNIE is the perfect family-friendly musical, and an ideal show for a largely female cast. Middle Schools and elementary schools should also take notice of ANNIE JR - a special version of this title expressly designed for younger performers.
Click Here for More Information
View All Show Listings for Cleveland
Click Here to View BroadwayWorld.com Cleveland Calendar