Now Playing Onstage in Cleveland - Week of 2/09/2014
View All Show Listings for Cleveland
Click Here to View BroadwayWorld.com Cleveland Calendar
YOUNG FRANKENSTEIN
HARLEQUINS COMMUNITY THEATRE
1/31-2/15/2014
IT'S ALIVE! From the creators of the record-breaking Broadway sensation THE PRODUCERS comes this monster new musical comedy.With such memorable tunes as "The Transylvania Mania," "He Vas My Boyfriend" and "Puttin' On The Ritz," YOUNG FRANKENSTEIN is scientifically-proven, monstrously good entertainment"¦and the only place you'll witness a singing and dancing laboratory experiment in the largest tuxedo ever made.
Click Here for More Information
AIR WAVES (PART THREE OF THE ELEMENTS CYCLE)
Cleveland Public Theatre
1/30-2/15/2014
Gordon Square Theatre:Various CPT Artists ; dir: Various CPT Artists , Raymond Bobgan.
Click Here for More Information
WORKING
DAYTON PLAYHOUSE
1/31-2/16/2014
Based on
Studs Terkel
's best-selling book of interviews with American Workers, WORKING paints a vivid portrait of the men and women the world so often takes for granted: the schoolteacher, the phone operator, the waitress, the millworker, the mason, and the housewife, just to name a few.This new 2010 version of WORKING is a musical exploration of 26 people from all walks of life. While most of the professions have been updated, the strength of the show is in the core truths that transcend specific professions; the key is how people's relationships to their work ultimately reveal key aspects of their humanity, regardless of the trappings of the job itself. The show, still set in contemporary America, contains timeless truths. This new version of WORKING allows the audience to get a rare glimpse of the actors and technicians working to put on a show. This raw adaptation only enhances the realistic and relatable nature of the subject matter.With extremely modest set and orchestra requirements, universal subject matter, and featuring a multi-ethnic ensemble cast of variable size, WORKING is one of the most accessible, relevant and substantive musicals ever created. The new, revised 2010 version includes updated lyrics, a streamlined book and two new songs by IN THE HEIGHTS Tony Award-winning creator
Lin-Manuel Miranda
, as well as favorite by
Stephen Schwartz
,
Craig Carnelia
, and
James Taylor
.
Click Here for More Information
THE MUSIC MAN
GAHANNA COMMUNITY THEATRE
2/14-2/16/2014
An affectionate paean to Smalltown, U.S.A. of a bygone era,
Meredith Willson
's THE MUSIC MAN follows fast-talking traveling salesman Harold Hill as he cons the people of River City, Iowa into buying instruments and uniforms for a boys' band he vows to organize - this despite the fact he doesn't know a trombone from a treble clef. His plans to skip town with the cash are foiled when he falls for Marian the librarian, who transforms him into a respectable citizen by curtain's fall. Perfect for professional theatres, community groups, summer stock and schools alike, this award-winning, critically acclaimed Broadway classic is an all-American institution, thanks to is quirky characters, charmingly predictable dramatic situations, and one-of-a-kind, nostalgic score of rousing marches, barbershop quartets and sentimental ballads which have become popular standards. The cast features a soaring soprano ingenue, parts for young performers and children, and one of the musical theatre's treasures, a tour de force leading role for a charismatic actor who doesn't need to be a trained singer. By turns wicked, funny, warm, romantic and touching, THE MUSIC MAN is family entertainment at its best.
Click Here for More Information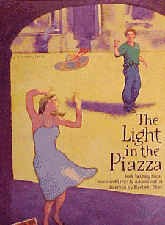 THE LIGHT IN THE PIAZZA
Lakeland Community College
1/31-2/16/2014
The Light in the PiazzaTHE LIGHT IN THE PIAZZA takes place in Italy in the summer of 1953.
Margaret John
son, the wife of an American businessman, is touring the Tuscan countryside with her daughter, Clara. While sightseeing, Clara-a beautiful, surprisingly childish young woman-loses her hat in a sudden gust. As if guided by an unseen hand, the hat lands at the feet of Fabrizio Naccarelli, a handsome Florentine, who returns it to Clara. This brief episode, charged with coincidence and fate, sparks an immediate and intense romance between Clara and Fabrizio. Margaret, extremely protective of her daughter, attempts to keep Clara and Fabrizio apart. As THE LIGHT IN THE PIAZZA unfolds, a secret is revealed: in addition to the cultural differences between the young lovers, Clara is not quite all that she appears. Unable to suppress the truth about her daughter, Margaret is forced to reconsider not only Clara's future, but her own hopes as well.
Click Here for More Information
WHERE'S CHARLEY?
STOW PLAYERS INC
1/31-2/22/2014
What do you get when two musical theatre masters adapt one of the most popular and successful farces ever written? A tuneful and hysterically funny classic that's non-stop entertainment. Oxford University students Charley and Jack invite the young and winsome Kitty and Amy to lunch under the chaperoning eye of Donna Lucia, Charley's wealthy aunt (it is, after all, 1892). But when Donna Lucia doesn't show, a desperate Charley disguises himself as his aunt so the young ladies can visit, unaware they've brought a chaperon of their own: Amy's stuffy uncle, who promptly falls for Charley's aunt-like charms! Then the real aunt shows up, and it's all downhill from there: quick changes, fast talking, marriage proposals, compromising situations and rowdy hilarity.
Click Here for More Information
AVENUE Q
RENAISSANCE PERFORMING ARTS
2/14-2/22/2014
AVENUE Q is a gut-bustingly hilarious modern musical focusing on a group of unique 20-somethings making their way in the big city, seeking their purpose in life. Although the show addresses humorous adult issues, it is similar to a beloved children's show; a place where puppets are friends, Monsters are good and life lessons are learned.Winner of the Tony "Triple Crown" for Best Musical, Best Score and Best Book, AVENUE Q is part flesh, part felt, and packed with heart. AVENUE Q is a laugh-out-loud musical that tells the timeless story of a recent college grad named Princeton who moves into a shabby New York apartment all the way out on Avenue Q. He soon discovers that although the residents seem nice, it's clear that this is not your ordinary neighborhood. Together, Princeton and his new-found friends struggle to find jobs, dates, and their ever-elusive purpose in life.Puppet RentalBe sure to visit MTI's Prop Shop to see our AVENUE Q puppets to rent!AVENUE Q NEW YORKVisit the official "Avenue Q New York" for NYC ticketing and more information.
Click Here for More Information
SONGS FOR A NEW WORLD
ASHLAND UNIVERSITY
2/14-2/22/2014
Jason Robert Brown
says, "it's about one moment. It's about hitting the wall and having to make a choice, or take a stand, or turn around and go back." These are the stories and characters of today, the SONGS FOR A NEW WORLD.Brown transports his audience from the deck of a 1492 Spanish sailing ship to a ledge 57 stories above Fifth Avenue to meet a startling array of characters ranging from a young man who has determined that basket-ball is his ticket out of the ghetto to a woman whose dream of marrying rich nabs her the man of her dreams and a soulless marriage. With a small, powerhouse multi-ethnic cast and a driving, exquisitely crafted score running the gamut of today's popular music, SONGS FOR A NEW WORLD is a great way to bring the next generation into the theatre.
Click Here for More Information
MONTY PYTHON'S SPAMALOT
Ashtabula Arts Center
2/7-2/22/2014
Click Here for More Information
GUYS & DOLLS
CASSIDY THEATRE
2/7-2/23/2014
Set in
Damon Runyon
's mythical New York City, this oddball romantic comedy - considered by many to be the perfect musical comedy - soars with the spirit of Broadway as it introduces us to a cast of vivid characters who have become legends in the canon:
Sarah Brown
, the upright but uptight "mission doll," out to reform the evildoers of Time Square; Sky Masterson, the slick, high-rolling gambler who woos her on a bet and ends up falling in love; Adelaide, the chronically ill nightclub performer whose condition is brought on by the fact she's been engaged to the same man for 14 years; and Nathan Detroit, her devoted fiance, desperate as always to find a spot for his infamous floating crap game.Everything works out in the end, thanks to the machinations of
Abe Burrows
and
Jo Swerling
's hilarious, fast-paced book and
Frank Loesser
's bright, brassy, immortal score, which takes us from the heart of Times Square to the cafes of Havana, Cuba, and even into the sewers of New York City. Funny and romantic, GUYS AND DOLLS is ideal for audiences and performers of any age.
Click Here for More Information
THE ALIENS
Dobama Theatre
1/24-2/23/2014
Dobama Theatre:
Annie Baker
; dir: Nathan Motta.
Click Here for More Information
LUCKY STIFF
HUDSON PLAYERS GUILD
2/7-3/1/2014
Tony Award winners
Lynn Ahrens
and
Stephen Flaherty
exploded on the musical theatre scene in 1988 with their first off-Broadway show, LUCKY STIFF. Based on the novel The Man Who Broke The Bank At
Monte Carlo
by
Michael Butterworth
, LUCKY STIFF is a zany, offbeat, and very funny murder mystery farce complete with slamming doors, mistaken identities, six million bucks in diamonds, and a corpse in a wheelchair. The story revolves around an unassuming English shoe salesman who is forced to take the embalmed body of his recently-murdered Atlantic City uncle on a vacation to
Monte Carlo
. Should he succeed in passing Uncle off as alive, Harry Witherspoon stands to inherit $6,000,000. If not, the money goes to the Universal Dog Home of Brooklyn, or else to the gun-toting wife of the casino owner! First produced at
Playwrights Horizons
off-Broadway (
Richard Rodgers
Award) the show later went on to win Washington's
Helen Hayes
Award for Best Musical, and is now performed frequently across the country.For complete information on this and other Ahrens and Flaherty shows, as well as links to purchase CDs, vocal selections and other publications, please go to www.AhrensandFlaherty.com.
Click Here for More Information
DOCTOR DOLITTLE
FINE ARTS ASSOCIATION
2/14-3/2/2014
The classic tale of kindness to animals and animal kindnesses trots, crawls and flies onto the stage in DOCTOR DOLITTLE, the big Broadway-sized family musical. All of the characters we've come to love through the stories of
Hugh Lofting
and the magical movie musical are given new life in the stage version.The musical concerns the classic tale of a wacky but kind Doctor who can talk to animals. The show takes the audience on a journey from the small English village of Puddleby-in-the-Marsh to the far corners of the world. Doctor Dolittle is wrongly accused of murder and, once pronounced innocent, continues with his search for the Great Pink Sea Snail--the oldest and wisest of the creatures on earth.DOCTOR DOLITTLE provides directors the wonderful flexibility of casting performers of all ages and types, including a large ensemble that calls for actors to portray talking animals.
Click Here for More Information
BREATH AND IMAGINATION
Cleveland Play House
2/14-3/9/2014
Allen Theatre:
Daniel Beaty
; dir:
May Adrales
.
Click Here for More Information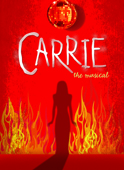 CARRIE THE MUSICAL
Beck Center for the Arts
2/7-3/9/2014
Carrie White is a misfit. At school, she's an outcast who's bullied by the popular crowd, and virtually invisible to everyone else. At home, she's at the mercy of her loving but cruelly over-protective mother. But Carrie's just discovered she's got a special power, and if pushed too far, she's not afraid to use itMusic by
Michael Gore
; Lyrics by
Dean Pitchford
; Book by
Lawrence D. Cohen
; Based on the novel by
Stephen King
Click Here for More Information
BIG BOX: A NEW PERFORMANCE SERIES
Cleveland Public Theatre
2/6-3/22/2014
James Levin Theatre:
Click Here for More Information
View All Show Listings for Cleveland
Click Here to View BroadwayWorld.com Cleveland Calendar