Now Playing Onstage in Charlotte - Week of 4/20/2014
View All Show Listings for Charlotte
Click Here to View BroadwayWorld.com Charlotte Calendar
OTHELLO
Knight Theater at Levine Center for the Arts
4/24-4/26/2014
Deception, desire and paparazzi take center stage in Dwight Rhoden's adaptation of Othello. A musical theater style production with original music, Othello sizzles as it puts Shakespeare's characters into a 21st century rock and roll lifestyle. Iago, the story's narrator, is a one-hit wonder with a stalled career and an insatiable hunger for the spotlight. He wishes to bring Othello, a powerful music industry exec, down and uses Othello's pop star wife, Desdemona, in his scheme. This contemporary adaptation of Othello showcases the dancers' athleticism and theatrical flair with seductive pas de deuxs and large scale, intricate dance numbers. Othello is so dramatic it could be ripped from the gossip headlines of today! Bonus: Artistic Director Jean-Pierre Bonnefoux is proud to announce NC Dance Theatre will perform a work by choreographer Jiri Kylian for the first time. Kylian's somber and soulful Forgotten Land, which takes inspiration from a painting of water eroding the shore, opens the Othello evening.
Click Here for More Information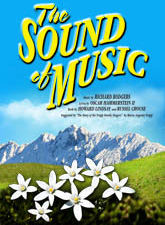 THE SOUND OF MUSIC
Asheville Christian Academy
4/23-4/26/2014
The final collaboration between Rodgers & Hammerstein was destined to become the world's most beloved musical. When a postulant proves too high-spirited for the religious life, she is dispatched to serve as governess for the seven children of a widowed naval Captain. Her growing rapport with the youngsters, coupled with her generosity of spirit, gradually captures the heart of the stern Captain, and they marry. Upon returning from their honeymoon they discover that Austria has been invaded by the Nazis, who demand the Captain's immediate service in their navy. The family's narrow escape over the mountains to Switzerland on the eve of World War II provides one of the most thrilling and inspirational finales ever presented in the theatre. The motion picture version remains the most popular movie musical of all time.Music by Rodgers, Richard; Lyrics by
Oscar Hammerstein
II; Book by
Howard Lindsay
&
Russel Crouse
; Suggested by `The
Trapp Family Singers
` by
Maria Augusta Trapp
Click Here for More Information
OKLAHOMA!
A.C. Reynolds High School
4/24-4/26/2014
Rodgers & Hammerstein's first collaboration remains, in many ways, their most innovative, having set the standards and established the rules of musical theatre still being followed today. Set in a Western Indian territory just after the turn of the century, the high-spirited rivalry between the local farmers and cowboys provides the colorful background against which Curly, a handsome cowboy, and Laurey, a winsome farm girl, play out their love story. Although the road to true love never runs smooth, with these two headstrong romantics holding the reins, love's journey is as bumpy as a surrey ride down a country road. That they will succeed in making a new life together we have no doubt, and that this new life will begin in a brand-new state provides the ultimate climax to the triumphant OKLAHOMA!Music by Rodgers, Richard; Book by
Oscar Hammerstein
II; Lyrics by
Oscar Hammerstein
II; Original Dances by
Agnes de Mille
; Based on the play `Green Grow the Lilacs` by
Lynn Riggs
Click Here for More Information
SOUTH PACIFIC
Enka High School
4/24-4/26/2014
Set in an island paradise during World War II, two parallel love stories are threatened by the dangers of prejudice and war. Nellie, a spunky nurse from Arkansas, falls in love with a mature French planter, Emile. Nellie learns that the mother of his children was an island native and, unable to turn her back on the prejudices with which she was raised, refuses Emile's proposal of marriage. Meanwhile, the strapping Lt. Joe Cable denies himself the fulfillment of a future with an innocent Tonkinese girl with whom he's fallen in love out of the same fears that haunt Nellie. When Emile is recruited to accompany Joe on a dangerous mission that claims Joe's life, Nellie realizes that life is too short not to seize her own chance for happiness, thus confronting and conquering her prejudices.Music by Rodgers, Richard; Lyrics by
Oscar Hammerstein
II; Book by
Oscar Hammerstein
II &
Joshua Logan
; Adapted from the Pulitzer Prize winning novel
Click Here for More Information
DEARLY DEPARTED
Asheville Community Theatre
4/11-4/27/2014
Click Here for More Information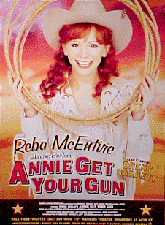 ANNIE GET YOUR GUN (STONE)
Person County
Arts Council
4/25-4/27/2014
ANNIE GET YOUR GUN scored a bulls eye when it returned to Broadway in 1999, starring
Bernadette Peters
and sporting a revised libretto by Tony, Oscar and Emmy winner
Peter Stone
. As Newsday reported, Stone's revisions 'are sweetly ingenious, and the show is a dream.' Stone reshaped the 1946 book to create a Wild West show-within-a-show that frames the ageless 'Anything You Can Do I Can Do Better' love story of sharpshooters Annie Oakley and
Frank Butler
. Stone has added a secondary romance between the younger sister of Frank's bothersome assistant Dolly, and a boy who is (to Dolly's horror) part Native American. 'The book has been updated in ways that pass p.c. muster,' reported Time Magazine, 'without losing all the fun.' Joined to the new book, of course, is that amazing
Irving Berlin
score, featuring hit after hit after hit. '
Irving Berlin
's greatest achievement in the theater,' wrote the New York Post, ANNIE GET YOUR GUN 'will always be a musical for the ages, one of the Broadway theater's enduring triumphs.'Music and Lyrics by
Irving Berlin
; Original Book by
Herbert Fields
&
Dorothy Fields
; As Revised by
Peter Stone
Click Here for More Information
JOSEPH AND THE AMAZING TECHNICOLOR DREAMCOAT
Surry
Arts Council
4/26-4/28/2014
The Biblical saga of Joseph and his coat of many colors comes to vibrant life in this delightful musical parable. Joseph, his father's favorite son, is a boy blessed with prophetic dreams. When he is sold into slavery by his jealous brothers and taken to Egypt, Joseph endures a series of adventures in which his spirit and humanity are continually challenged. He is purchased by Potiphar where thwarting advances from Potiphar's wife lands him in jail. When news of Joseph's gift to interpret dreams reaches the Pharaoh (wryly and riotously depicted as Elvis), Joseph is well on his way to becoming second in command. Eventually his brothers, having suffered greatly, unknowingly find themselves groveling at the feet of the brother they betrayed but no longer recognize. After testing their integrity, Joseph reveals himself leading to a heartfelt reconciliation of the sons of Israel. Set to an engaging cornucopia of musical styles, from country-western and calypso to bubble-gum pop and rock 'n' roll, this Old Testament tale emerges both timely and timeless.Lyrics by
Tim Rice
; Music by
Andrew Lloyd Webber
Click Here for More Information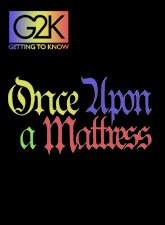 ONCE UPON A MATTRESS
Clater Kaye Productions
4/26-5/3/2014
The 'G2K' Getting To Know Series: Uniquely adapted musicals specifically for youth performers. If you thought you knew the story of 'The Princess and The Pea,' you may be in for a walloping surprise! Did you know, for instance, that Princess Winnifred actually swam the moat to reach Prince Dauntless the Drab? Or that it may not have been the pea at all that caused the princess a sleepless night? Carried on a wave of beguiling songs, by turns hilarious and raucous, romantic and melodic, this rollicking spin on the familiar classic of royal courtship and comeuppance provides for some side-splitting shenanigans. Chances are, you'll never look at fairy tales quite the same way again. In this adaptation for pre-high school students, the content has been edited to better suit younger actors and audiences, but all the magic, hilarity and fun of the original are still in place. G2K? ONCE UPON A MATTRESS is the perfect show to introduce young people to the magic of live theater. PLEASE NOTE: All schools wishing to peruse or perform a G2K musical should apply through theMusic by
Mary Rodgers
; Book by
Jay Thompson
&
Dean Fuller
&
Marshall Barer
; Lyrics by
Marshall Barer
; Adapted by
Tom Briggs
Click Here for More Information
FOOTLOOSE
Lejeune High School
4/24-5/3/2014
One of the most explosive movie musicals in recent memory bursts onto the live stage with exhilarating results. When Ren and his mother move from Chicago to a small farming town, Ren is prepared for the inevitable adjustment period at his new high school. What he isn't prepared for are the rigorous local edicts, including a ban on dancing instituted by the local preacher, determined to exercise the control over the town's youth that he cannot command in his own home. When the reverend's rebellious daughter sets her sights on Ren, her roughneck boyfriend tries to sabotage Ren's reputation, with many of the locals eager to believe the worst about the new kid. The heartfelt story that emerges is of a father longing for the son he lost and of a young man aching for the father who walked out on him. To the rockin' rhythm of its Oscar and Tony-nominated top 40 score (the soundtrack album reached number one on the Billboard charts and has sold over 15 million copies!) and augmented with dynamic new songs for the stage musical, FOOTLOOSE celebrates the wisdom of listening to young people, guiding them with a warm heart and an open mind.Music by
Tom Snow
; Lyrics by
Dean Pitchford
; Stage Adaptation by
Dean Pitchford
and
Walter Bobbie
; Based on the original screenplay by
Dean Pitchford
; Additional Music by
Eric Carmen
,
Sammy Hagar
,
Kenny Loggins
and
Jim Steinman
Click Here for More Information
PETER AND THE STARCATCHER
Knight Theater at Levine Center for the Arts
4/29-5/4/2014
PETER AND THE STARCATCHER, the most magical evening of madcap fun is now on tour! Hailed by The New York Times as "THE MOST EXHILARATING STORYTELLING ON BROADWAY IN DECADES," this musical play takes a hilarious romp through the Neverland you never knew. The winner of 5 Tony Awards®, this swashbuckling prequel to Peter Pan will have you hooked from the moment you let your imagination take flight.
Click Here for More Information
PETER AND THE STARCATCHER
North Carolina Blumenthal Performing Arts Center [Knight Theater]
4/29-5/4/2014
In this innovative and imaginative new play, based on The New York Times best selling Disney-Hyperion novel by
Dave Barry
and
Ridley Pearson
, a company of twelve actors plays more than a hundred unforgettable characters, all on a journey to answer the century-old question: How did Peter Pan become The Boy Who Never Grew Up? This epic origin story of one of popular culture's most enduring and beloved characters proves that an audience's imagination can be the most captivating place in the world. The Broadway premiere of Peter and the Starcatcher opened to rave reviews at the
Brooks Atkinson
Theatre (256 West 47 Street) on April 15, 2012. The production has garnered nine Tony Award® nominations, including Best New Play, Best Original Score, Best Director of a Play and many more. Peter and the Starcatcher, will embark on a national tour, opening in August 2013 at the Ellie Caulkins Opera House in Denver, CO.
Click Here for More Information
OTHER DESERT CITIES
Actor's Theatre of Charlotte
4/17-5/10/2014
When Brooke Wyeth arrives at her parents' Palm Springs mansion on Christmas Eve with the manuscript of her tell-all memoir in tow, she unearths a shocking family secret--throwing her parents into a panic that threatens to rip the clan apart. With biting wit and razor-sharp insight, OTHER DESERT CITIES "has the appeal of a Broadway hit from another age."
Click Here for More Information
CATS
Temple Theatre
4/24-5/11/2014
Based on the universally popular poetry of
T.S. Eliot
, CATS tells the story, in song and dance, of the annual gathering of Jellicle cats at which time one special cat is selected to ascend to the Heaviside layer. A true musical theatre phenomenon, CATS opened at London's New London Theatre on May 11, 1981 and ran for a record-setting 21 years. CATS's London success was nearly matched on Broadway where it ran at the Wintergarden Theatre for just over 18 years.Music by
Andrew Lloyd Webber
; Based on Old Possum's Book Of Practical Cats; By T. S. Eliot
Click Here for More Information
View All Show Listings for Charlotte
Click Here to View BroadwayWorld.com Charlotte Calendar