Now Playing Onstage in Casper - Week of 8/18/2013
View All Show Listings for Casper
Click Here to View BroadwayWorld.com Casper Calendar
MUSIC & POETRY: JAY GRAHAM / VICTORIA MCCABE
ARTCORE
8/19-8/19/2013
Jay Graham was born and raised in Denver, Colorado, as were his parents, who listened to the music of their day-the big bands and the popular singers of the 1940s and '50s. That music remains among Jay's favorites, along with his attachment to his beloved folk songs. In early manhood Jay became increasingly aware of his Scottish-Irish heritage and within folk music cultivated his knowledge of Irish and Scottish songs, history, and family history. An
Old Acquaintance
once asked if there were any connection between his performing of folk music and his career teaching literature in college, and Jay's answer was that the common thread was story. Another he would add today is the variety of subjects dealt with in both, a variety hardly found in the arrested development of adolescence in most popular music. That variety will be shown in the selections he has chosen for this evening. === Victoria McCabe grew up in Clare, Iowa. She studied with poets Tom McAfee and Donald F. Drummond at the University of Missouri and completed her Ph.D. under
John Williams
at the University of Denver. She teaches Holocaust Studies and Catholic literature at Regis University in Denver, where she also directs an annual Gerard Manley Hopkins Conference and runs the Father Woody Service Program, which transports college students into various realms of need in the Denver community. Her poems have appeared in numerous journals, including PRAIRIE SCHOONER, THE HOLLINS CRITIC, SHENANDOAH, POETRY NOW, THE SOUTH DAKOTA REVIEW, NEW LETTERS, POETRY, THE NEW YORK QUARTERLY, and many others. For many years she served as Poetry Editor of Writers Forum, based in Colorado Springs.
Click Here for More Information
CELTIC EXPERIENCE
ARTCORE
8/23-8/23/2013
The Irish Dance Association of Central Wyoming is delighted to once again host an evening of Irish essence. This season's experience will feature Celtic musicians, as well as modern Irish inspired choreography and Traditional dance selections by our own Richens/Timm Academy of Irish Dance. It will be our pleasure to include the Invitational Parade of Champions introducing competitors from around the country. Performances will be under the direction of Anne Ellis Donovan, World Qualifier, Championship Irish dancer and teacher certified by the Commission of Ireland. Anne has performed for many years at the Dublin, Oho Irish Festival, one of the top Irish festivals in the United States, and has danced with such bands as Cherish the Ladies and Colcannon. Our Richens/Timm students (who have also danced with Colcannon - perhaps you've seen them) include a World Qualifier, Regional Champion, Oireachtas Qualified Soloists, Traditional Set Champions and more! This event will allow our Casper community to encounter maximum exposure to quality Irish Dance with minimum effort.
Click Here for More Information
JOSHUA'S STOREHOUSE & ARTCORE BENEFIT: A TRIBUTE TO THE KING FEATURING JONNY BARBER
ARTCORE
8/24-8/24/2013
Jonny Barber recreates the excitement of
Elvis Presley
in his prime, with both the guitar chops, mutton chops, and vocal chops to impress even the most die-hard fan. Billy Bop, a rockabilly fanzine in Belgium, went so far as to call Mr. Barber, "Mr. Rock and Roll himself!" Along with Elvis, Barber's Las Vegas roots run deep. His great, great-great-grandfather, Charles Wesley Hubbard, was one of the first white settlers of Southern Nevada. His great-grandma, Hortense Evans Nelson, sang for FDR at the dedication of the Hoover Dam. His great-uncle Tommy played horn for Liberace. His mom, Phyllis Barber, was a Las Vegas Rhythmette, and was recently inducted into the Nevada Writer's Hall of Fame for a Las Vegas memoir, "How I Got Cultured" and a collection of short stories with Hunter
S. Thompson
,
Tom Wolfe
, and others. She also saw Elvis' first show ever in Las Vegas at the New Frontier Hotel. With advance sell-out club dates in the Colorado area and countless private parties, past clients have included: Microsoft, United Airlines, The Rocky Mountain News, The Denver Post, ReMax Realtors, Rockmount Clothing Co., Starlight Starbright Children's Foundation, KOOL 105 FM, The Palms Casino in Las Vegas, among others. Jonny Barber is a regular at the People's Fair in Denver, and also has played Red Rocks Amphitheatre, Fillmore Auditorium, and many other places.
Click Here for More Information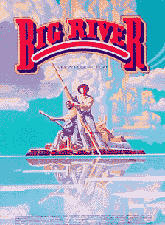 FOOTLOOSE
Diamond G Theatrics
6/13-8/31/2013
One of the most explosive movie musicals in recent memory bursts onto the live stage with exhilarating results. When Ren and his mother move from Chicago to a small farming town, Ren is prepared for the inevitable adjustment period at his new high school. What he isn't prepared for are the rigorous local edicts, including a ban on dancing instituted by the local preacher, determined to exercise the control over the town's youth that he cannot command in his own home. When the reverend's rebellious daughter sets her sights on Ren, her roughneck boyfriend tries to sabotage Ren's reputation, with many of the locals eager to believe the worst about the new kid. The heartfelt story that emerges is of a father longing for the son he lost and of a young man aching for the father who walked out on him. To the rockin' rhythm of its Oscar and Tony-nominated top 40 score (the soundtrack album reached number one on the Billboard charts and has sold over 15 million copies!) and augmented with dynamic new songs for the stage musical, FOOTLOOSE celebrates the wisdom of listening to young people, guiding them with a warm heart and an open mind.Music by
Tom Snow
; Stage Adaptation by
Dean Pitchford
and
Walter Bobbie
; Lyrics by
Dean Pitchford
; Based on the original screenplay by
Dean Pitchford
; Additional Music by
Eric Carmen
,
Sammy Hagar
,
Kenny Loggins
and
Jim Steinman
Click Here for More Information
View All Show Listings for Casper
Click Here to View BroadwayWorld.com Casper Calendar