New Center Stamping Installs High Tech System Insuring Reliable...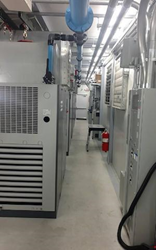 Production at the New Center Stamping plant is dependent on reliable levels of compressed air. A 25% reduction in available air pressure causes the air - dependent machinery to automatically shut down. If the air supply cannot be restored, production ceases and workers are sent home until the system is fixed.

The existing compressed air system was a collection of equipment from various decades. Some of the equipment dated as far back as the early 1900's when the building was constructed. One piece of equipment, still in use far beyond its expected lifespan, had been manufactured by a company long ago out of business.

When a critical unit broke down, and purchasing a replacement unit would cost more than $150,000, a system - wide upgrade was discussed. The disjointed and outdated present system had become a financial nightmare.

The Energy Alliance Group of Michigan (EAG) was tasked with developing a comprehensive plan. EAG teamed up with Air Technologies to provide a unique solution known as DirectAIR®. The solution would include a variety of benefits beyond the key benefit of reliable production.

After an extensive "air audit," the quantity of air needed for full production was calculated. Based on that number, a customized, self contained compressed air "plant" was created, delivered and installed adjacent to the facility. Once electrical power, a heat exchanger and air delivery lines were connected to the "plant," a completely upgraded, high tech source of compressed air was online and fully operational! The previous "system" would no longer stop production!