Greater Austin Hispanic Chamber of Commerce President and CEO Mark...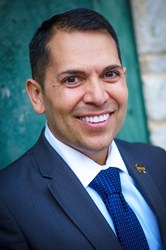 The Greater Austin Hispanic Chamber of Commerce (GAHCC)—a Texas-based nonprofit that focuses on increasing members' personal, business and educational wealth—is producing today 'A New Chapter in U.S.-Mexico Relations', an event featuring a keynote address by Carlos M. Sada, Mexico Undersecretary for North American Affairs. Additionally, GAHCC CEO Mark L. Madrid, Austin Mayor Steve Adler and Hispanic Heritage Foundation CEO/President Antonio Tijerino will address a sold-out audience at the Hotel Van Zandt. The GAHCC luncheon is in support of Casa Mexico at SXSW.

'A New Chapter in U.S.-Mexico Relations' represents a continuation of the GAHCC trade mission to five Mexican cities in December to inspire strong commercial and cultural ties between Austin and Mexico, as Mexico is the number one trading partner of the state of Texas. During the luncheon, Madrid will outline the demonstrative impact of Latina and Latino business in America today, based on findings of the 'State of Latino Entrepreneurship 2016' study by the Stanford Latino Entrepreneurship Initiative.

Madrid's statements about the inception of the event and the mission of the GAHCC:

"At the Greater Austin Hispanic Chamber of Commerce we have the unique opportunity not only to see the real-time, direct impact of Latino-owned business in all aspects of our community, but also the countless opportunities for trade and business that are borne from our proximity and links to Mexico. Although the GAHCC's membership is pan-Latino, a notable number of our members, as well as sponsors and partners, are of Mexican heritage. The economic and business value propositions of our community's links to Mexico are part of the fabric of our work, evidenced by our mammoth, wildly successful trade mission to several Mexican cities last December, in a joint venture with Austin Mayor Steve Adler, the City of Austin Economic Development Department and esteemed delegates.

The GAHCC's goals are clear and surgically precise. We strive to be the center of excellence for businesses and entrepreneurs in the Central Texas Hispanic market. We design and execute programs and initiatives to build our members' business capacity and profitability. The result is empowerment of our member businesses to compete and secure procurement opportunities when doing business with larger corporations, both domestically and globally."

The event will highlight the Stanford Latino Entrepreneurship Initiative study findings, which the GAHCC declares are important to the Austin, Texas, and national communities. Among the key insights that the research unveiled:

There are an estimated 4.23 million Hispanic-owned businesses in our country, contributing approximately $700 billion dollars to the American economy every year.
The growth rate of Latino companies has doubled or tripled the national average over the past 15 years.
Immigrants own 29% of Latino firms. 50-60% generate more than $1m in annual revenue and have more than 50 employees- a direct impact on their local economies and communities.
75% are located in majority non-Hispanic areas, serving mostly non-Latino clients.
60% of Latino companies are found in 4 states: New York (6%, 3.6% in New York City), Florida (12%, 2.1% in Miami), California (22%, 2.1% in L.A.) and of course Texas, at 18%, with 1.6% of Hispanic businesses in Austin.