ECM to Release Meredith Monk's PIANO SONGS, 5/6
Piano Songs, a newly released ECM CD containing some of Meredith Monk's most beloved compositions for the instrument, features new music pianists Ursula Oppens and Bruce Brubaker. Marking one of the rare times others have recorded the celebrated composer's work, Piano Songs underscores the music's vibrant and independent life.
Ten years ago, WNYC radio host John Schaeffer suggested that Monk seek artists not usually associated with her music to perform as part of her 40th anniversary concert at Zankell Hall. Ursula Oppens, perhaps. Monk and Oppens were instantly smitten with each other's talents. It was also at Zankell that Oppens first teamed up with Brubaker -- a dream team to-be.
Monk discovered her fascination with two-piano musical composition when she created "Ellis Island," first playing one part, recording it, then overdubbing the other. Questions rapidly arose: What are the relationships and possibilities between the two pianos? How do you create dialogues between the instruments? What about interlocking phrases? "In some pieces, I emphasized the individuality of each piano, writing for one player as the 'singer,' the other as the 'accompaniment;'" Monk wrote in the CD's liner notes, "in other pieces I wanted the two pianos to make one large sound."
Oppens and Brubaker's natural affinity for both each other's musicianship and Monk's music made them a natural choice. The pair worked closely with the composer during the recording sessions of Piano Songs, her direction at times, exacting and at others, open-ended. "The surface of the music is seemingly simple but the intricacy of detail and the combination of restraint and expressivity challenge the performer. Every gesture is exposed and clear," Monk wrote.
The range of music on the CD is wide: from the sun-bright rhythmic energy in "Folkdance" to the urgency of a train speeding to an unknown destination in "Railroad (Travel Song)." The witty mischief winking through "Parlour Games" contrasts the silvery, gentle mystery haunting "Phantom Waltz," while in the earliest work, "Paris," the barely contained notes seem to gleefully skip over each other. The CD also includes "Obsolete Objects," "urban march (shadow)," "Tower," "St. Petersburg Waltz;" "Window in 7's, " and "totentanz." Monk's music has been the subject of almost a dozen recordings, most of which are on the ECM New Music Label.
MEREDITH MONK is a composer, singer, director/choreographer and creator of new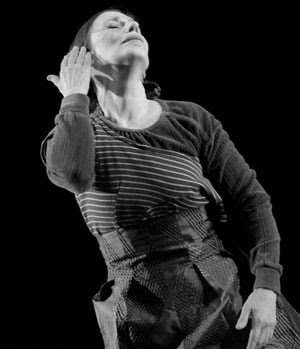 opera, music-theater works, films and installations. A pioneer in what is now called "extended vocal technique" and "interdisciplinary performance," Monk creates works that thrive at the intersection of music and movement, image and object, light and sound in an effort to discover and weave together new modes of perception. Her groundbreaking exploration of the voice as an instrument, as an eloquent language in and of itself, expands the boundaries of musical composition, creating landscapes of sound that unearth feelings, energies, and memories for which there are no words. Over the last five decades, she has been hailed as "a magician of the voice" and "one of America's coolest composers". Celebrated internationally, Monk's work has been presented by BAM, Lincoln Center Festival, Houston Grand Opera, London's Barbican Centre, and at major venues in countries from Brazil to Syria. Among her many accolades, she was recently named an Officer of the Order of Arts and Letters by the Republic of France, and the 2012 Composer of the Year by Musical America. Monk is also one of NPR's 50 Great Voices, and has received a 2012 Doris Duke Artist Award and a 2011 Yoko Ono Lennon Courage Award for the Arts.