BWW Reviews: The Bronx Museum, Sze It Now and Burcaw's Street Mural
The Bronx Museum, Sze it now and Burcaw's Street Mural
By Barry Kostrinsky
Hop on the 4 or the D train and travel north young men and woman to see art in the South Bronx. No, that's not a typo, I did not mean to say go see the Yankees. Like many inner cities including Detroit, the Bronx is best known for high crime, poor health condition and low test scores; However these inner cities are also the breeding ground for countless innovative film makers, music makers, visual artists and thought provoking thinkers. The why and how the tough conditions of these neighborhoods breeds an aesthetic flourishing is perplexing to figure out.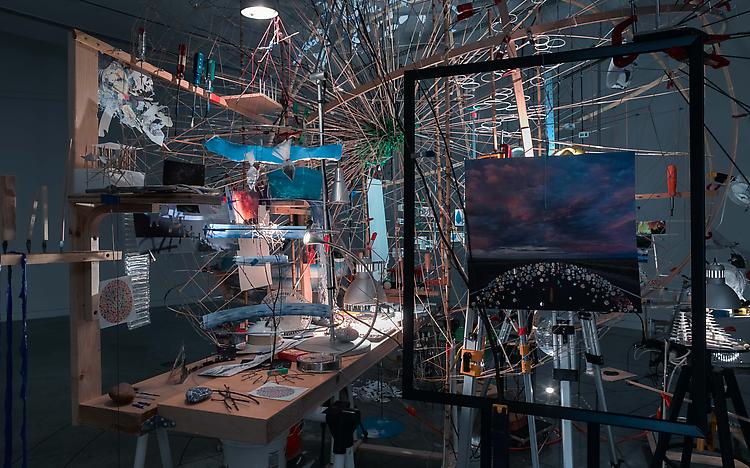 Sara Sze's "Triple Point" on view until August 24th at the Bronx Museum
The Bronx Museum is a bright light for the arts in the South Bronx and arts in NYC. If you did not make it to Venice for your biennial sojourn it is your chance to see a piece of Sara Sze's installation "Triple Point (Planetarium)" far from that other water bounded land mass. Why is this in the South Bronx? Holly Block along with Carey Lovelace were the curators of the American Pavilion in Venice and they chose Sara to represent the US.
Detail's of Triple point reveals worlds of play and microcosmes within the work.
I've written about Sara's work before and it bears repeating that she is an artist worth following. In Triple Point's conglomeration of objects you sense a subtle underlying priciple. The work is not random but has the playfullness of a child with a media mix that is fun, witty and thought provoking. At times the works has the feel of an architect on acid; a good acid trip. There is a sense of Dada in the work as large C-clamps are underburdened holding light objects, matchess grow out of wood twigs and architectural ampitheatres are cut and pasted together from photos. The work is energetic and alive and makes use of common objects quite unlike the high polished stainless steel and aluminum surfaces of Jeff's money based art hanging all over the Whitney. In Sze's work there is a feel of swirling energy that hints at the underpinning of our own celestial energy. Visually and intellectual the work delivers. Historically the work seems to speak to Boccioni's development of the bottle in space set in a more modern context with less constrains and more of a social relevence driven by the various mix of media. Often works of this nature are reffered to as clusterfuck constructions and yet there are definite organizing principles and a somewhat sublime logic that permeates through the various scenes of minutia Sze creates. The show ends this Friday so it is best to book your 4 train ticket ASAP. Don't bother bringing $20 or $25 to get in. Holly Block, the Executive Director turned the Museum free with the help of a generous gift from a 1% of the 1 percenters: they all aint that bad.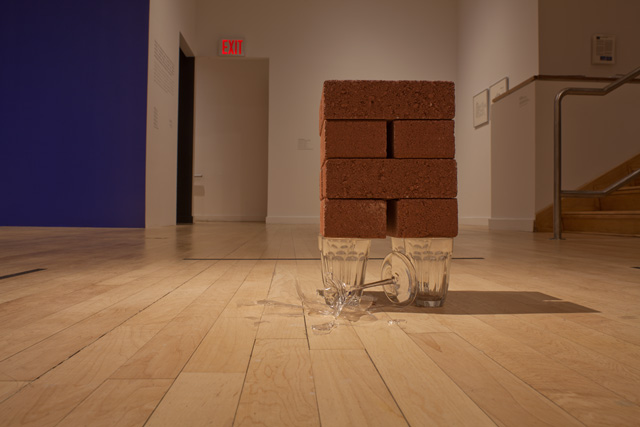 Andre Komatsu's simple construction speaks miles to an open mind "Beyond the Supersquare."
Is it worth going to the Bronx to see one work of art? Yes, but there is more. The Museum has a compelling show on architecture "Beyond The Supersquare" that explores the influence of Latin American and Caribbean modernist architecture on Contemporary art. Overt pompous wordiness and an in depth read is not necessary to get this show; It is read visual quite easily. Water and wine glasses, bricks and cartons and many readily relatable forms are merged in the show to give a sense of the range of architecture and the delable line between art and architecture. The show spills over into the newly revitalized Freeman house across the street.

Stills from Alexander Apostal's video reveal an architecture less glorious than most high profile buildings.
Architecture reflects the culture that builds it. Just look at the Pyramids and you can get an indepth understanding of the religion, goals and dreams of the Eygpthian world some four thousand years ago. Will our architecture last or like Yankee stadium do we rebuild every 30 years? Indeed in itself that tells you something about our build it new, spend the money again, raise debt, city attitude. Who would have thunk Yankee stadium is an example of planned obsolesence in cement and green grass?