Now Playing Onstage in Boston - Week of 4/13/2014
View All Show Listings for Boston
Click Here to View BroadwayWorld.com Boston Calendar
DISNEY'S 101 DALMATIANS KIDS
ON STAGE THEATER WORKSHOP
4/19-4/19/2014
101 DALMATION KIDS is the familiar tale of kidnappers, puppies, and villains. In a loving home in the city of London, human owners Robert and Anita live happily with Dalmatian parents Pongo and Perdita as they raise their Dalmatian puppies. Everything is quiet until the monstrous Cruella De Vil, Anita's former classmate, plots to steal the puppies for her new fur coat! Join all the dogs of London as they daringly rescue the puppies from Cruella and her bumbling henchmen.With a delightfully fun score, lovable characters, and one of the most deliciously evil villains in the Disney canon, this stage adaptation is certain to charm and delight all audiences. The adorable spotted dogs and sinister main villain provide wonderful opportunities for creative costuming.
Click Here for More Information
IN BETWEEN
New Repertory Theatre
4/4-4/20/2014
Ibrahim Mirari.
Click Here for More Information
HAIRSPRAY
GREENE ROOM PRODUCTIONS
4/18-4/26/2014
The 1950's are out and change is in the air! HAIRSPRAY, winner of 8 Tony Awards including Best Musical, is a family-friendly musical piled bouffant high with laughter, romance, and deliriously tuneful songs.It's 1962 in Baltimore, and the lovable plus-size teen Tracy Turnblad has only one desire -- to dance on the popular Corny Collins Show. When her dream comes true, Tracy is transformed from social outcast to sudden star. She must use her newfound power to dethrone the reigning Teen Queen, win the affections of heartthrob Link Larkin, and integrate a TV network, all without denting her 'do!HAIRSPRAY is ideal for a large cast of strong singers and dancers. It provides great opportunities in terms of set design, costuming, and lighting choices.
Click Here for More Information
BECOMING CUBA
Huntington Theatre Company
3/28-4/26/2014
The Huntington's Calderwood Pavilion at the BCA:
Melinda Lopez
; dir: M.
Bevin O'Gara
.
Click Here for More Information
RICH GIRL
The
Lyric Stage
Company of Boston
3/28-4/26/2014
Lyric Stage
:Victoria Stewart; dir: Courtney O'Connor.
Click Here for More Information
DISNEY'S PETER PAN JR
RIVERSIDE THEATRE WORKS
4/21-4/27/2014
Click Here for More Information
THE DROWSY CHAPERONE
COMPANY THEATRE
4/4-4/27/2014
A rare combination of unprecedented originality and blinding talent, THE DROWSY CHAPERONE boldly addresses a great unspoken desire in all of our hearts: to be entertained. If you've ever sat in a dark theatre and thought, "Dear Lord in heaven, please let it be good," this is the show for you!It all begins when a die-hard musical-theater fan plays his favorite cast album on his turntable, and the musical literally bursts to life in his living room, telling the rambunctious tale of a brazen Broadway starlet trying to find, and keep, her true love. Order your copy of "Showing Off with THE DROWSY CHAPERONE" - an informative DVD with advice and production tips from the show's authors and creative staff. Email licensing@mtishows.com to request your FREE copy!
Click Here for More Information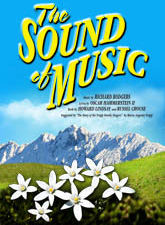 THE SOUND OF MUSIC
Chatham Drama Guild
4/11-4/27/2014
The final collaboration between Rodgers & Hammerstein was destined to become the world's most beloved musical. When a postulant proves too high-spirited for the religious life, she is dispatched to serve as governess for the seven children of a widowed naval Captain. Her growing rapport with the youngsters, coupled with her generosity of spirit, gradually captures the heart of the stern Captain, and they marry. Upon returning from their honeymoon they discover that Austria has been invaded by the Nazis, who demand the Captain's immediate service in their navy. The family's narrow escape over the mountains to Switzerland on the eve of World War II provides one of the most thrilling and inspirational finales ever presented in the theatre. The motion picture version remains the most popular movie musical of all time.Music by Rodgers, Richard; Lyrics by
Oscar Hammerstein
II; Book by
Howard Lindsay
&
Russel Crouse
; Suggested by `The
Trapp Family Singers
` by
Maria Augusta Trapp
Click Here for More Information
THE SHAPE SHE MAKES
American Repertory Theater
4/5-4/27/2014
Jonathan Bernstein
,
Susan Misner
; dir:
Jonathan Bernstein
.World Premiere
Click Here for More Information
OUR LADY
New Repertory Theatre
4/2-4/27/2014
James Fluhr.
Click Here for More Information
AS YOU LIKE IT
Actors' Shakespeare Project
4/17-5/18/2014
William Shakespeare
; dir:
Robert Walsh
.
Click Here for More Information
NEXT TO NORMAL
MAJESTIC THEATER PROJECT
4/17-6/1/2014
Pulitzer-Prize winning rock musical NEXT TO NORMAL, with book and lyrics by
Brian Yorkey
and music by
Tom Kitt
, explores how one suburban household copes with crisis and mental illness.NEXT TO NORMAL tells the story of a mother, Diane Goodman, who struggles with bipolar disorder and the effect that her illness has on her family. This contemporary musical is an emotional powerhouse that addresses such issues as grieving a loss, ethics in modern psychiatry, and suburban life. With provocative lyrics and a thrilling score, this musical shows how far two parents will go to keep themselves sane and their family's world intact.NEXT TO NORMAL is a deeply moving piece of theatre that provides a wonderful opportunity for performers to explore dramatic material and showcase vocal talents with an energetic pop/rock score. This show is ideal for community theaters, as well as colleges and regional theatre companies.
Click Here for More Information
View All Show Listings for Boston
Click Here to View BroadwayWorld.com Boston Calendar