Now Playing Onstage in Atlanta - Week of 3/30/2014
View All Show Listings for Atlanta
Click Here to View BroadwayWorld.com Atlanta Calendar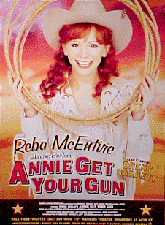 ANNIE GET YOUR GUN (STONE)
Carrollton Parks, Recreation
3/20-3/31/2014
ANNIE GET YOUR GUN scored a bulls eye when it returned to Broadway in 1999, starring
Bernadette Peters
and sporting a revised libretto by Tony, Oscar and Emmy winner
Peter Stone
. As Newsday reported, Stone's revisions 'are sweetly ingenious, and the show is a dream.' Stone reshaped the 1946 book to create a Wild West show-within-a-show that frames the ageless 'Anything You Can Do I Can Do Better' love story of sharpshooters Annie Oakley and
Frank Butler
. Stone has added a secondary romance between the younger sister of Frank's bothersome assistant Dolly, and a boy who is (to Dolly's horror) part Native American. 'The book has been updated in ways that pass p.c. muster,' reported Time Magazine, 'without losing all the fun.' Joined to the new book, of course, is that amazing
Irving Berlin
score, featuring hit after hit after hit. '
Irving Berlin
's greatest achievement in the theater,' wrote the New York Post, ANNIE GET YOUR GUN 'will always be a musical for the ages, one of the Broadway theater's enduring triumphs.'Music and Lyrics by
Irving Berlin
; Original Book by
Herbert Fields
&
Dorothy Fields
; As Revised by
Peter Stone
Click Here for More Information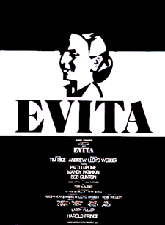 EVITA
Valdosta State University
3/27-4/2/2014
Argentina's controversial First Lady is the subject of this dynamic musical masterpiece. As an illegitimate fifteen year old, Eva escaped her dirt-poor existence for the bright lights of Buenos Aires. Driven by ambition and blessed with charisma, she was a starlet at twenty-two, the president's mistress at twenty-four, First Lady at twenty-seven, and dead at thirty-three. Eva Peron 'saint to the working-class, reviled by the aristocracy and mistrusted by the military' was destined to leave a fascinating political legacy unique in the 20th century. Told through a compelling score that fuses haunting chorales with exuberant Latin, pop and jazz influences, EVITA creates an arresting theatrical portrait as complex as the woman herself.Lyrics by
Tim Rice
; Music by
Andrew Lloyd Webber
Click Here for More Information
IN THE HEIGHTS
New Manchester High School
3/31-4/2/2014
IN THE HEIGHTS tells the universal story of a vibrant community in New YorkMusic and Lyrics by
Lin-Manuel Miranda
; Book by Quiara Alegr
Click Here for More Information
HONK!
COVENANT COLLEGE
3/28-4/5/2014
In the London season featuring the appearance of THE LION KING, HONK! became a stand-out by winning the 2000 Olivier Award (the British equivalent of the Tony® Award) for Best New Musical. Written by
George Stiles
and
Anthony Drewe
(dubbed "The brightest hopes for the future of the British musical"Ł by The London Daily Telegraph), HONK! is the story of Ugly, whose odd, gawky looks instantly incite prejudice from his family and neighbors. Separated from the farm and pursued by a hungry Cat, Ugly must find his way home. Along his rollicking and harrowing journey he not only discovers his true beauty and glorious destiny, but also finds love and acceptance in all its forms. Witty and hilarious, but also deeply moving, HONK! will treat your audiences to equal amounts of laughter and tears. Perfect for a cast as small as ten or as large as 30 (or more), HONK! can be performed with simple sets and costumes. No feathers or fur necessary! Its charm, humor and message of tolerance is perfect for a family audience"Ž and every audience.
Click Here for More Information
THE UNAUTHORIZED AUTOBIOGRAPHY OF SAMANTHA BROWN
Aurora Theatre
3/13-4/6/2014
Aurora Theatre Mainstage:
Kait Kerrigan
,
Brian Lowdermilk
.
Click Here for More Information
1001 NIGHTS: A LOVE STORY ABOUT LOVING STORIES
Center for Puppetry Arts
3/25-4/6/2014
Downstairs Theater:Book by Adam Koplan &
Robert Lopez
, Music & Lyrics by
Robert Lopez
.
Click Here for More Information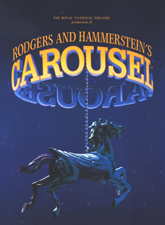 CAROUSEL
Reinhardt University
4/4-4/7/2014
In a Maine coastal village toward the end of the 19th century, the swaggering, carefree carnival barker, Billy Bigelow, captivates and marries the naive millworker, Julie Jordan. Billy loses his job just as he learns that Julie is pregnant and, desperately intent upon providing a decent life for his family, he is coerced into being an accomplice to a robbery. Caught in the act and facing the certainty of prison, he takes his own life and is sent 'up there.' Billy is allowed to return to earth for one day fifteen years later, and he encounters the daughter he never knew. She is a lonely, friendless teenager, her father's reputation as a thief and bully having haunted her throughout her young life. How Billy instills in both the child and her mother a sense of hope and dignity is a dramatic testimony to the power of love. It's easy to understand why, of all the shows they created, CAROUSEL was Rodgers & Hammerstein's personal favorite.Music by Rodgers, Richard; Book by
Oscar Hammerstein
II; Lyrics by
Oscar Hammerstein
II; Based on the Play LILIOM by Ferenc Molnar; As adapted by
Benjamin F. Glazer
; Original Dances by
Agnes de Mille
Click Here for More Information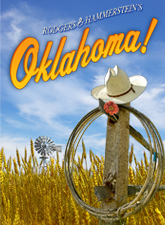 OKLAHOMA!
Town and Gown Players
4/4-4/13/2014
Rodgers & Hammerstein's first collaboration remains, in many ways, their most innovative, having set the standards and established the rules of musical theatre still being followed today. Set in a Western Indian territory just after the turn of the century, the high-spirited rivalry between the local farmers and cowboys provides the colorful background against which Curly, a handsome cowboy, and Laurey, a winsome farm girl, play out their love story. Although the road to true love never runs smooth, with these two headstrong romantics holding the reins, love's journey is as bumpy as a surrey ride down a country road. That they will succeed in making a new life together we have no doubt, and that this new life will begin in a brand-new state provides the ultimate climax to the triumphant OKLAHOMA!Music by Rodgers, Richard; Book by
Oscar Hammerstein
II; Lyrics by
Oscar Hammerstein
II; Original Dances by
Agnes de Mille
; Based on the play `Green Grow the Lilacs` by
Lynn Riggs
Click Here for More Information
PINKALICIOUS THE MUSICAL
Savannah Children's Theatre
4/4-4/13/2014
Click Here for More Information
AVENUE Q
THEATRE MACON
4/4-4/19/2014
AVENUE Q is a gut-bustingly hilarious modern musical focusing on a group of unique 20-somethings making their way in the big city, seeking their purpose in life. Although the show addresses humorous adult issues, it is similar to a beloved children's show; a place where puppets are friends, Monsters are good and life lessons are learned.Winner of the Tony "Triple Crown" for Best Musical, Best Score and Best Book, AVENUE Q is part flesh, part felt, and packed with heart. AVENUE Q is a laugh-out-loud musical that tells the timeless story of a recent college grad named Princeton who moves into a shabby New York apartment all the way out on Avenue Q. He soon discovers that although the residents seem nice, it's clear that this is not your ordinary neighborhood. Together, Princeton and his new-found friends struggle to find jobs, dates, and their ever-elusive purpose in life.Puppet RentalBe sure to visit MTI's Prop Shop to see our AVENUE Q puppets to rent!AVENUE Q NEW YORKVisit the official "Avenue Q New York" for NYC ticketing and more information.
Click Here for More Information
YOUNG FRANKENSTEIN
GEORGIA INSTITUTE OF TECHNOLOGY
4/4-4/19/2014
IT'S ALIVE! From the creators of the record-breaking Broadway sensation THE PRODUCERS comes this monster new musical comedy.With such memorable tunes as "The Transylvania Mania," "He Vas My Boyfriend" and "Puttin' On The Ritz," YOUNG FRANKENSTEIN is scientifically-proven, monstrously good entertainment"Žand the only place you'll witness a singing and dancing laboratory experiment in the largest tuxedo ever made.
Click Here for More Information
ANNIE
ATLANTA LYRIC THEATRE
4/4-4/20/2014
Leapin' Lizards! The popular comic strip heroine takes center stage in one of the world's best-loved musicals. With equal measures of pluck and positivity, little orphan ANNIE charms everyone's hearts, despite a next-to-nothing start in 1930s New York City. She is determined to find her parents, who abandoned her years ago on the doorstep of a New York City Orphanage run by the cruel, embittered Miss Hannigan.With the help of the other girls in the Orphanage, ANNIE escapes to the wondrous and magical world of NYC. In adventure after fun-filled adventure, ANNIE foils Miss Hannigan's evil machinations and befriends President Franklin Delano Roosevelt. She finds a new home and family in billionaire Oliver Warbucks, his personal secretary
Grace Farrell
, and a lovable mutt named Sandy. ANNIE is the perfect family-friendly musical, and an ideal show for a largely female cast. Middle Schools and elementary schools should also take notice of ANNIE JR - a special version of this title expressly designed for younger performers.
Click Here for More Information
MAPLE AND VINE
Actor's Express
3/19-4/20/2014
Actor's Express:
Jordan Harrison
.
Click Here for More Information
DIVIDING THE ESTATE
Theatrical Outfit
4/2-4/27/2014
Horton Foote
; dir:
Tom Key
.
Click Here for More Information
MAURICE HINES IS TAPPIN' THRU LIFE
Alliance Theatre
4/2-5/4/2014
Maurice Hines
; dir:
Jeff Calhoun
.
Click Here for More Information
MACBETH
The New American Shakespeare Tavern Playhouse
4/3-5/4/2014
William Shakespeare
; dir: Troy Willis.
Click Here for More Information
View All Show Listings for Atlanta
Click Here to View BroadwayWorld.com Atlanta Calendar