Now Playing Onstage in Atlanta - Week of 2/23/2014
February 23
10:02 AM 2014
View All Show Listings for Atlanta
Click Here to View BroadwayWorld.com Atlanta Calendar
[TITLE OF SHOW]
Young Harris College
2/25-2/26/2014
Jeff and Hunter, two struggling writers, hear about a new musical theatre festival. However, the deadline for submissions is a mere three weeks away. With nothing to lose, the pair decides to try to create something new with the help of their friends Susan, Heidi and Larry on the eighty-eights. With the cast in place, Jeff and Hunter begin a conversation about what to write about. Eventually, Jeff suggests they write about what to write about. They make a pact to write up until the festival?s deadline and dream about the show changing their lives. [title of show]?taken from the space on the festival?s application form which asks for the [title of show]?follows Hunter and Jeff and their friends on their journey through the gauntlet of creative self-expression. In the span of 90 minutes they write and perform their show at the festival and learn lessons about themselves as people, friends and artists. [title of show] is, above all, a love letter to the musical theatre?a uniquely American art form?and to the joy of collaboration. The musical received a Tony AwardMusic and Lyrics by
Jeff Bowen
; Book by
Hunter Bell
Click Here for More Information
DISNEY'S THE LITTLE MERMAID JR
MOUNTAIN PARK ELEMENTARY SCHOOL
2/28-3/1/2014
In a magical kingdom fathoms below, the beautiful young mermaid Ariel longs to leave her ocean home to live in the world above. But first, she'll have to defy her father King Triton, make a deal with the evil sea witch Ursula, and convince Prince Eric that she's the girl with the enchanting voice. Adapted from Disney's 2008 Broadway production, Disney's THE LITTLE MERMAID JR. features the hit songs "Part of Your World," "She's in Love," and the Oscar-winning "Under the Sea."
Click Here for More Information
HOW I BECAME A PIRATE
George Walton Academy
2/13-3/1/2014
Click Here for More Information
ONCE UPON A MATTRESS
Sandy Creek High School
2/28-3/1/2014
The 'G2K' Getting To Know Series: Uniquely adapted musicals specifically for youth performers. If you thought you knew the story of 'The Princess and The Pea,' you may be in for a walloping surprise! Did you know, for instance, that Princess Winnifred actually swam the moat to reach Prince Dauntless the Drab? Or that it may not have been the pea at all that caused the princess a sleepless night? Carried on a wave of beguiling songs, by turns hilarious and raucous, romantic and melodic, this rollicking spin on the familiar classic of royal courtship and comeuppance provides for some side-splitting shenanigans. Chances are, you'll never look at fairy tales quite the same way again. In this adaptation for pre-high school students, the content has been edited to better suit younger actors and audiences, but all the magic, hilarity and fun of the original are still in place. G2K? ONCE UPON A MATTRESS is the perfect show to introduce young people to the magic of live theater. PLEASE NOTE: All schools wishing to peruse or perform a G2K musical should apply through theMusic by
Mary Rodgers
; Book by
Jay Thompson
&
Dean Fuller
&
Marshall Barer
; Lyrics by
Marshall Barer
; Adapted by
Tom Briggs
Click Here for More Information
ROALD DAHL'S WILLY WONKA
GEORGIA COLLEGE AND STATE UNIVERSITY
2/26-3/2/2014
Roald Dahl
's timeless story of the world-famous candy man and his quest to find an heir comes to life in this stage adaptation ofCharlie and the Chocolate Factory, which features the songs from the classic family filmWilly Wonka and the Chocolate Factory.
Roald Dahl
's WILLY WONKA, featuring a memorable score by
Leslie Bricusse
(JEKYLL & HYDE, DOCTOR DOLITTLE) and
Anthony Newley
, follows enigmatic candy manufacturer Willy Wonka as he stages a contest by hiding five golden tickets in five of his scrumptious candy bars. Whoever comes up with these tickets will win a free tour of the Wonka factory, as well as a lifetime supply of candy. Four of the five winning children are insufferable brats: the fifth is a likeable young lad named Charlie Bucket who takes the tour in the company of his equally amiable grandfather. The children must learn to follow Mr. Wonka's rules in the factory--or suffer the consequences.This scrumdidilyumptious musical is guaranteed to delight everyone's sweet tooth. With this show's flexible cast size, featuring roles for all ages, your production will take audiences on a fantasy ride into the land of pure imagination!
Roald Dahl
's WILLY WONKA has been created with educators and student performers in mind. This title is ONLY available for amateur groups to license.
Click Here for More Information
TAMER OF HORSES
Aurora Theatre
2/13-3/2/2014
Studio Theatre
:
William Mastrosimone
; dir:
Jaclyn Hofmann
.
Click Here for More Information
GREAT EXPECTATIONS
Center for Puppetry Arts
2/25-3/2/2014
Downstairs Theater:David Simpich Marionettes of Colorado Springs, CO .
Click Here for More Information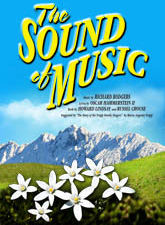 THE SOUND OF MUSIC
Drama Kids Unlimited
2/28-3/2/2014
The final collaboration between Rodgers & Hammerstein was destined to become the world's most beloved musical. When a postulant proves too high-spirited for the religious life, she is dispatched to serve as governess for the seven children of a widowed naval Captain. Her growing rapport with the youngsters, coupled with her generosity of spirit, gradually captures the heart of the stern Captain, and they marry. Upon returning from their honeymoon they discover that Austria has been invaded by the Nazis, who demand the Captain's immediate service in their navy. The family's narrow escape over the mountains to Switzerland on the eve of World War II provides one of the most thrilling and inspirational finales ever presented in the theatre. The motion picture version remains the most popular movie musical of all time.Music by Rodgers, Richard; Lyrics by
Oscar Hammerstein
II; Book by
Howard Lindsay
&
Russel Crouse
; Suggested by `The
Trapp Family Singers
` by
Maria Augusta Trapp
Click Here for More Information
TARZAN
BAPTIST STUDENT CENTER
2/27-3/3/2014
Based on Edgar Rice Burrough's Tarzan of the Apes and the smash-hit 1999 Disney animated film, TARZAN tells the story of an infant boy orphaned on the shores of West Africa. Taken in and raised by a tribe of gorillas, the young boy strives for acceptance by his ape father while grappling with his uniqueness. When a human expedition enters their territory, Tarzan - now a man - encounters strangers like himself for the first time. TARZAN features music and lyrics by pop icon
Phil Collins
, including the Grammy and Oscar winning song, "You'll Be in My Heart", and book by Tony Award-winning playwright,
David Henry Hwang
.
Click Here for More Information
SEUSSICAL
COLONNADE
2/28-3/8/2014
Now one of the most performed shows in America, SEUSSICAL is a fantastical, magical, musical extravaganza! Tony winners
Lynn Ahrens
and
Stephen Flaherty
(LUCKY STIFF, MY FAVORITE YEAR, ONCE ON THIS ISLAND, and RAGTIME) have lovingly brought to life all of our favorite
Dr. Seuss
characters, including Horton the Elephant, The Cat in the Hat, Gertrude McFuzz, lazy Mayzie, and a little boy with a big imagination--Jojo. The colorful characters transport us from the Jungle of Nool to the Circus McGurkus to the invisible world of the Whos.The Cat in the Hat tells the story of Horton, an elephant who discovers a speck of dust containing Whos, including Jojo, a Who child sent off to military school for thinking too many "thinks." Horton faces a double challenge--not only must he protect the Whos from a world of naysayers and dangers, but he must guard an abandoned egg, left to his care by the irresponsible Mayzie La Bird. Although Horton faces ridicule, danger, kidnapping, and a trial, the intrepid Gertrude McFuzz never loses faith in him. Ultimately, the powers of friendship, loyalty, family, and community are challenged and emerge triumphant.SEUSSICAL is fun for the whole family! Performers of all ages will be excited to portray the characters from the familiar
Dr. Seuss
fables. This musical provides wonderful creative opportunities for set, lighting, and costume design.More Ahrens and FlahertyFor complet
Click Here for More Information
YOUNG FRANKENSTEIN
LEE COUNTY HIGH SCHOOL
2/27-3/9/2014
IT'S ALIVE! From the creators of the record-breaking Broadway sensation THE PRODUCERS comes this monster new musical comedy.With such memorable tunes as "The Transylvania Mania," "He Vas My Boyfriend" and "Puttin' On The Ritz," YOUNG FRANKENSTEIN is scientifically-proven, monstrously good entertainment"¶and the only place you'll witness a singing and dancing laboratory experiment in the largest tuxedo ever made.
Click Here for More Information
SHREK THE MUSICAL
Alliance Theatre
2/22-3/9/2014
Alliance Stage:
David Lindsay-Abaire
; lyrics:
David Lindsay-Abaire
; music:
Jeanine Tesori
; dir: Rosemary Newcott.
Click Here for More Information
F. SCOTT FITZGERALD'S THE GREAT GATSBY
Georgia Ensemble Theatre
2/27-3/16/2014
adapt:
Simon Levy
; dir:
Tess Malis Kincaid
.
Click Here for More Information
FATAL DEATH
Dad's Garage
2/27-3/22/2014
Main stage:
Click Here for More Information
RED BADGE OF COURAGE
7 Stages
2/27-3/23/2014
Black Box:Dr. Jane Barnette, Michael Haverty.
Click Here for More Information
WEATHER ROCKS!
Center for Puppetry Arts
2/6-3/23/2014
Mainstage Theater:Jon Ludwig.
Click Here for More Information
THE TAMING OF THE SHREW
The New American Shakespeare Tavern Playhouse
1/4-3/29/2014
Shakespeare Tavern:
William Shakespeare
; dir: Jeff Watkins.
Click Here for More Information
View All Show Listings for Atlanta
Click Here to View BroadwayWorld.com Atlanta Calendar