Now Playing Onstage in Anchorage - Week of 7/21/2013
View All Show Listings for Anchorage
Click Here to View BroadwayWorld.com Anchorage Calendar
SEUSSICAL
ALASKA ARTS SOUTHEAST SITKA FINE ARTS CAMP
7/26-7/27/2013
Now one of the most performed shows in America, SEUSSICAL is a fantastical, magical, musical extravaganza! Tony winners
Lynn Ahrens
and
Stephen Flaherty
(LUCKY STIFF, MY FAVORITE YEAR, ONCE ON THIS ISLAND, and RAGTIME) have lovingly brought to life all of our favorite
Dr. Seuss
characters, including Horton the Elephant, The Cat in the Hat, Gertrude McFuzz, lazy Mayzie, and a little boy with a big imagination--Jojo. The colorful characters transport us from the Jungle of Nool to the Circus McGurkus to the invisible world of the Whos.The Cat in the Hat tells the story of Horton, an elephant who discovers a speck of dust containing Whos, including Jojo, a Who child sent off to military school for thinking too many "thinks." Horton faces a double challenge--not only must he protect the Whos from a world of naysayers and dangers, but he must guard an abandoned egg, left to his care by the irresponsible Mayzie La Bird. Although Horton faces ridicule, danger, kidnapping, and a trial, the intrepid Gertrude McFuzz never loses faith in him. Ultimately, the powers of friendship, loyalty, family, and community are challenged and emerge triumphant.SEUSSICAL is fun for the whole family! Performers of all ages will be excited to portray the characters from the familiar
Dr. Seuss
fables. This musical provides wonderful creative opportunities for set, lighting, and costume design.More Ahrens and FlahertyFor complet
Click Here for More Information
GOLD RUSH GIRLS
Cyrano's Theatre Company
6/28-8/4/2013
Click Here for More Information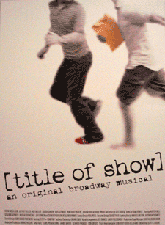 [TITLE OF SHOW] (CLEAN VERSION)
Cyrano's Theatre Company
7/5-8/4/2013
Jeff and Hunter, two struggling writers, hear about a new musical theatre festival. However, the deadline for submissions is a mere three weeks away. With nothing to lose, the pair decides to try to create something new with the help of their friends Susan, Heidi and Larry on the eighty-eights. With the cast in place, Jeff and Hunter begin a conversation about what to write about. Eventually,
Jeff Sugg
ests they write about what to write about. They make a pact to write up until the festival?s deadline and dream about the show changing their lives. [title of show]?taken from the space on the festival?s application form which asks for the [title of show]?follows Hunter and Jeff and their friends on their journey through the gauntlet of creative self-expression. In the span of 90 minutes they write and perform their show at the festival and learn lessons about themselves as people, friends and artists. [title of show] is, above all, a love letter to the musical theatre?a uniquely American art form?and to the joy of collaboration. The musical received a Tony AwardMusic and Lyrics by
Jeff Bowen
; Book by
Hunter Bell
Click Here for More Information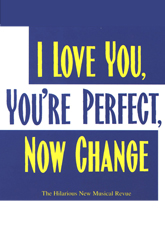 [TITLE OF PLAY]
Cyrano's Theatre Company
7/5-8/5/2013
Hunter Bell
; lyrics:
Jeff Bowen
; music:
Jeff Bowen
; dir: Shelly Wozniak.
Click Here for More Information
WHALE FAT FOLLIES 2013
Tap Root
6/17-8/21/2013
It's a High-Falutin' show in a Low-Falutin' town! The Whale Fat Follies is the most extravagant Alaskan multi-media musical comedy ever staged, and features what Alaskans like best--Vicious political satire set to a happy, toe-tapping beat. The Follies proudly presents a live band, stunning singers and dancers, nearly 1,000 awe-inspiring images of Alaskan stupidity, and a costume budget of over Thirty-five Dollars. The Whale Fat Follies originally ran for 21 years at Mr. Whitekeys' Fly By Night Club, and was seen by nearly 600,000 Spam-and-Satire-loving Fans before the iconic Spenard sleazy bar closed it's doors in 2006. This 2013 limited 30-show season is the shortest run ever for the Whale Fat Follies. A tantalizing menu of fresh tasty American comfort cuisine and beverages is available. It's like real dinner theater, but you don't have to eat your vegetables. Joining Mr. Whitekeys on stage is an All-star cast including stunning chanteuse Miss Bridget Sullivan, Cameron Morrison whose lifelong career in musical theater will be undone in 30 short nights, Justin Beaver Somaduroff on bass, Rockfish Richard Nurre on Drums, and the multi-media wizard Joey HD Murphy. The good news is that The Whale Fat Follies is Back! The bad news is that The Whale Fat Follies is Back!
Click Here for More Information
View All Show Listings for Anchorage
Click Here to View BroadwayWorld.com Anchorage Calendar