Now Playing Onstage in Albuquerque - Week of 9/01/2013
September 1
10:09 AM 2013
View All Show Listings for Albuquerque
Click Here to View BroadwayWorld.com Albuquerque Calendar
THE ILLUSION
MTS Center for Theater Black Box
9/6-9/9/2013
The Illusion follows a contrite father, Pridamant, seeking news of his prodigal son from the sorcerer Alcandre. The magician conjures three episodes from the young man's life. Inexplicably, each scene finds the boy in a slightly different world where names change and allegiances shift. Pridamant watches, but only as the strange tale reaches its conclusion does he learn the ultimate truth about his son.
Click Here for More Information
THE SEVEN YEAR ITCH
The Vortex Theatre
8/23-9/15/2013
Straight out of the Mad Men era comes this lighthearted look at marital infidelity, viewed through the lens of 1950s morality.
Richard Sherman
is alone in his apartment, with his wife and child away for the summer. When a tomato plant crashes onto his terrace from the apartment above, the jarring experience has a strange effect: He begins to see his seven-year marriage as unexciting and suddenly itches to exercise his libido. Inviting the attractive upstairs neighbor down for a drink, Sherman undergoes a soul struggle of hilarious proportions as he contemplates seduction. Axelrod's original play was a Broadway hit, and portrayed extramarital intimacy far more boldly than the 1955 movie version starring
Tom Ewell
and
Marilyn Monroe
. The film censors of that era banned key plot elements deemed indecent, though the poster image of Monroe's white dress billowing over a New York city subway grate survived to become one of the great icons of American cinema.
Click Here for More Information
William Shakespeare
(abridged) in Broadway" border="0" height="100" width="100" align="right">
THE COMPLETE WORKS OF William Shakespeare (ABRIDGED)
Albuquerque Little Theatre
8/30-9/15/2013
If you love Shakespeare, you'll love this show. If you hate Shakespeare, you'll love this show. If you've never heard of Shakespeare, you'll love this show! All 37 Plays in 97 Minutes! An irreverent, fast-paced romp through the Bard's plays, The Complete Works of
William Shakespeare
(abridged) was London's longest-running comedy--10 years in the West End at the Criterion Theatre! Join these madcap men in tights as they weave their wicked way through all of Shakespeare's Comedies, Histories and Tragedies in one wild ride that will leave you breathless and helpless with laughter! We're bringing this one back for you--it's the biggest ALT hit comedy of the last five years! Original cast!
Click Here for More Information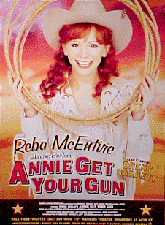 ANNIE GET YOUR GUN (STONE)
Roswell Commmunity Theatre
9/6-9/22/2013
ANNIE GET YOUR GUN scored a bulls eye when it returned to Broadway in 1999, starring
Bernadette Peters
and sporting a revised libretto by Tony, Oscar and Emmy winner
Peter Stone
. As Newsday reported, Stone's revisions 'are sweetly ingenious, and the show is a dream.' Stone reshaped the 1946 book to create a Wild West show-within-a-show that frames the ageless 'Anything You Can Do I Can Do Better' love story of sharpshooters Annie Oakley and
Frank Butler
. Stone has added a secondary romance between the younger sister of Frank's bothersome assistant Dolly, and a boy who is (to Dolly's horror) part Native American. 'The book has been updated in ways that pass p.c. muster,' reported Time Magazine, 'without losing all the fun.' Joined to the new book, of course, is that amazing
Irving Berlin
score, featuring hit after hit after hit. '
Irving Berlin
's greatest achievement in the theater,' wrote the New York Post, ANNIE GET YOUR GUN 'will always be a musical for the ages, one of the Broadway theater's enduring triumphs.'Music and Lyrics by
Irving Berlin
; Original Book by
Herbert Fields
&
Dorothy Fields
; As Revised by
Peter Stone
Click Here for More Information
Virginia Jones
and the Inca Revenge in Broadway" border="0" height="100" width="100" align="right">
Virginia Jones AND THE INCA REVENGE
Foul Play Cafe
9/6-11/30/2013
The audience are the survivors of Professor Marcus' ill fated expedition in the Andes. Celebrating at the Blue Iguana Cafe in the wilds of the Peruvian jungle, rescuer
Virginia Jones
must discover the truth behind the cause of the avalanche that doomed the adventure. Was the expedition looking for a lost Inca temple or hidden Inca gold that eluded Pizzarro? Could a discovered faded parchment really bare ancient Inca symbols of a secret language? Is there really such a thing as the Inca revenge? Adventuress
Virginia Jones
is back in an all new 1930's mystery, meeting up with dangerous revolutionaries with a price on their head, ruthless treasure seekers and a very funny native shaman. Find out what happens at the Foul Play Cafe, where we serve up a four-course dinner while you try and solve this mystery. If you get it right, you could be our Super Sleuth for the evening.
Click Here for More Information
View All Show Listings for Albuquerque
Click Here to View BroadwayWorld.com Albuquerque Calendar